BOING!, Lilian Baylis Studio, Sadler's Wells, London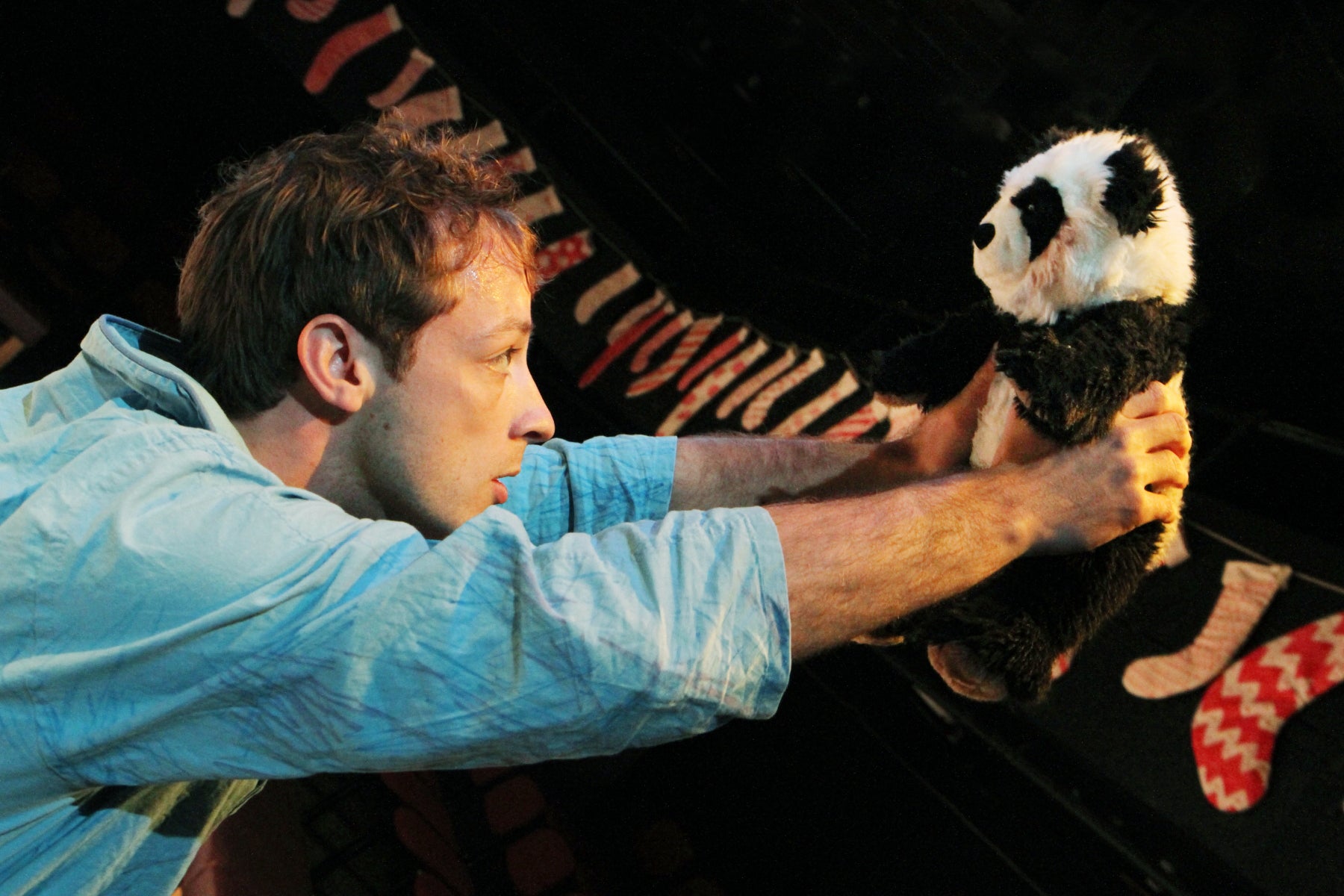 "If you want Santa to come, you have to go to sleep," Joêl and Wilkie solemnly tell each other in BOING!. Easier said than done. In this brilliantly child-friendly show, the excitement of Christmas Eve is too much for them, leading them into games, quarrels and delightful invention.
A co-production by Travelling Light and the Bristol Old Vic, BOING! stars hip hop dancers Wilkie Branson and Joêl Daniel as overexcited siblings. The performance takes place on and around a big square bed, bouncy enough to act as a trampoline. In Katie Sykes' designs, the bed, floor and even the bedclothes are covered in scribbles, evidence of previous games. The audience sits on all sides, on chairs and benches, very close to the action.
Directed by Sally Cookson, it's a show that immediately engages its child audience. Joêl and Wilkie brush their teeth with cheerfully noisy gargling and spitting. Their first fidgets involve pushing their bottoms high into the air, to the children's clear approval.
It's soon clear that Wilkie is the serious one, perhaps the older brother. Joêl is naughtier, quicker to make mischief. Having woken up, he doesn't wake Wilkie directly; he just bounces around the bed, jumping up and down until Wilkie is shaken resentfully awake. Joêl sticks at games longer, more likely to take things too far.
The brotherly dynamics are beautifully done. Teases push into crossness, with walloping squabbles and a good sense of child-friendly ethics. Pillow fights are one thing, but any threat to someone else's teddy is very, very serious. Then there's the way the quarrels break out and die away again. The characters dive into action, an explosion of energy that quickly blows over. After the outburst, they quickly make up and move on, best friends again.
It keeps the show moving at a fast pace, from Joêl's robot dancing to the superheroes conjured out of the bedclothes. After tugging at the duvet, they turn it into a boat, making sure the teddies are safely on board before setting sail. They strap lights to wrists, knees and elbows before b-boying in the dark, big moves marked out in light.
The performances are immensely engaging, with taut dancing and vivid characterisation. The charm and invention will keep adults happy, while the children in the audience were very obviously hooked. Branson, who has just been made a next wave associate artist at Sadler's Wells, will be working with Cookson on the new show Varmints in 2013.
Until 31 December. Box office 0844 412 4300
Join our commenting forum
Join thought-provoking conversations, follow other Independent readers and see their replies