Boudica, Shakespeare's Globe, London, review: Gina McKee commands the stage
Tristan Bernays's new historical play starring McKee as Boudica closes the Globe's summer season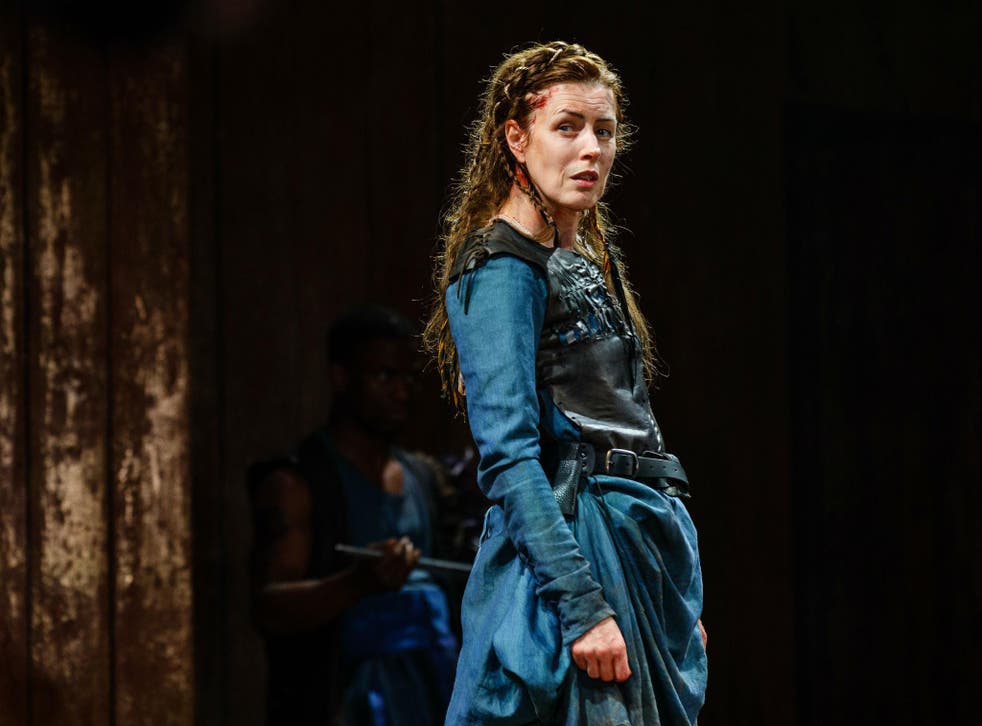 The Globe's summer season comes to a rousing close now with Tristan Bernays's bold and bloody reimagining of the story of Boudica, queen of the Iceni tribe who pursued savage revenge on the occupying Romans in AD61 for raping her daughters and snatching her land.
In the absence of much hard documentary evidence, Boudica has become a malleable symbol coopted to serve many contradictory purposes – an imperial cult figure for the Victorians; a feminist icon for the Suffragettes; and latterly an ur-Brexiteer. The Daily Telegraph has dubbed Theresa May "the Brexit Boadicea", not minding the irony that this leader''s story ended in crushing defeat.
Bernays builds on the few recorded facts. We see that when she continues to press her claims about rightful inheritance, Boudica is publicly flogged and her daughters are viciously violated. We see her raise an army from the fractious tribes under Roman rule and march on and sack Camulodunum,
Making her debut at the Globe, Gina McKee commands the stage with a performance that radiates the kind of understated natural authority that does not need to bellow or posture to achieve its ends. Its her control of the fires within that makes this Boudica so arresting. But instead of simplifying her as a nationalist icon, Bernays and McKee explore her fierce commitment to her daughters and the competing demands on her as mother and general in a world where women are treated as spoils of victory.
Natalie Simpson and Joan Iyiola are wonderfully passionate as the siblings, Blodwynn and Alonna who react to their traumatising treatment by the Romans at the start in such opposed ways. Blodwynn turns into a vengeful killing-machine; Alonna recoils from violence with vomiting horror, befriends a first generation Roman woman who says "This is my land. I was born here", and eventually parts company with the now blood-lusting rebel cause.
Don't imagine, though, that the proceedings ever turn into some pious tract for Remainers. Bernays has said that he pitched the piece as Shakespeare-meets-Games-of-Thrones and it has that kind of heady vibe. Sure, it's flawed; its mixing of registers – pastiche iambic pentameter and sweary modern – isn't always happy and can throw up rum passages such as "Get away, unless you'd have me cleave your cock from 'tween your legs". But it tells the story compellingly and with a real appetite for the adventure of presenting it in the Globe's distinctive auditorium.
Eleanor Rhode, who directs with terrific flair, pours theatrical energy into every available space (watch out for the Roman soldiers abseiling from the top tier). Up in the gallery, the dual drumming of Louise Anna Duggan and Calie Hough drives the drama forward with a powerful percussive beat. Tom Piper's excellent design of dangling gilded planks can conjure up a city shivering as it awaits attack, the post to which Boudica is tied for the flogging, or the forest of her final retreat. The 14-strong cast perform with relish and attack. The second act opens with a fist-pumping rendition of "London Calling" by The Clash. A stimulating last hurrah for the season but not, I'd wager, the last we see of either Bernays or Rhode at this address.
Register for free to continue reading
Registration is a free and easy way to support our truly independent journalism
By registering, you will also enjoy limited access to Premium articles, exclusive newsletters, commenting, and virtual events with our leading journalists
Already have an account? sign in
Register for free to continue reading
Registration is a free and easy way to support our truly independent journalism
By registering, you will also enjoy limited access to Premium articles, exclusive newsletters, commenting, and virtual events with our leading journalists
Already have an account? sign in
Join our new commenting forum
Join thought-provoking conversations, follow other Independent readers and see their replies