Can We Talk About This?, NY Lyttelton, London Shobana Jeyasingh's Classic Cut, Linbury Studio, London
Extremists commit crimes, liberals fail to condemn. Prepare to be assaulted in this challenging show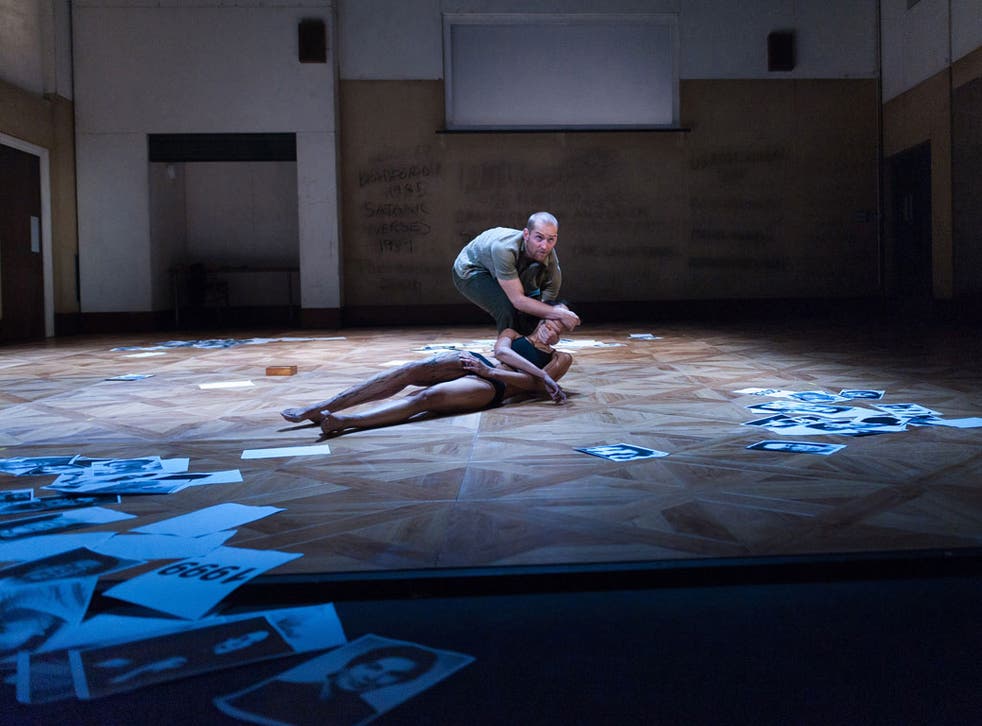 Talk about going in at the deep end. "Raise your hand," demands the man on the stage of a packed auditorium of people who think they've come to see some kind of dance, "if you think you're morally superior to the Taliban."
On the scale of the unsayable, it's roughly on a par with "How much do you earn?" and "Do you two still have sex?" Worse, it asks us to address our own liberal squeamishness. We're brought up to believe that "morally superior" is a bad thing to feel.
After a lurching silence that seems longer than it is, a smattering of hands go up. Hannes Langolf then explains why there should be more, reeling off a litany of horrors in a measured voice while bits of him run a parallel commentary: a head with a tick-tock life of its own, an elastic arm repeatedly clutching nothing but air, a lunging sideways step that might be avoiding some invisible obstacle. Over the course of the next breathless 80 minutes, you grow accustomed to the idea of uncomfortable facts being accompanied by swift and repetitive movement, a smooth and weirdly elegant stream of everyday gestural tics made voluble by association.
Lloyd Newson has been honing this physical language in the course of 25 years of distinctive pieces for his company DV8 (whose syllables didn't need explaining in the late 1980s – how soft we've grown). Increasingly, spoken text has become central, and Can We Talk About This? is Newson's talkiest work to date, based entirely on interviews. The title is heavily ironic – for fear of upsetting "cultural sensibilities", Newson argues, we pussyfoot around wrongs that demand to be challenged, a self-censorship that effectively undermines our democracy. On another level, the title also grimly references the last words reportedly uttered by the film-maker Theo van Gogh before he was murdered in the street for making a film deemed offensive to Islam. If you recall, his film had shown a verse of the Koran, referring to a man's right to beat his wife, inscribed on a woman's skin.
That incident is explored in the words of Van Gogh's female co-director, a performer impassively drawing in black marker-ink over her body as she speaks. Another powerful scene litters the stage with the passport photos of scores of others despatched by religious extremists. In another, a lovely young woman with restless arms and hands tells calmly how she fled a forced marriage aged 17 and, decades later, still needs constant police protection to prevent her being murdered by her family.
Mercifully, there is humour too. A tiny woman, speaking the words of a Midlands MP who has long crusaded to push the issue of forced marriage up the agenda, heedlessly perches on various ledges of a man's body while sipping a cup of tea. Another scene takes a fond-ish swipe at Baroness Shirley Williams as she tries to gesticulate her way out of a verbal tangle arguing against the knighting of Salman Rushdie.
Of course you can't dance a political discourse. But in Newson's hands the physical provides a surprisingly subtle subtext of hesitancy, indecision, unease, that helps open up that discourse (because frankly, without it, this would seem like a rant: you're most definitely being told what to think). What's more, the performance itself is phenomenal. It took ages for me to realise that most of the commentary is delivered live, even while the speaker is bouncing about like a flyweight boxer, or standing on his head.
After the show, younger members of the audience headed off into the night aping some of the more cartoonish moves. If Can We Talk About This? can get schoolchildren talking, then perhaps the dialogue can begin.
A riposte, of sorts, comes from Shobana Jeyasingh, a choreographer whose work, it's fair to say, presents the upside of multiculturalism. Starting from a baseline of classical Indian bharatanatyam, she has forged a coherent style that melds spicings of the subcontinent with the flavour of contemporary British life.
For the current tour, marking 25 years of dance-making, she couples her late-Eighties collaboration with the composer Michael Nyman with a new piece inspired by Bollywood. Dev Kahan Hai?/Where is Dev? nostalgically addresses the erotic reticence of old-school Indian cinema, suggesting that something precious has been lost. Where is Dev indeed? The doting lover is largely absent in this romance, as doe-eyed SriThina Subramaniam, a round-armed beauty, must make do with stolen glances and a single life of perfumed reverie. Around her, two modern couples engage with each other robustly, but with hints of dissatisfaction.
Against a grainy back-projection of khol-rimmed eyes, and a score (by Niraj Chag) that converts vocalised Indian rhythms into spluttering disco beats, Jeyasingh's dancers form and re-form their cool patterns like clustering beads in a prismic tube.
Configurations, with an onstage string quartet adding live oomph to Nyman's score, is, by comparison, like being fed chillies on a hot beach. Stamping, lunging, spearing the air with spiked diagonals, it's a shout of positivity, finding cultural connections, not difference.
'Can We Talk About This?' (020-7452 3000 to 28 Mar, The Lowry, Salford (0843 208 6000) 18-19 May; Shobana Jeyasingh: MAC, Birmingham (0121-446 3232) Tue, and touring
Dance Choice
Wayne McGregor's FAR makes a brief but very welcome reappearance at Sadler's Wells (Mon, Tue). McGregor's starting point is radical cognitive research, but you don't have to follow his thought processes to find the work – performed by 10 near-naked dancers who have clearly sprung from another planet – intoxicating.
Register for free to continue reading
Registration is a free and easy way to support our truly independent journalism
By registering, you will also enjoy limited access to Premium articles, exclusive newsletters, commenting, and virtual events with our leading journalists
Already have an account? sign in
Register for free to continue reading
Registration is a free and easy way to support our truly independent journalism
By registering, you will also enjoy limited access to Premium articles, exclusive newsletters, commenting, and virtual events with our leading journalists
Already have an account? sign in
Join our new commenting forum
Join thought-provoking conversations, follow other Independent readers and see their replies