Carousel, Coliseum, London, review: Alfie Boe's long black wig comes to seem more emotionally eventful than the rest of him
Roger and Hammerstein's 'Carousel' stars Katherine Jenkins and Alfie Boe in this English National Opera co-production directed by Lonny Price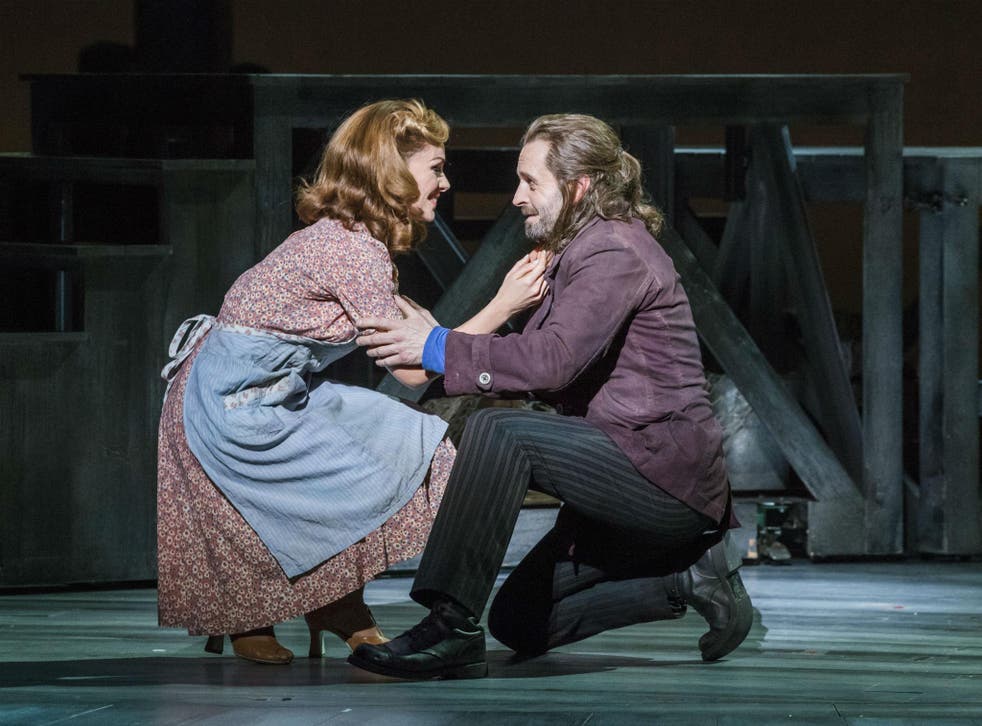 "There is something timeless, terrifying and marvellous about Carousel," observes Ethan Mordden in his fine programme note for Lonny Price's rather ravishing semi-staged revival of this Rodgers and Hammerstein classic – a show that kicks off the third season of musicals co-produced by English National Opera and the GradeLinnit company.
Aficionados of the form tend to agree with Rodgers that nothing surpasses this score, premiered in 1945, in the R&H canon for sheer beauty. There is controversy, though, in Hammerstein's book, which gives a New England setting to the dark saturnine Hungarian play Liliom, whose protagonist, a fairground barker, beats his wife, dies in a failed robbery, burns in hell for 16 years and then screws up his one chance of salvation when granted a day back on earth. There's a hideous irony to the fact that his encounter with the teenage daughter he has never known ends with a blow that echoes the past and sardonically suggests a dreadful determinism.
The musical reconfigures the scenario and gives it a redemptive edge. Billy Bigelow, the barker who commits suicide rather than face prison, brings down a star from heaven to give his unwitting, suspicious child. After being struck, she runs off in angry confusion and panic. But Julie, her mother, guesses intuitively whose spirit must be in the vicinity.
There is telepathic communication between the revenant and his widowed victim. The wary conditional mood (matchlessly dramatised in the song "If I Loved You") of a marriage that, because of Billy's hang-ups, never developed a confidence in its itself shifts to a painfully posthumous assertion ("How I loved you...") and there's a great swelling sense of transfiguration in the final scene. At the daughter's graduation ceremony, American individualism – the right to progress through life regardless of the sins of one's father – fuss with its celebration of social solidarity in the affirmative chorale "You'll Never Walk Alone".
A whitewash job on a wife-beater? It would be a poor production that suggested these matters can be simply adjudicated upon. But it doesn't help here that, for all his mighty vocal prowess, Alfie Boe's performance brings to mind one short plank. His long black wig comes to seem more emotionally eventful than the rest of him as he struggles to portray the subtler aspects of a man whose deep inferiority complex has saddled him with the pose of swaggering tough.
The character's long "Soliloquy", as he muses on impending fatherhood, and goes from bluster and defiance when he imagines the mini-me of an infant Bill to consternation and panicking vainglory when he realises that it's a daughter that might be on her way is, for me, the kind of summit for the male voice that "Rose's Turn" in Gypsy represents for the female. There are strange affinities between these two sequences: both are about daughters, Rose looking back with lacerating self-vindictive. Behind all the bumptious posturing, Billy is on a similar course, except that it's into the dimly lit dread of an uncertain future that Billy is peering.
Boe strikes the one pose throughout and is capable of managing about three emotions singly, in a kind of crop rotation. I loved, by contrast, Katherine Jenkins. Her rapturously beautiful voice soars from the mezzo-like swimming cream of its lower register to the shiver-inducing silver of its heights. There's a terrible dignity to the way she copes with being unable to stop loving a man whose pain she understands. The contrast, she lets you see, is with Nancy in the musical of Oliver!. "As Long As He Needs Me" is a shallow idea of this trap compared with the complex resignation registered here in "What's The Use of Wondering".
Amy Everett is a sensational dancer and gets the best of Josh Rhodes's choreography as Louise, the wild fatherless chip off the old block, as she retaliates to her snobbish classmates and revs up to feral exaltation in an erotic pas de deux that sees her break through the sound barrier of inherited insecurities. The almost excruciating loveliness of the score is brilliantly served by David Charles Abell's symphony-sized orchestra. Recommended.
Register for free to continue reading
Registration is a free and easy way to support our truly independent journalism
By registering, you will also enjoy limited access to Premium articles, exclusive newsletters, commenting, and virtual events with our leading journalists
Already have an account? sign in
Register for free to continue reading
Registration is a free and easy way to support our truly independent journalism
By registering, you will also enjoy limited access to Premium articles, exclusive newsletters, commenting, and virtual events with our leading journalists
Already have an account? sign in
Join our new commenting forum
Join thought-provoking conversations, follow other Independent readers and see their replies