Cirque de Soleil - Quidam, review: 'Obscure scenes performed on an epic scale'
Royal Albert Hall, London
Emily Jupp
Wednesday 08 January 2014 14:47 Comments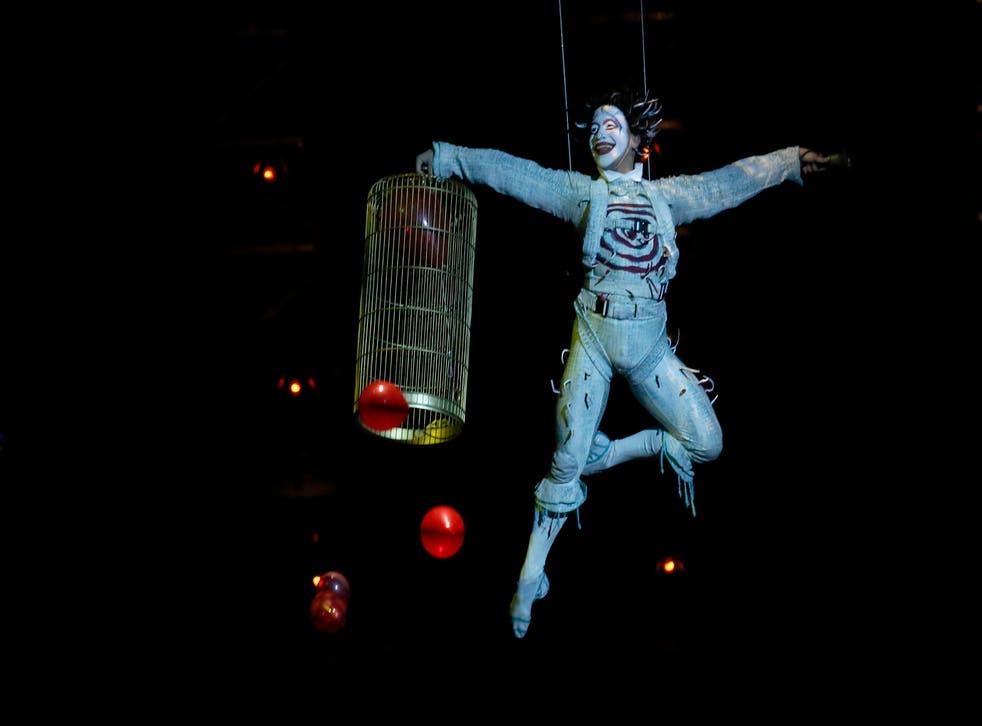 International circus troupe Cirque du Soleil opens its performance of Quidam with an announcement of thanks to its sponsors, including an obscure Japanese car company and a photocopying firm, whose brand names are also projected on the walls.
What a way to kill the magic. It's hard to switch off from the fact that Cirque du Soleil is by no means a quaint little performing troupe. Founded in 1984, it now has over 5,000 employees worldwide and rakes in around £486 million a year. Those are big numbers, and here's another one; one ticket costs £95 (plus a £4 'convenience fee' plus £2 to actually receive the ticket, by email).
Of course, with such a well-funded, big venue production comes a certain slickness that you won't get from your average circus. The scale is epic, the performers are precise and hugely talented and, of course, there's a unique selling point: Cirque du Soleil's writer and director, Franco Dragone, weaves surreal narratives into his productions so they're a world away from cheery acrobatics. There are no animals, just gorgeous superhumans who risk death (Cirque had it's first ever fatality last summer for the first time in 30 years) and defy gravity, just to make us gasp. But is it worth the ticket price? It would be, if there wasn't so much filler.
The current show, Quidam, is about a girl who goes down the rabbit hole, through the looking glass and lands up in a Magritte painting. In other words it's incomprehensible. Between bouts of amazing circus skills, including German wheel, where a man becomes the spoke on a giant wheel and spins around the stage, silk dancers, thrilling hand balancing, aerial hoops and very strong people who throw tiny people miles in the air, there are odd, obscure scenes tacking the alleged storyline together.
A girl dressed as a rabbit cries a bit, a man with wooden aeroplane wings stitched to his suit skips about, a giant man with no head solemnly parades around holding an umbrella. Presumably these interludes are necessary to let the acrobats take a breather and when you do get to see the skills it's astounding.
Yves Decoste and Valentina Sidenko perform something called the 'Statue' which is so tense the burly man in the row in front was inspired to exclaim in a revered whisper: "fucking hell." They are beautiful and impossible — they emerge like a marble-white Adam and Eve from a nest of interwoven people, chiselled and perfect. Then almost imperceptibly, they balance in seemingly gravity-defying poses.
At one point he stands with his arms out while she mirrors him, upside-down with her head resting on his shoulder blades; a living, harmonious crucifix. And then, just when you can't stand the tension any more, some bloke in a tutu starts piruetting in the background.
There's a bit of clowning in the style of mime of the moment The Boy With Tape On His Face, where audience members are forced to act out tempestuous trysts. It's funny but doesn't seem to fit with the rest of the dark nightmarish vibe, although it's entertaining in its own right.
But, for £100 a seat, I'd want more of the star acrobats and less time spent on sideshows.
Jan 4 - Feb 16; 0845 401 5034
Register for free to continue reading
Registration is a free and easy way to support our truly independent journalism
By registering, you will also enjoy limited access to Premium articles, exclusive newsletters, commenting, and virtual events with our leading journalists
Already have an account? sign in
Join our new commenting forum
Join thought-provoking conversations, follow other Independent readers and see their replies