Closer, Donmar Warehouse, review: Patrick Marber's play about love and sex still wounds
Rufus Sewell stars in David Leveaux's revival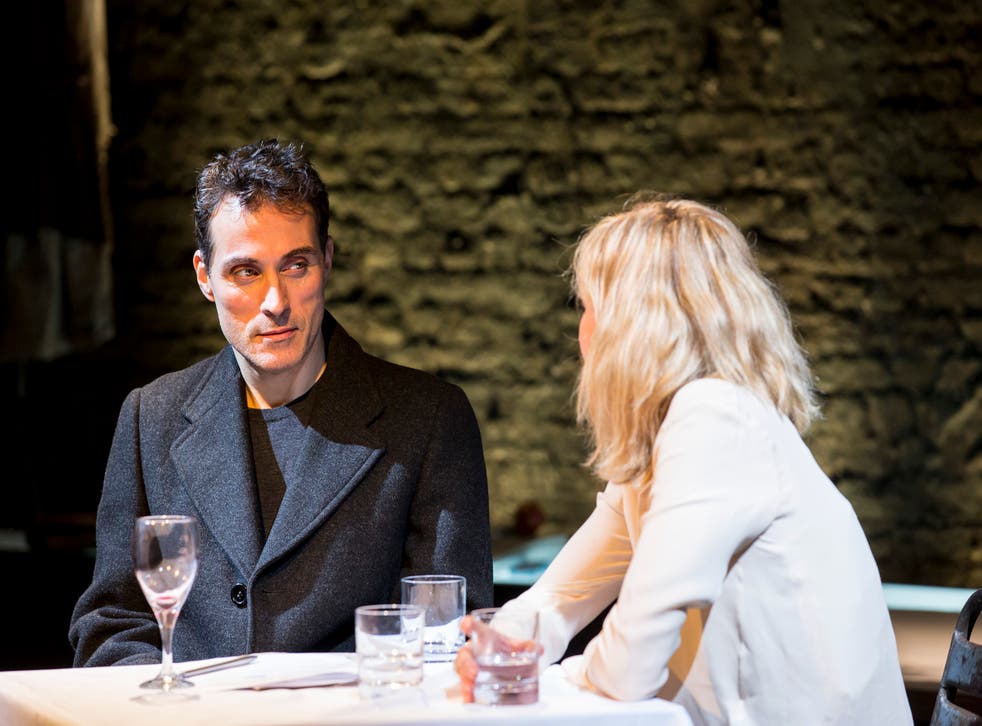 It may be seventeen years since Closer premiered in London, but Patrick Marber's four-hander about love, sex and relationships still has the power to wound. We meet, with almost coldly mathematical precision, two men and two women at key moments in their interlaced romances. Closer painfully strips back the skin to probe at how telling a lie, or confessing the truth, can be a kindness or a cruelty.
But it's also still very funny: Marber's famously explicit script is as good at delivering witty zingers and power-play banter (as it wouldn't have been called back in 1997) as it is at the revelatory moments where people seem surprised at their own capacity to feel hurt, and to hurt others.
And while they admittedly have the sort of pithy insight and ability to articulate their emotions that only characters in a play ever could, a chemistry-rich cast ensure most of Marber's dialogue lands.
Oliver Chris manages the quick changes in confidence of aspiring-writer Dan, while Rufus Sewell has a pleasing belligerence and canny manipulative streak as the doctor Larry; both snort and sigh, gurn and groan under the pain of love.
Rachel Redford, if underpowered in the most vicious lovers' tiffs, commendably manages to balance little-girl fragility with forthright self-possession. She makes the character that sails closest to groaning stereotype - Alice, the troubled, beautiful, quirky stripper - feel like a real woman rather than merely a sexy young "waif" (this is aided by Sewell playing the strip-club scene as a slurring, pitiable drunk - tilting an uneven power-balance back in Alice's favour). Finally, Nancy Carroll is predictably superb as Anna: every emotional shift fluttering subtly across her face. Humour, pity, anger, regret, lust… she crackles with it all.
There's a lightness to David Leveaux's production that means all the hook-ups, fuck-ups and break-ups don't leave the audience feeling too wrung-out. Meanwhile, a British wryness - notably absent in the Hollywoodised female cast of 2004's film version - prevents the piled-up declarations of love from becoming precious.
The production is brought up to the present day - largely successfully, and largely through costume (whoever had final say on footwear rightly recognising that women in 2015 have wardrobes full of ankle boots). I was less convinced by the sometimes clunky scene-setting projections. The famous chatroom sex that Larry and Dan - pretending to be Anna - have is rendered in basic script on a green-tinged black background; this would have looked dated in the Nineties, let alone now.
Otherwise, Bunny Christie's neutral, spare set - doing just enough to evoke the nice restaurants and posh sofas of these childless, professional Londoners - is elegantly reconfigurable. Overlapping scenes see characters stalking through each other's lives, as they do through their jealous imaginations.
But placing the memorial plaques of Postman's Park - where several encounters take place - along the back wall is a bold decision, essentially mounting a spoiler in full view... Then again, Marber often gives the audience more knowledge about the characters than they have about each other, so perhaps it simply serves as a constant gloomy reminder that deception can be there from the very start of a relationship.
To 4 Apr; donmarwarehouse.com
Register for free to continue reading
Registration is a free and easy way to support our truly independent journalism
By registering, you will also enjoy limited access to Premium articles, exclusive newsletters, commenting, and virtual events with our leading journalists
Already have an account? sign in
Register for free to continue reading
Registration is a free and easy way to support our truly independent journalism
By registering, you will also enjoy limited access to Premium articles, exclusive newsletters, commenting, and virtual events with our leading journalists
Already have an account? sign in
Join our new commenting forum
Join thought-provoking conversations, follow other Independent readers and see their replies