Cloud Gate Dance Theatre of Taiwan, Sadler's Wells, London, review: Lin Hwai-Min's farewell has a new urgency
Combining contemporary dance, qi gong, martial arts and calligraphy, this Taiwanese dance company explores the colonial history of its island
Zo Anderson Comments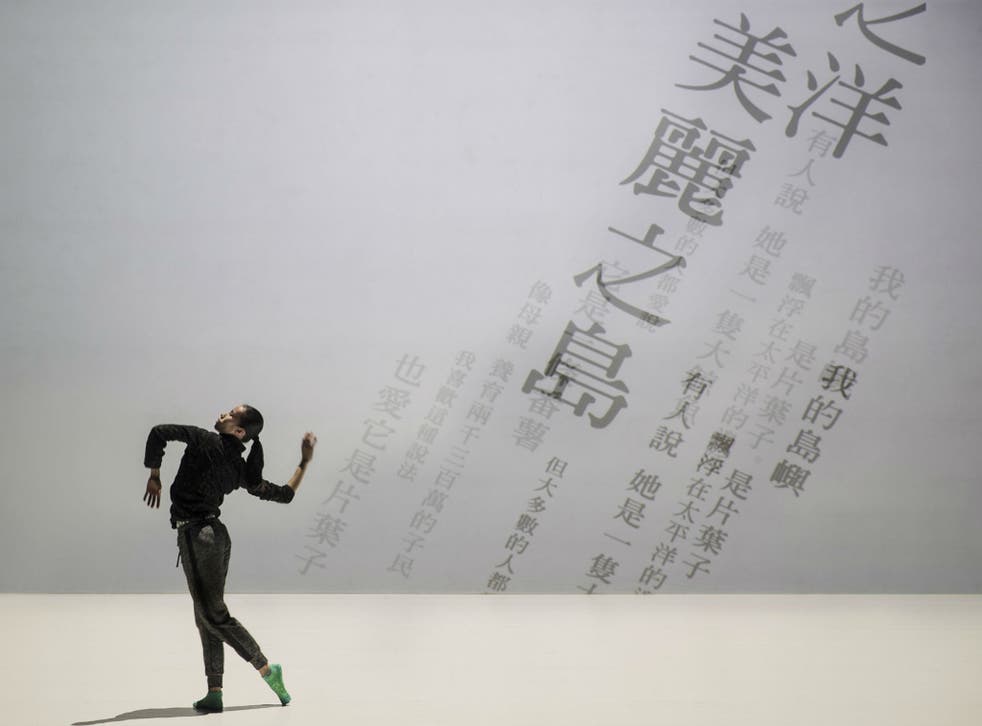 Lin Hwai-Min's Formosa is both a loving evocation of daily life in Taiwan and a war of words. The dancing is framed by voiceovers and projection of Chinese text, from poetry to a swirling chaos of typefaces.
Lin founded Cloud Gate in 1973, creating a company and a style that combines contemporary dance, qi gong, martial arts and calligraphy. His productions are known for fluid movement and striking stage design. Formosa, which is to be Lin's last work as the company's artistic director, is faster-paced and more conflicted than serene hits such as Moon Water.
It's named for "Ilha Formosa", "beautiful island", the exclamation of Portuguese sailors when they first saw the island of Taiwan. It emphasises both the island's loveliness and its colonial history. The soundtrack mixes spoken word (with English surtitles) and songs by Sangpuy Katatepan Mavaliyw, of Taiwan's indigenous Puyuma people. Even when the stage picture is unified, it's created from competing views.
The dancers move across a stark white box, with Chinese characters projected behind them. The large cast move like an urban crowd, walking fast but without common direction. Chen Mu-han steps out for a fierce solo, plunging into movement as the they sweep past her. Patterns keep emerging from apparently random movement: suddenly a crowd is moving in unison.
Sometimes the dance illustrates the text. As a voiceover describes an egret in a rice paddy, Huang Mei-ya appears in a white dress, her movements slow and fluid, arms spread wide like wings. More often, the dance goes its abstract own way, creating sweeps and designs as the voices describe small towns, landscape and the changing seasons.
The orderly march of typefaces becomes a swoop of patterns, characters projected so large that they become abstract shapes, looming over the dancers. Individual letters fall away or overlap in inky disorder, language collapsing into darkness.
Cloud Gate style tends to be composed and considered, dancing that keeps its philosophical cool. Formosa has moments of much greater agitation, with the phrase "Ilha Formosa" returning at moments of turmoil.
The dancers, famous for their assurance in Lin's long lines of movement, are just as committed in these faster, scrambling steps. As descriptions of their homeland clash around them, they hurl themselves into the air, letting tranquil phrases twist into urgency. Saying farewell, Lin is also saying something new.
Until 12 May (sadlerswells.com)
Register for free to continue reading
Registration is a free and easy way to support our truly independent journalism
By registering, you will also enjoy limited access to Premium articles, exclusive newsletters, commenting, and virtual events with our leading journalists
Already have an account? sign in
Join our new commenting forum
Join thought-provoking conversations, follow other Independent readers and see their replies