Come from Away, Phoenix Theatre, review: Drama thrives on conflict and this musical about 9/11 has very little of that
It would be impossible to imagine a more complete antidote to Neil LaBute's 2002 play 'The Mercy Seat' than this warm musical by Irene Sankoff and David Hein
Paul Taylor
Monday 18 February 2019 23:04 Comments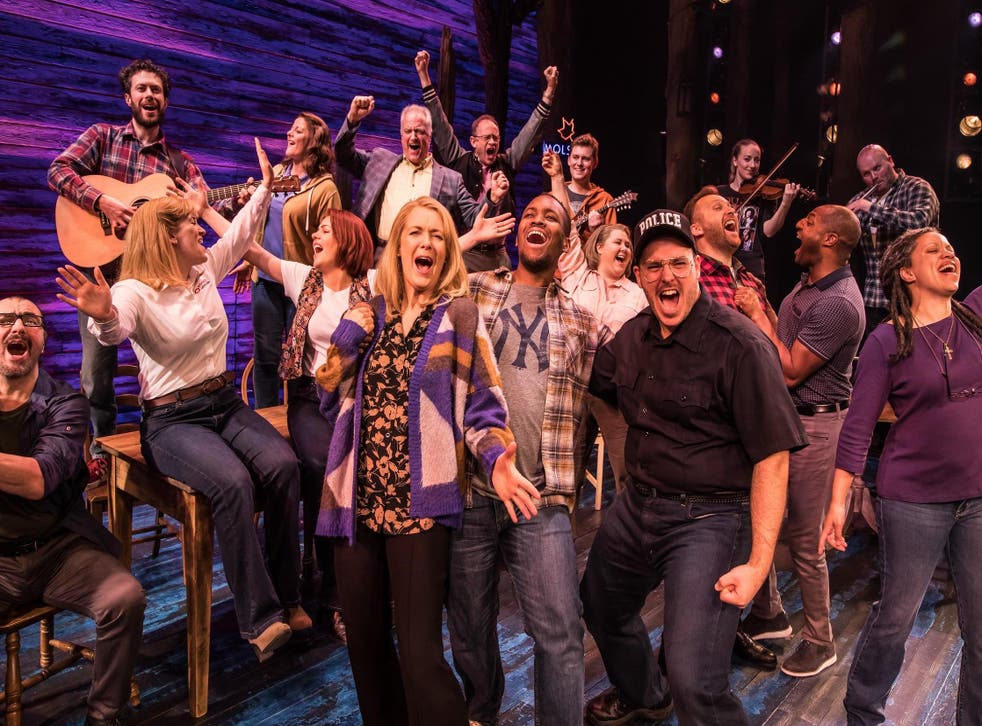 One of the earliest theatrical responses to the horrors of 9/11 was Neil LaBute's 2002 play The Mercy Seat. You think that a colossal crisis like that would bring out the best in most people? LaBute offers a tart reminder that some folk remain too trapped in their selfish concerns to rise to the occasion. His anti-hero, an adulterous executive, was scheduled to be in the World Trade Centre and would likely have been killed in the atrocity, had he not stopped by his lover's nearby apartment to accept a little oral comfort. LaBute shows the pair are still holed up there on 12 September as he debates whether to capitalise on his assumed death and sneak off to fluke new life with her.
It would be impossible to conceive of a more complete antidote to that piece than Come from Away, a warm group hug of a musical by Irene Sankoff and David Hein. The show is a somewhat determinedly inspirational depiction of how the 9,000 residents of the Newfoundland town of Gander opened their arms to over 6,500 strangers for five days when American airspace was closed in the wake of the terrorist attacks and 38 planes were diverted there. The 12-strong cast in Christopher Ashley's taut production keep switching in a trice between playing the locals, tirelessly scrambling to cope with the lunatic logistics (the piece is pleasingly alive to the comedy of disproportion) and the distraught "plane people" trapped on board for up to 30 hours with no outside communication.
40 of the greatest plays ever written

Show all 40
In these divisive times, with invasion scares and border walls and trumped-up national emergencies, the show's celebration of selfless hospitality has certainly found its moment. It even went down well in New York – whose citizens could easily have looked askance at a piece in which the most traumatic event in their history becomes the backdrop. (This remains a problem with the piece. The ongoing offstage tragedy does impinge, but not enough.) There is, to be sure, a lot to like and admire in the proceedings. The choral singing has such fervour that your body resonates like a struck tuning-fork. There are strong Celtic connections in this part of the world, and the foot-stamping music resounds to the sociable swirl of uilleann pipes, penny whistle, fiddle and skin-drum. There but for the grace of God goes Riverdance. The piece is very supple (as is the production with its expressively shifted chairs) and it manages to pack a lot into the interval-free 100 minutes. We even get to meet the lovely woman who takes it upon herself to tend to the animals stranded in the aeroplane holds (this menagerie included two bonobo chimps).
And yet I have qualms about the show. Drama thrives on conflict and this has very little of that. We're to take it that not a single local felt iffy about helping the sudden influx of outsiders. And no one seems to grow more complex over time. (I'm not doubting the veracity of any of this. It's based on extensive interviews.) Being the poster people for exemplary open-heartedness must have its strains. But, if so, we don't get much hint of them at the 10th anniversary reunion. Sure, there are shadows. Not all prejudices conveniently curl up and die. A renowned Muslim chef is tragi-comically rebuffed when he offers to help out in the kitchen. A woman hears of her son's death in New York. But the mood is predominantly feel-good. Few people seem to be left unenhanced by their experiences. Happily, there is (spoiler alert) no audience participation in the pub scene where the visitors undergo the initiation ceremony for becoming honorary Newfoundlanders (it involves kissing a dead fish). But the show is out to recruit us to that adorably quaint and esteemed body.
My favourite sequence was also potentially the most mawkish. There's an elderly Gander resident who was sent from Poland to Canada for safety when he was a little boy, but warned by his parents never to reveal his Jewishness. He didn't even tell his wife. He now has the huge relief of disclosing his identity to the Rabbi, who happened to be on one of the grounded flights. There's a stereoscopic depth to this encounter between two people who have, for very different reasons, fetched up on these shores. An ecumenical spirit flowers in the scene where a local Protestant chapel become simultaneously a synagogue and a mosque through the hauntingly interwoven musical idioms and prayerful gestures.
It's stirring and a bit queasy-making. I tell you one thing, though. There'll never be a musical of The Mercy Seat.
Until 14 September. Box office 0844 871 7615
Support free-thinking journalism and attend Independent events
Register for free to continue reading
Registration is a free and easy way to support our truly independent journalism
By registering, you will also enjoy limited access to Premium articles, exclusive newsletters, commenting, and virtual events with our leading journalists
Already have an account? sign in
Join our new commenting forum
Join thought-provoking conversations, follow other Independent readers and see their replies