Company review, Gielgud Theatre, London: Broadway legend Patti LuPone steals show in modern version of groundbreaking Sondheim musical
Bobby becomes Bobbie in this female-led version of the sexual revolution classic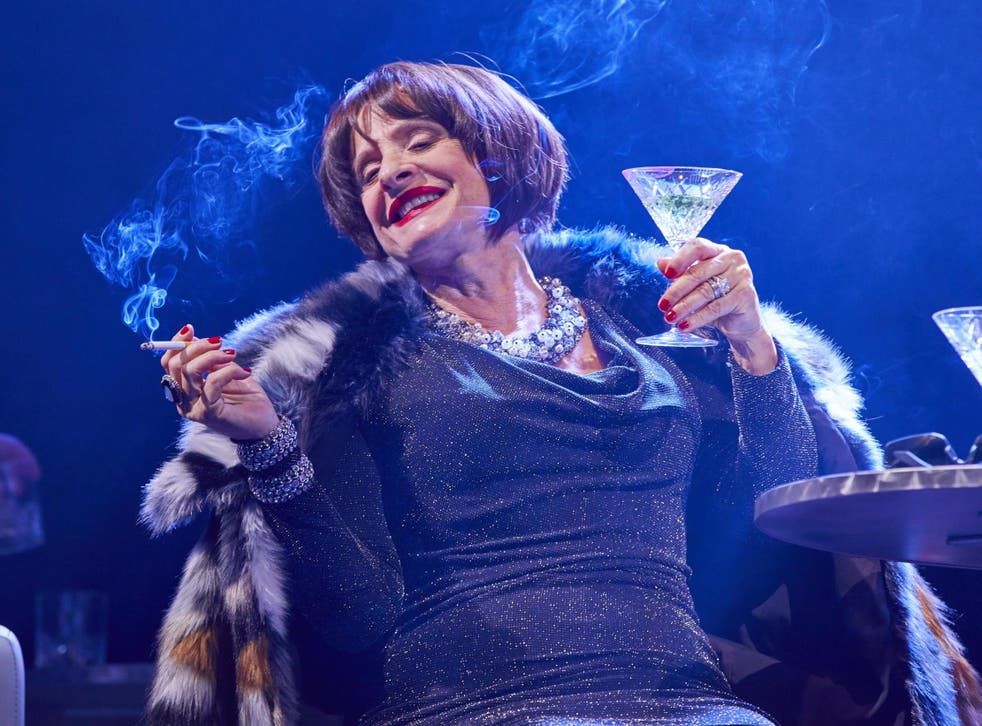 When this groundbreaking musical was premiered in 1970, Stephen Sondheim can scarcely have imagined that one day its central male character would be reimagined as a woman. But he's given his blessing and his co-operation to Marianne Elliott's vivid, deeply felt production which turns Bobby into Bobbie and sets out to transform Company from a brilliant period piece about the sexual revolution of the Seventies to a show that allows us to see the main predicament from the perspective of women in the present day.
Sondheim's original Bobby is a casually womanising New York bachelor who goes through the motions without ever being able to make an emotional commitment. Here, Rosalie Craig plays Bobbie who has a successful career, a smart apartment and no shortage of boyfriends. But as she hits her 35th birthday and hears the biological clock ticking, she has to ask herself if she wants to settle down. "Those good and crazy people, my married friends", though no great advertisement for matrimony themselves, bombard her with opinions. In a neatly gender-reversed sequence, her current boyfriends (Matthew Seadon-Young, Richard Fleeshman, and George Blagden) perform a boop-boop-de-doop" trio of comic frustration, "You Could Drive A Person Crazy", with charming flair.
It has to be said that the songs – the jabbing title number, "The Little Things You Do Together", "Getting Married Today" et al – are vastly superior in wit and pertinence to the rather scrappy, lacklustre vignettes in George Furth's book. Elliott keeps the energy levels up with the inventiveness of her staging. Neil Austin's excellent lighting and Bunny Christie's sliding neon-rimmed rooms, painted in a creepily elegant, monochrome grey, add to the impression that we are inside Bobbie's head. There are hints (changes of scale like the birthday helium balloon, specifying "35" becoming so big it looks set to displace her from her flat) that this may be an Alice in Wonderland dream. In the extraordinary "Tick Tock" routine, Bobbie watches in dismay as four identically dressed versions of herself at different of stages of pregnancy and motherhood go through an endless loop of joyless cohabitation with the simultaneous partners.
The ensemble of friends (which includes Gavin Spokes and Mel Giedroyc) is terrific – funny and slightly sinister in the smug way they batten on her. Surreal conflations make it look as if they keep invading her territory, even performing their nightly ablutions around her while she is on the bed making out with a flight attendant and lamenting with preposterous piety her single state. Amy has been re-conceived as Jamie, a gay groom who has a terrible panic attack about his imminent nuptials. Jonathan Bailey delivers the character's frantic patter song "Getting Married Today" with a hilarious, solemn intensity, shoving the implacably smiling female cleric out of the way in his fridge.
Broadway legend Patti LuPone gives another stand-out performance as Joanne, the moneyed lush who can't credit that her husband genuinely loves her and whose wisecracks are lethal weapons. Her electrifying rendition of "The Ladies Who Lunch" is a fearsome bawl of self-hating bitterness and stabbing pain. With a self-amused glint of irony, her Joanne communicates how well she understands Bobbie, from her own very different position, and how glad she is done to have done her an inadvertent favour. Rosalie Craig is, in many ways, glorious in the taxing central role.
But there's nothing hard or unlikeable about this funny, sensitive, apologetic figure. Though her accent is very good, she just doesn't come across as American to me. I felt that this Bobbie already knew the wisdom about disconnection and commitment that the piece is designed to teach her. She's insufficiently defended against it. Her ardent vocal purity on "Marry Me A Little" and "Being Alive" and her alertness to the shifts of meaning within these songs are exemplary. I merely wish that there was more of a sense of risk that Bobbie might not come through.
That said, Craig sustains the evening with tremendous spirit. True, there is only so much you can do (by way of references to texting, say, the spectacle of a dating app being angled on a tablet etc) to catapult the show into 2018, given the constraints of the Seventies book. Nobody thinks to remind Bobbie that you don't need to be married to have a baby nowadays. All the same, this intrepid production does impart the kind of frisson you suspect audiences felt seeing Company the first time around.
To 22 December, delfontmackintosh,co.uk/tickets/company
Support free-thinking journalism and attend Independent events
Join our new commenting forum
Join thought-provoking conversations, follow other Independent readers and see their replies