Comus: A Masque in Honour of Chastity, Sam Wanamaker Playhouse, London, review: Lucy Bailey's witty and beguiling production
Milton's Comus twists the conventions of the masque, taking the audience on a tempestuos journey
Paul Taylor
Wednesday 02 November 2016 13:45 Comments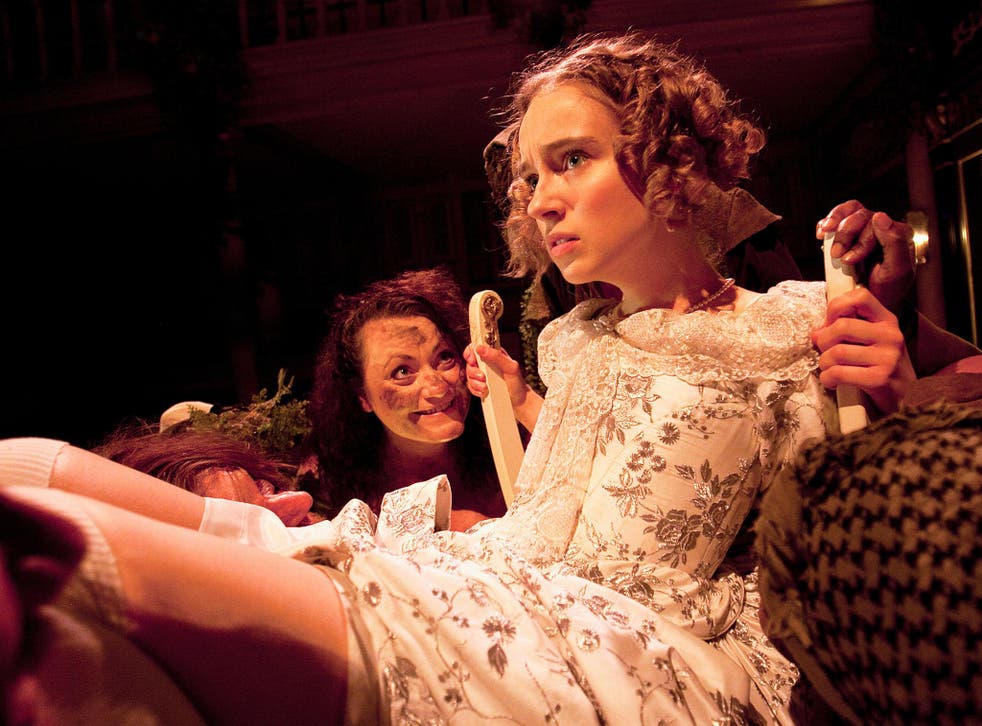 I love the revelation, in her preface in the programme, that Emma Rice laughed out loud when Lucy Bailey pitched the "brilliant, left-field idea" of staging this 1637 masque by Milton as part of the "Wonder Noir" winter season in the Globe's indoor playhouse. And it's a particular pleasure to report that it proves to be an excellent piece of commissioning, given how deplorably Rice – who will leave next year after just two seasons as Artistic Director – has recently been treated by the Board.
Share prices in the virtue of ''Chastity' (so dear to heaven 'That when a soul is found sincerely so,/A thousand liveried Angels lackey her') seem to have tumbled a bit, at least in the word's limited current sense, since Milton's day. And the genre of the masque – spectacular one-off entertainments, commissioned by royals and aristocrats to celebrate a particular event in allegorical story, song and dance and performed by a mix of professionals and costumed amateurs – isn't in an inordinate hurry to make a come-back. To modern taste, too, Milton's richly ornate verse, with its wealth of mythic allusions, is liable to arouse admiration rather than (like Shakespeare's) love.
Lucy Bailey's witty and beguiling production manages to get the piece across with a subversive humour that feels perfectly consistent with a deep, not-uncritical respect for it. Bailey has done some stunningly imaginative work at the outdoor theatre (Titus Andronicus, Timon of Athens) etc. Her first foray in the Sam Wanamaker Playhous is magical and funny and extremely shrewd, its candlelit, garlanded interior now equipped (in William Dudley's excellent design) with a smoky under-stage tunnel through which flows the River Severn. Toppling into this transforms the commissioner of the piece, Sir John Egerton, and his household into a strenuously debauched "Monstrous Rout" – this morphing of "masquers" into "anti-masquers" highly effective here. In the gallery, above the fray, Paul James and his band are continual delight with settings of Henry Lawes and others composers that melodiously churn to the hurdy-gurdy and bray to the Border bagpipes.
A virginal sister becomes separated from her brothers in a wood and is abducted by the disguised Comus, son of Bacchus. She finds herself stuck to an enchanted chair and resists his overtures with a forensic fierceness. But when her brothers arrive, Comus escapes and it is only through the aid of the water-nymph, Sabrina, that she is freed. Comus was written to celebrate the arrival of the Earl of Bridgwater as Lord President of Wales at Ludlow Castle, with three of his children playing the siblings. Bailey had the great idea of commissioning comic framing scenes from Patrick Barlow of the National Theatre of Brent that suggest (as some scholars think) that the masque was intended to cleanse the family's reputation after the scandal involving the Earl's brother-in-law, excecuted a couple of year's before for sodomy with a man servant and for arranging for his wife to be raped by several servants. "He sodomised a serpent?" asks one of the brothers here. And that marks the difference between the young men's naivety – which is beautifully caught in the their officious, self-important sixth-form-debating talk about chastity as the Monstrous Routers paw, unseen, at their breeches – and Emma Curtis's more mature Lady Alice. She is first seen refusing to take part in the masque and winds up delivering a specially written rousing unsubservient speech about what she has learned from taking part.
There are some excellent performances. Danny Lee Wynter is wonderful as Comus, suggesting both swagger and susceptibility, and as the rather Lawrentian stable boy who performs the role. This underlines an ambivalence felt in the original. Philip Cumbus is perfection with his slightly fuss-pot comic self-regard as the director/composer Henry Lawes and as the Attendant Spirit, not least through his ability to make you shiver at will at the majesty of the verse. Warmly recommended.
Register for free to continue reading
Registration is a free and easy way to support our truly independent journalism
By registering, you will also enjoy limited access to Premium articles, exclusive newsletters, commenting, and virtual events with our leading journalists
Already have an account? sign in
Join our new commenting forum
Join thought-provoking conversations, follow other Independent readers and see their replies