Coppélia at the Royal Ballet, review: A splendid alternative tale of dancing dolls for the festive season
Francesca Hayward showed her sense of comedy and mischief as Swanilda on the show's opening night
Friday 29 November 2019 12:10 Comments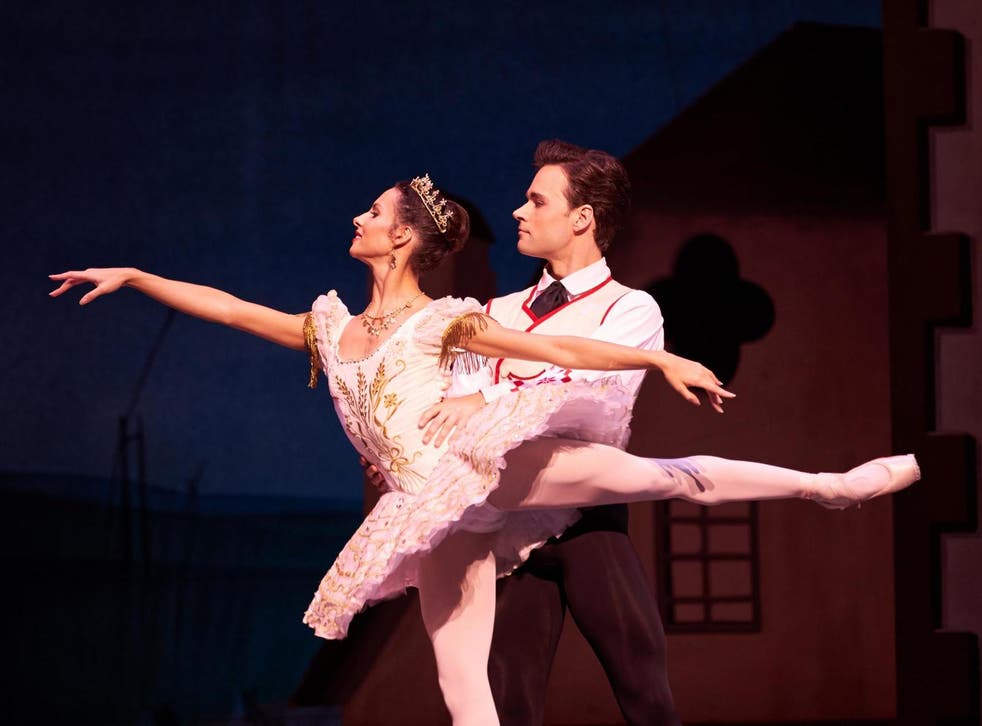 Taking a break from The Nutcracker, the Royal Ballet turns to another 19th-century classic for the festive season. Coppélia is a splendid alternative, a tale of dancing dolls and quarrelling village lovers. It's revived much less often than the big Tchaikovsky classics, even though it has a lilting Delibes score and a cracking role for a ballerina. On opening night, Francesca Hayward showed her sense of comedy and mischief, while finding tenderness in the most formal ballet steps.
Hayward is one of the Royal Ballet's brightest young stars. Already hitting the heights in the classical repertory, she's also appearing in the movie Cats, complete with "and introducing" credit in the trailers. In Coppélia, she dances the village girl Swanilda, dealing with her boyfriend Franz's roving eye and with the antics of the toymaker Dr Coppélius, who creates dolls so real that they can be mistaken for people.
Created in 1870 by Arthur Saint-Léon, Coppélia sweetens its dark ETA Hoffmann source, Der Sandmann. Coppélius is comic rather than terrifying: when Swanilda and her friends sneak hand-in-hand into his workshop, their fears are funny because we know they won't come to any harm. Ninette de Valois's production, originally created in 1954, has bright, picture-book designs by Osbert Lancaster, while Barry Wordsworth conducts a springy, affectionate account of the score.
40 of the greatest plays ever written

Show all 40
Swanilda is a boisterous role, which isn't an obvious fit for Hayward's delicacy, but she creates a very personal take on it. Her doubts over Franz are unusually sensitive, sorrow and hope flitting across her face and through her steps. There are touches of strain in the hops en pointe, but she's always nuanced and musical. When Swanilda is in doll disguise, Hayward makes a wonderfully jiggly automaton, with a mechanical bounce so clear you can almost hear the sproing.
Alexander Campbell is a dashing Franz, always getting carried away in his next scheme. There's a cheerful optimism in his soaring jump, with some lovely comic timing. A strong partner with a warm personality, he a fine match for Hayward.
Gary Avis is a quirky Coppélius, grumpy and eccentric. He could make more of the toymaker's vulnerability, but he's a sharp, precise presence. As bustling villagers, the Royal Ballet start out a little proper, but open up in the mazurka, led with gusto by Campbell and the striking Mayara Magri. There's lively dancing from Swanilda's friends, and crisp solo work. Fumi Kaneko stood out in the Aurora solo, with bold presence and technique.
Register for free to continue reading
Registration is a free and easy way to support our truly independent journalism
By registering, you will also enjoy limited access to Premium articles, exclusive newsletters, commenting, and virtual events with our leading journalists
Already have an account? sign in
Join our new commenting forum
Join thought-provoking conversations, follow other Independent readers and see their replies