Dance review: Trouping the colour - Why Ballet Black puts on such a jolly good show
Jenny Gilbert
Saturday 09 March 2013 21:00 Comments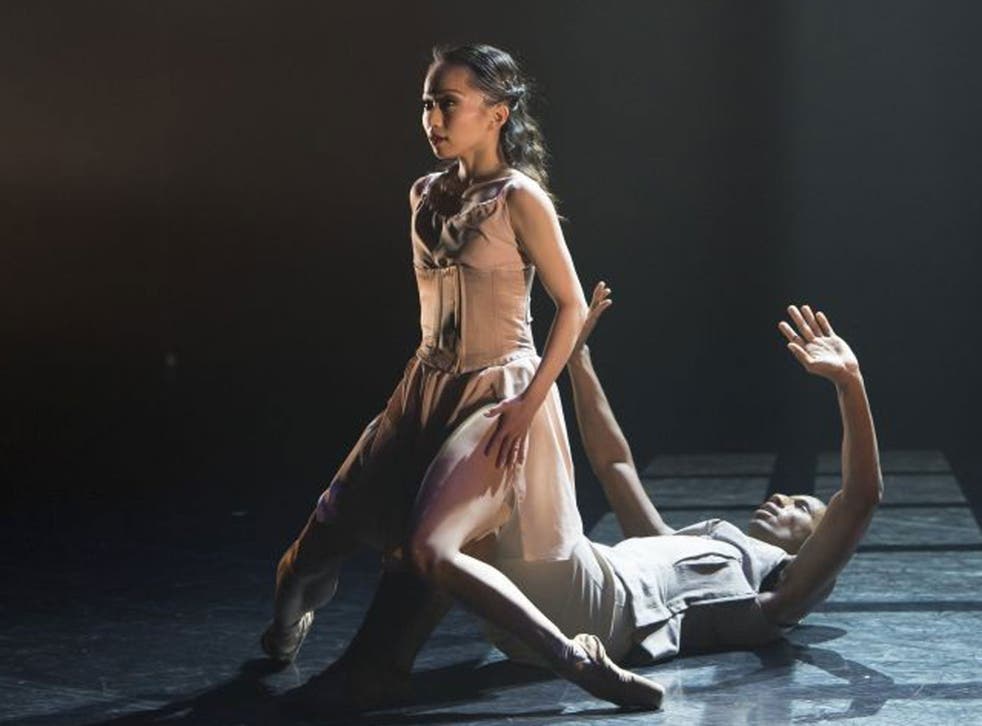 There should be no need for a company called Ballet Black, just as there should be no need for all-female political party shortlists. But there is, and for two reasons: to offer a platform for classically trained dancers of colour, particularly women, conspicuously absent from Britain's big ballet companies; and to provide role models for a rising generation of talented kids. But in the 12 years of Ballet Black's existence, it has found itself a third raison d'être. It's hard to think of another small company that even comes close to its turnover of new work.
In BB's latest touring programme, four out of four of the pieces are premieres. Crucially, though, they're also varied, eminently accessible and stylishly performed. Only the opening duet, Egal, by Royal Ballet choreographic apprentice Robert Binet, seems a touch severe. A technical experiment in pitting equal forces against each other (no forced gallantry or wilting rosebuds here), there's certainly little to choose between Cira Robinson and Jacob Wye, in matchy-matchy sapphire vests and shorts, in terms of sleekness, speed and elan, though you're left thinking both might have softened up and smiled more.
The charm offensive comes in a second duet, Ludovic Ondiviela's Dopamine (you make my levels go silly). Cheeky, lovesick Sayaka Ichikawa seems willing to use every physical trick in the book to land Jazmon Voss in a clinch, until, that is, he returns the enthusiasm: her cue to turn coy. The steps are wildly eclectic, flipping between classroom ballet, improv and disco wiggles which, seamlessly strung together, come across as some quirkily entertaining new sign language.
The company's flirtation with narrative last season continues in War Letters, an extended work by Christopher Marney. He's better known as a leading dancer with Matthew Bourne, and some of that man's talent for scene-setting seems to have rubbed off. Inspired by correspondence conducted by far-flung lovers in the Second World War, it's less a story than a sequence of themed sketches, a string of brief encounters and romantic longings heightened by an ever-present mortal threat.
Woozy big-band hits bowl the dancehall scenes along, the steps embracing swing and mambo, the girls' skirts flaring like fully opened poppies. In chilly contrast, a neatly hatted and gloved young woman visits her brain-injured sweetheart in a grey-lit sanatorium. Their unresponsive duet makes it tragically clear that he won't be coming home. In another scene of subtle understatement, Tommies stand guard while another sleeps, dreaming of the contents of a letter. Later, the scene is reversed as a girl scans a line of corpses in an army morgue. It's affectingly done.
The biggest choreographic catch on the bill is Javier de Frutos, and The One Played Twice is as lively as we've come to expect. His ear for off-piste musical genres leads him this time to Hawaiian barbershop (who knew?), and the ensuing dances range through traditional hulas to 1950s novelty ditties. Great fun.
Tour resumes 21 Apr at South Hill Park, Bracknell (01344 484 123)
Critic's Choice
A dark, surrealist nightmare is conjured in Metamorphosis, Arthur Pita's smartly realised dance-theatre adaptation of the novella by Franz Kafka. Hyper-flexible Royal Ballet principal Edward Watson plays the salesman and family man who wakes up one morning to find that he has turned into an insect. At London's Linbury Studio (Sat to 23 Mar).
Register for free to continue reading
Registration is a free and easy way to support our truly independent journalism
By registering, you will also enjoy limited access to Premium articles, exclusive newsletters, commenting, and virtual events with our leading journalists
Already have an account? sign in
Join our new commenting forum
Join thought-provoking conversations, follow other Independent readers and see their replies