Dara, National Theatre: a story of warring Mughal princes is more than just family drama
The play's examination of Islam feels topical
Holly Williams
Wednesday 28 January 2015 12:01 Comments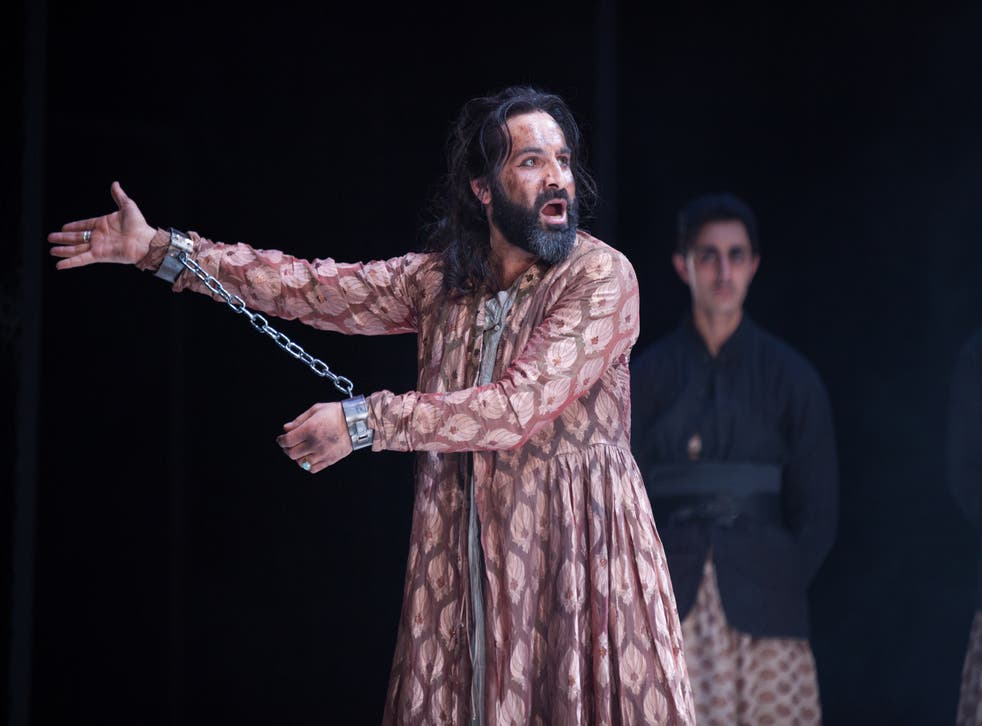 It may be the story of two brothers at the head of the Mughal Empire in 1659, whose sibling rivalry is stoked by a favouritist father into fratricide, but Dara is more than a family drama. Tanya Ronder's re-writing of Shahid Nadeem's play - first seen in Pakistan - focuses on the warring princes' differing views of Islam. In pitting the fundamentalism and brutality of the power-grabbing Aurangzeb (Sargon Yelda) against the open-minded, loving mysticism of the Dara (Zubin Varla), the play's central discourse on the nature and purpose of Islam certainly feels topical - not that we're not hearing much about the latter form these days…
Which goes some way to excusing the extremely one-sided nature of the argument in Nadia Fall's production. The central sham trial where the Sufi poet Dara is accused of apostasy in a Sharia court - for translating the Upanishads into Persian, for wearing a cross around his neck - sees Varla giving a hugely passionate, compassionate speech on why all religions are but paths to God. "Who cares which door you open to come into the light?" With eyes flashing, he preaches tolerance, love and understanding of our shared humanity. It is an invigorating scene and a wonderful message - even if casting all who disagree with him as bumbling idiots or cowardly villains undermines, rather than supports, it.
Dara also raises a really interesting point here - that the Mughal empire had thrived, in part, thanks to its acceptance of its colonised peoples' varied religions. I would have loved for this tension, between open-mindedness as a quality of personal faith and a political expediency that makes you popular with the masses, to be further teased out.
Performances can feel one-dimensional or forced - but then, the script frequently facilitates this by being flatly over-expositional. Granted, there is an awful lot of ground to cover, history to convey, religious argument to spell out, romances to thwart as the action flits cinematically between eras. It's a rich story, even if not all of it fully resonates here. Ronder's script is dappled with modern colloquialisms, which may sound anachronistic, but bring occasional comic relief.
Katrina Lindsay's designs work beautifully - corners of marble arches evoking the architecture the Mughal empire is so famous for (the princes' father, Shah Jahan, is the man responsible for the Taj Mahal). Tall, sliding wooden latticed screens conceal and reveal space and characters. Plush costumes, between-scene movement and live Indian music are also all an utter delight, adding up to an elegant evocation of period and mood.
To 4 Apr; nationaltheatre.org.uk
Register for free to continue reading
Registration is a free and easy way to support our truly independent journalism
By registering, you will also enjoy limited access to Premium articles, exclusive newsletters, commenting, and virtual events with our leading journalists
Already have an account? sign in
Join our new commenting forum
Join thought-provoking conversations, follow other Independent readers and see their replies