Dear Elizabeth at The Gate, London, review: Play of letters between Elizabeth Bishop and Robert Lowell is both tender and devastating
Although you can understand the thinking behind the staging, it was rather like being at a tennis match, head-flicking to follow their volleys
Holly Williams
Wednesday 23 January 2019 12:11 Comments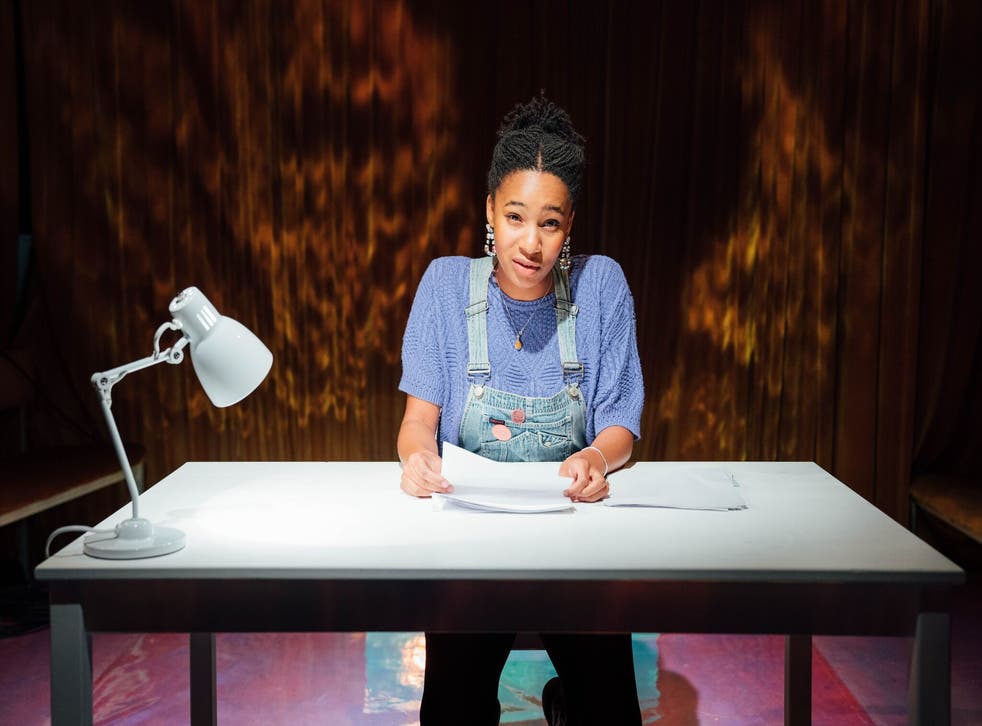 Life has a way of springing surprises on us. Ellen McDougall, staging a play made of the letters between Elizabeth Bishop and Robert Lowell, finds her own way to do the same. The actors who play the two great American poets change every night: they haven't seen the script, and they don't rehearse. American playwright Sarah Ruhl selected and structured the material in 2012, but this is the first time it's been performed in such a fashion. As the actors read the letters, as fresh to them as the contents of any unopened envelope, there is lightness, and an airy sense of anticipation. The springiness of surprise.
Of course, you hope for a couple who can manufacture instant chemistry, and on press night, we got lucky with Jade Anouka and Jonjo O'Neill. She is warm and soulful, alighting on wry amusement at Lowell's flitting affections, but impressively wretched at moments of personal struggle. O'Neill is always an engaging and funny performer, so it's no surprise his comic timing is impeccable here, but again, it's the hint of sadness between the lines that really impresses, especially given the thing's read cold.
Bishop and Lowell had a friendship founded on deep personal connection and mutual artistic admiration; it lasted half a lifetime. Their letters are witty and beautifully written. But they were also romantically attracted to one another, and there's a tantalising will-they-won't-they element to their story, which Ruhl has surely emphasised here.
There is one devastating letter from Lowell at the centre of the play: he admits to Bishop that she is "the might-have-been for me, the one towering change". But he'd been too shy to propose and let the moment slip by. Bishop's replies seem restrained, cool – understandable, really, given nine years have gone by, and other relationships have formed. There's something about this outpouring of masculine emotion, nine years too late, that is both terribly tender, and maddening in its familiarity.
Bishop and Lowell were rarely geographically in the same place – she moved to Brazil in 1951 – and McDougall's staging reflects the physical gulf between them. O'Neill and Anouka sit at modern desks at opposite ends of the stage, perpendicular to the audience sat on both sides, and surrounded by mustard velvet curtains. Behind the actors, the curtains part occasionally to reveal envelopes or boxes for them on a plinth or, more ominously, bottles of alcohol and of pills.
Although you can understand the thinking behind the staging, it was rather like being at a tennis match, head-flicking to follow their volleys. Given that both actors are making new discoveries about their character in every line, it would have been nice to witness both reactions to every line too.
The most shocking film twists of all time

Show all 37
Moi Tran's design adds plenty of cute visual touches, however: a balloon pops out of a box for a new baby, a glittery dollar sign for Pulitzer prize money. And Dear Elizabeth is giddily messy when the characters do meet: at one point O'Neill empties a bottle of water over his head; at another, he gleefully showers Anouka with cornflakes.
The actors appear to wear their own clothes; of course they do, because they are Jade Anouka and Jonjo O'Neill reading letters, rather than pretending to literally be 20th-century poets. The full list of who else will have a crack is on The Gate's website, but I'd be tempted by Tamsin Greig with Angus Wright, Christopher Green with Chris Brett Bailey, and Nadia Albina with Tim Crouch (whose own play An Oak Tree is a brilliant predecessor in the art of using unseen scripts). McDougall's use of actors of all ages, races, and genders is a pleasingly generous approach. Anyone can play Bishop and Lowell; anyone can share their love story.
Register for free to continue reading
Registration is a free and easy way to support our truly independent journalism
By registering, you will also enjoy limited access to Premium articles, exclusive newsletters, commenting, and virtual events with our leading journalists
Already have an account? sign in
Join our new commenting forum
Join thought-provoking conversations, follow other Independent readers and see their replies