Dear Evan Hansen review, Noel Coward Theatre: A superb, unmissable musical
Sam Tutty gives a star-making performance in a story of grief, deception and the conscienceless juggernaut of the internet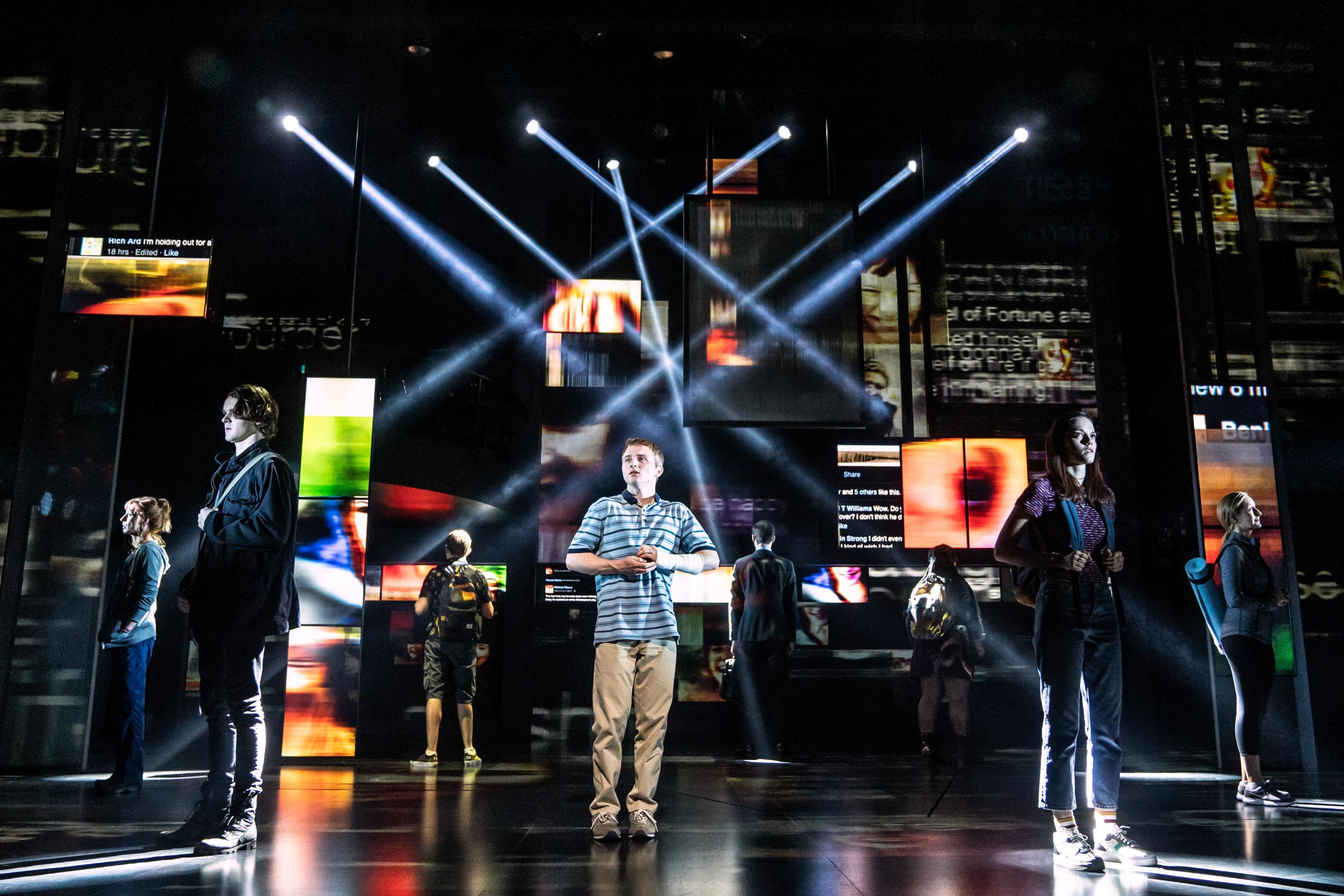 "You can't arrest the internet," exclaims the bereaved father in this superb Tony-winning musical. The primary meaning of his words is that you can't apprehend it as if it were a criminal. But the secondary meaning has here become the primary one: you can't stop dead a phenomenon that is as weightless as the ether, and yet can crush individual lives like a conscienceless juggernaut.
Steven Levenson's script is unflaggingly wily and kicks off from a very intriguing premise. It focuses on a socially awkward teenage boy (the eponymous Evan, played by Sam Tutty) who, at the suggestion of his shrink, tries to raise his spirits each day by sending himself a pep talk email.
One of these fanciful missives is found in the pocket of a fellow student, Connor Murphy (Doug Colling), after his death by suicide. The only contact the two ever had was when the disaffected Connor scrawled his name on the plaster cast that Evan is wearing because he has a broken arm from falling out of a tree. The circumstances of this "fall", which seem initially idiotic, are shown to be more significant as the piece develops. Connor's stricken family reach out and befriend Evan, who does not start off with the intention of deceiving them, but ends up doing so anyway.
David Korins's scenic design (with projection design by Peter Nigrini) consists of tall, wafer-thin sliding screens. Each of them displays a stacked column of computer screens. These in turn convey the unceasing traffic of social media activity. The moral indifference of this wired-up world is contrasted with the human damage of persuading people that they are worthless unless they have gained access to the fickle illusion of being surrounded by "friends".
The wonderful score, written by the vastly talented songwriting team of Benj Pasek and Justin Paul, communicates the anxiety of this – particularly the one-note pulse nagging under the early song, "Waving Through A Window". It's sung by the nerdy protagonist, who twitches and flinches and yearns with such a low sense of entitlement he'd make Kafka look bumptious.
40 of the greatest plays ever written
Show all 40
This London premiere is brought to the stage by Michael Greif, whose original New York production is now in its third year on Broadway. Ben Platt's central performance in that show rightly rocketed him to stardom, but Tutty – a relative newcomer who gives a star-making performance in the lead role here – has a number of advantages over Platt.
With his phenomenal voice and almost flagrant cuteness, Platt generates the impression (however unfair) of leading a charmed life as a performer. Tutty is more than equal to the part's extraordinary demands – his strong singing voice has the plaintive wail and SOS falsetto of someone in a rapture of neediness – but he also radiates the haplessness of a misfit propelled into a situation that is at once horribly comic and tragic. Farcically tongue-tied, and with his own idealised fantasies of having had an intimate friendship, he succumbs to the temptation of exploiting the family's grief.
From an excruciating mix of social embarrassment and inner desperation, Evan becomes friendly with the dead boy's family. The mother (Lauren Ward) is stricken to the heart by the baffling loss; the father (Rupert Young) is in "manly" denial; Evan has long had a crush on the sister Zoe (the excellent Lucy Anderson), who is truculently hurt by everything – particularly Evan's new, unwanted presence in their home, and her guilt at resenting her brother for having definitively put his problems at the centre of the family's emotional life.
A terrific, dignified performance by Rebecca McKinnis as Evan's mother – run ragged trying to juggle her job as a nurse and her night classes training to be a paralegal – makes you feel the hurt of being muscled out by his new moneyed substitute folks.
Dear Evan Hansen shows, with chutzpah and remorseless logic, how the story is impacted by the internet – how Evan's fictional connection with Connor can transform him into a viral sensation when his eulogy (the tears spurting from secret self-hatred) goes online.
There are very funny performances from Jack Loxton as the cynical high school sidekick who helps Evan create fake, back-dated emails and Nicole Raquel Dennis as Alana, who becomes the zealous (and sincere) president of the fundraising Connor Murphy Project on the basis of her rather wishful "close acquaintance-ship" with the deceased.
I'm not sure that the show has much real interest in the plight of Connor himself, who reappears as a larky upbeat colluder in the desire to prolong his memory. But, as was said earlier, "you can't arrest the internet", which has only become more cynical and shameless since the show was written.
To my mind, there is a period-piece feel to the redemptive lack of recrimination in the uplift of the close. The show itself forgets, in its message that "nobody deserves to be forgotten", that the internet never does forget. All the same, unmissable.
Currently booking to 2 May 2020
Join our commenting forum
Join thought-provoking conversations, follow other Independent readers and see their replies