Di and Viv and Rose, Hampstead Theatre, London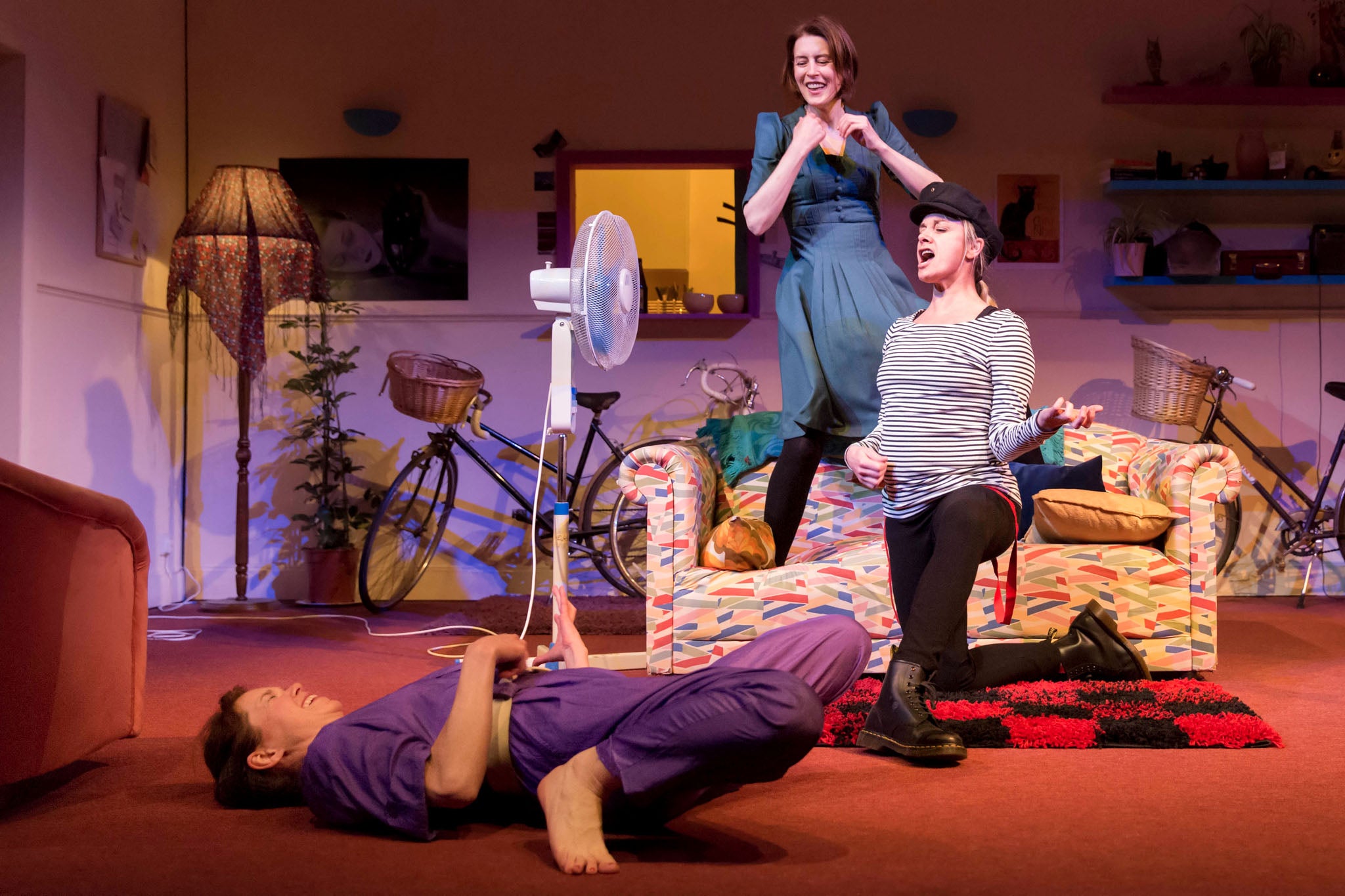 Hampstead Theatre is riding high at the moment. Their splendid revival of David Hare's The Judas Kiss has just moved triumphantly into the West End. And now they are celebrating a transfer of a different kind.
Under the enlightened artistic directorship of Edward Hall, the smaller studio space downstairs has been used to nurture work-in-progress. Di and Viv and Rose by Amelia Bullmore marks the first time one of these pieces has been elevated, after slight revision, to the main house.
Her three-hander is nobody's idea of "experimental" but it richly deserves the promotion because it achieves what it sets out to do – show how the lives of a trio of women are shaped by their friendship over some twenty-seven years – in a manner that brims over with warm, effervescent humour and sharp, unsentimental perceptiveness.  And there's an adorably natural chemistry between the actresses in Anna Mackmin's smashing production.
The proceedings begin in 1983 when this superficially ill-assorted bunch join forces in an undergraduate house-share. Posh, scatty Rose (superlatively played by Anna Maxwell Martin) is open to life, almost to a fault, and much more into boys than art history. By contrast, Gina McKee's angular, academically-driven Viv is hard at work on a dissertation about "the corset" and  thinks that waist is a "male construct". All butch tracksuits and Village People cap, Tamzin Outhwaite's gruffly winning Di wants to cram in as much upfront term-time lesbianism as she can before going home to mother in the vacations.
A sexual assault tests the mettle of their growing solidarity, but the play wears its feminism lightly. In its plotting it is a tad predictable. But it is blessedly sparing with those details which, in bad writing, over-typify period.
The dialogue is often hilarious – I enjoyed, in particular, the guilelessly promiscuous Rose's upper-class euphemisms for male and female genitalia ("thing and va"); yet one of the most eloquent sequences is non-verbal – a delirious bop,  with thrashing air-guitars and wild gymnastics, to a Prince record. 
This high-spiritedly silly exhibition of how much the women delight in each other's company is poignantly reprised in flash-back at the end by which time the second half of the play has taken us forward to 2010 through death and the bitter recriminations of the survivors.
The long vista of the years helps Bullmore to show with moving clarity the intricate way that life and friendship inform each other and how the stock of mutual memories can contain both smarting, buried grievances and the means to dissolve them eventually in shared, helpless laughter.    
To 23 Feb; 0207 722 9301
Join our commenting forum
Join thought-provoking conversations, follow other Independent readers and see their replies