ear for eye, Royal Court, review: An impassioned play about stalled progress
debbie tucker green's piece gives us snapshots of African American and black British experience at a time of deep frustration with the racist forces at the top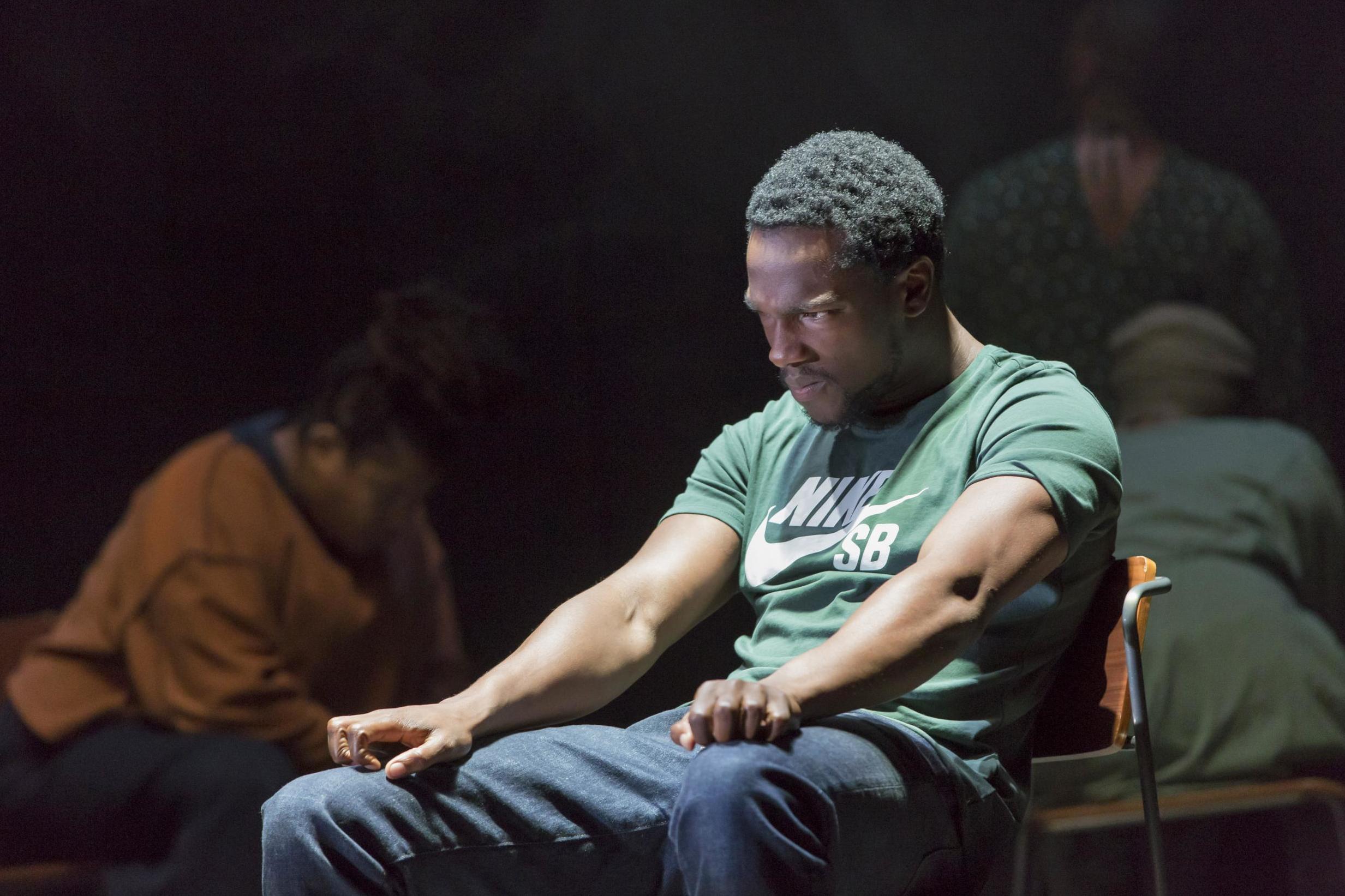 The Olivier and Bafta-winning dramatist, debbie tucker green (as she insists on styling herself) tends to write taut, elliptical plays with compact casts. This time, though, she has returned to the Royal Court with a piece that fills the main stage with a 16-strong ensemble of extraordinary power and presence, of whom all but one are actors of colour. Directed with urgency and intelligence by the author, this is a work that gives us snapshots of African American and black British experiences at a time when, in the case of the former, there is deep frustration with the arguably racist forces in government.
One young African American adult explodes to his quiescent middle-aged mentor that mere "progress", through petitioning and politicking, is not enough anymore: "Progress is a slow bitch with a wandering mind that drags her bare feet – but change kicks ass". Tosin Cole gives a brilliant performance as this exasperated youth who is beside himself with efforts at restraint.
Should he take direct action? "Give me a reason to not": he issues this challenge several times like a refrain to his erstwhile mentor (Nicholas Pinnock), who favours protest through the kind of demonstrations in which the youth no longer believes ("They don't wanna change. Don't intend to. And ain't waiting no more to bother"). The bitter wrangles between this pair, who talk testily across each other, punctuate the first segment of this three-part piece which lasts just over two hours. We first discern the company dimly as they wander disoriented in a milk-white mist and peer at us through the translucent scrim. The latter lifts and the characters sit on hard chairs in expressive clusters to watch the vignettes enacted by successive pairs and trios.
Some of these episodes are both piercing and flecked with a grim mischievous humour. What do you do with your hands if you're a young black man and you don't want to antagonise the police? Hayden McLean improvises every possible position for his mother (Sarah Quist), but she can see the potential dangers in each of the postures. Her brisk, beautifully-timed objections (concessive raised hands, for example might be taken as an act of aggression) would sound paranoiac if the situation were not so fraught with risk. This becomes more problematic when the situation is transferred to the UK with a son who communicates in British sign language (Jamal Ajala) and with parents who differ over how far he should forfeit self-respect by monitoring his gestures.
tucker green may eccentrically spurn initial caps, but – as is richly audible here – her stylised dialogue is punctuated with the rhythmic precision of a musical score. This is her paramount gift. She has a keen sense of the illogicalities to which people of colour are subjected when wrongly taken into police custody (told to shut up and then warned that silence will be used against you in a court of law).
Eric Kofi Abrefa is heartbreaking as a UK man who has had to piece back together his dignity after being toyed with in this way. What she is less good at is providing a detailed contest. I thought that the impact of Trump's presidency – the sensation of a lurch backwards – remained too unspecific. True, the second part is an altercation between a white male academic (Demetri Goritsas) and the female African American (Lashana Lynch) who has come to consult him about the case of a high school shooting that has left over 100 dead. He's horribly patronising towards her and barely lets her get a word in edgeways, as he tries to turn the killer into a textbook case of a youth who suffered a trauma in adolescence when deserted by his father. The woman knows that none of this fits the facts and in six scenes that jerkily jump forward, she finds her voice and forces him to confront the truth that this dog-eared psychologising is desperately trying to mask. This was an organised massacre committed by white supremacists.
Goritsas and Lynch splendidly bring out the awful comedy and bitten-off rhythms of the couple's allergy to one another. If the piece doesn't quite come off, it's because it still feels a rather bloodless and abstract way of approaching these intensely topical themes.
But the final segment is, to my mind, quietly devastating. It reminded me of a tactic tucker green used in stoning mary, the first of her collaborations with the Royal Court. In that play, she jolted us into a fresh perception of the insupportable agonies of the third world by presenting them as if they were being suffered by white people in Europe now. Here we listen to filmed footage of Caucasian families, American and British including the children, as they take it in turns to intone neutrally the barbarous Jim Crow laws and excerpts from the slave codes: "1955 Tennessee. Separate buildings for black and white patients in hospitals for the insane." So disgustingly recent and such a salutary reminder of such segregation in this impassioned play about stalled progress.
Support free-thinking journalism and attend Independent events
To 24 November. 020 7565 5000 royalcourttheatre.com
Join our commenting forum
Join thought-provoking conversations, follow other Independent readers and see their replies