East Wall, Tower of London, London, review: Hofesh Shechter's large-scale dance show storms the Tower
A dozen companies, including a military band, a gospel choir, multiple youth dance groups, are brought together for this high energy show 
Zo Anderson
Friday 20 July 2018 09:53 Comments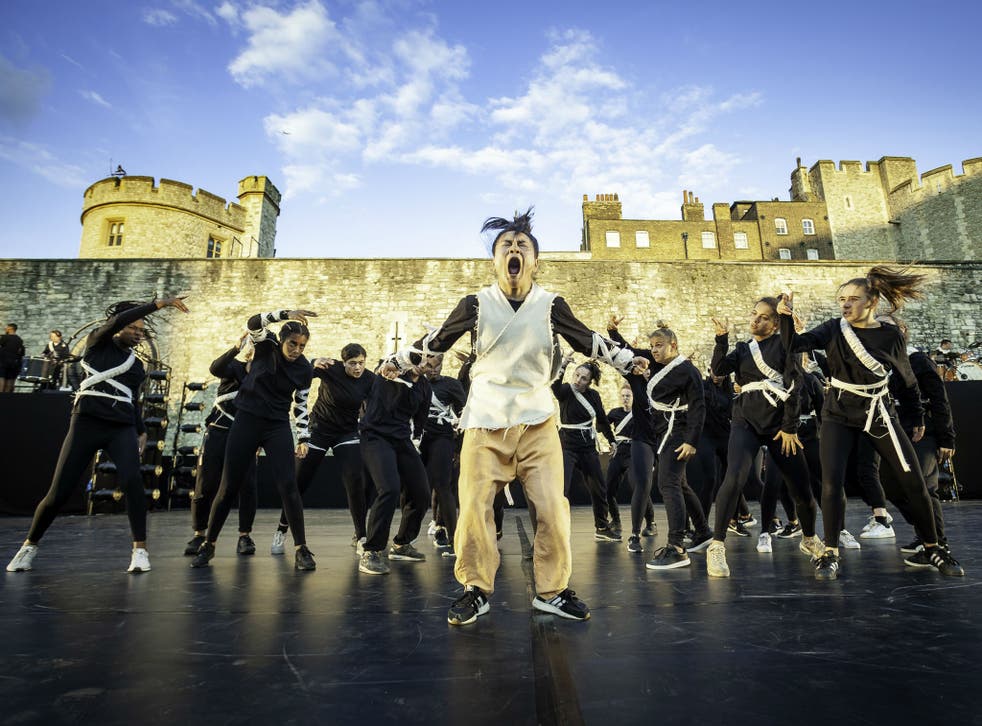 In East Wall, directed by Hofesh Shechter, massed forces converge on the Tower of London. The dozen companies involved include a military band, a gospel choir, multiple youth dance groups and more, pouring onto a stage in the moat. Different styles overlap and collide in an evening of high energy.
It is the culmination of a four-year collaboration between the Hofesh Shechter Company, East London Dance, Historic Royal Palaces and LIFT, working with more than 300 emerging artists and school children. On stage, they have a bright, shared vitality.
The setting is marvellous. Evening sunlight gilds the walls and battlements as performers snake their way to the stage; it's the first time the moat has been used for a large-scale work since the poppies installation.
The musicians are already in place, with instruments from cellos and drum kits to a huge Japanese taiko drum. The music, directed by Nell Catchpole, starts with a version of David Bowie's "Space Oddity" that makes the song feel hauntingly unfamiliar.
Four young choreographers have created their own sections. Though the theme is the history of the tower and the communities around it, these aren't narrative dances, creating moods rather than stories. In Joseph Toonga's fine opening, waves of dancers ripple on. Lead dancer Tyrone Isaac-Stuart moves among them in a solo that is both driven and introspective, his body folding in on itself or reaching out in jagged shapes. James Finnemore has two women weaving in and out of a larger group, with an inconclusive sense of ritual.
Duwayne Taylor's sequence echoes the marching formations we've just seen from the Band of the Irish Guards – except that those tight patterns now have a fierce hip hop edge. The marvellous Jonadette Carpio leads them in a storming, stomping dance, gazing up with such ferocity that half the audience turned round to see what she was looking at.
In Becky Namgauds's section, Daniel Phung is literally carried away by a tide of young dancers, flowing over their heads as if swept out to sea. As he sinks to the floor, they regroup to lift one of their own number in a circle formation: wave becomes whirlpool.
Shechter's own style is instantly recognisable, the eight dancers of junior company Shechter II loping on for a scene developed from the choreographer's Show. I'd have liked to see something new, but they're dancing with impressive authority. They give the evening a moment of tight focus before it expands out into a grand finale, everybody storming the stage.
Until 22 July (liftfestival.com)
Register for free to continue reading
Registration is a free and easy way to support our truly independent journalism
By registering, you will also enjoy limited access to Premium articles, exclusive newsletters, commenting, and virtual events with our leading journalists
Already have an account? sign in
Join our new commenting forum
Join thought-provoking conversations, follow other Independent readers and see their replies