Edinburgh Festival review, Butt Kapinski, Pleasance Dome: A tour de force of character comedy and clowning
When the actor and comedian Deanna Fleysher's show first appeared at Edinburgh in 2015 it became a low-level word of mouth hit – now it's gone mainstream 
David Pollock
Tuesday 15 August 2017 12:43 Comments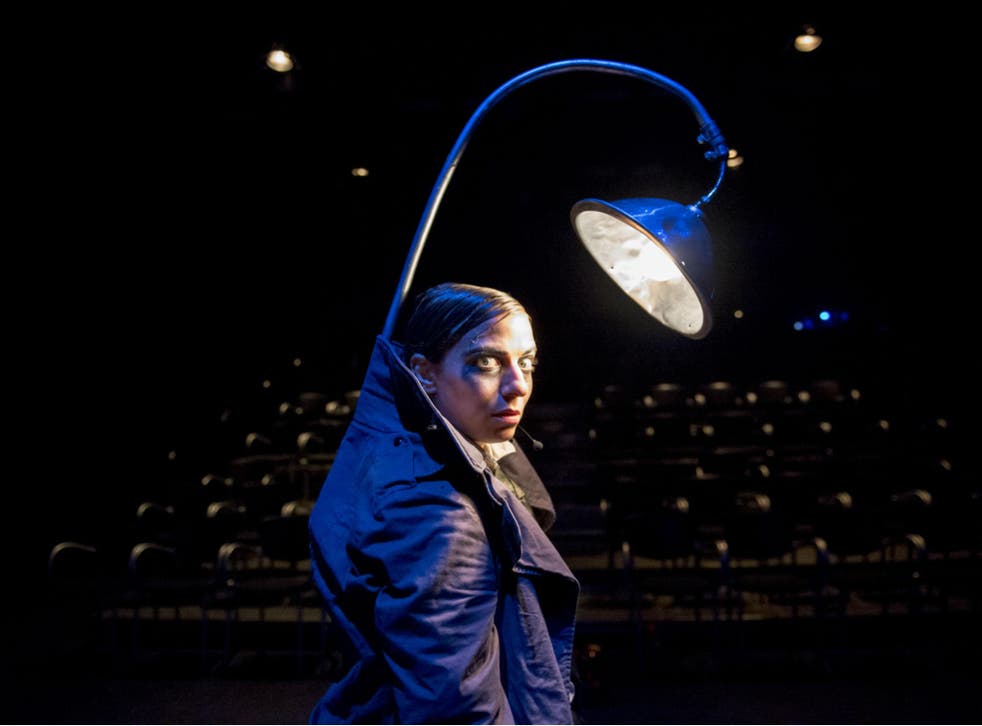 This isn't the first time private dick Butt Kapinski has investigated the streets of Edinburgh, skulking under the glow of a streetlight and interrogating suspects from the police cells to the red light district; from the rich neighbourhoods where people are so lustful of money and one another that it's a permanent orgy, to the poor district where their Mexican workers live, walled off from the rest of society. This is the first time, however, that he's seen such a big audience for his film noir adventures.
When this show first appeared at Edinburgh in 2015 it became a low-level word of mouth hit, playing at the Free Fringe in a nightclub annexe. Two years on, and it's hit the ground running in a room at one of the festival's "big venues", with a packed audience going justifiably wild for it. Butt himself is a tour de force of character comedy and clowning; he's actor and comedian Deanna Fleysher, in Columboesque male drag and with eyes caked in make-up to accentuate every scowl and stare.
Brilliantly, the only lighting comes from a large anglepoise lamp stuffed down the back of his trenchcoat, which is used for moody facial downlighting, and for searching the loose rows of in-the-round seating for prey, like a hungry anglerfish. The show's tagline is "no seat is safe", but it really isn't to be feared. Fleysher assembles her characters from everyone in the room, casting minor and major parts as she goes, with an intuition for involving the keen over the embarrassed.
One table had the relatively easy task of lolling as the victims of a grisly sex murder, while individual stars included the man with the lovely baritone voice enlisted to provide an atmospheric soundtrack, the woman told to play the nice young Mormon churchgoer responsible for the crimes, and the elderly gentleman tapped to perform as Butt's love interest "Lola the whore" (or "Wowa the howa", said with Butt's unavoidably hilarious exaggerated speech impediment, an exorcism of the one Fleysher had herself in her youth).
When the twist ending comes it's an obvious but somehow unexpected one, and the most deserving finale we can imagine for such a masterfully immersive and hard-working character piece. As strong as Fleysher's performance and the support in the room for what she's doing is, however, it's probably worth noting that Edinburgh really is the place to see this show, where many people in the crowd appear to have some kind of theatrical ability and are all too happy to get involved.
Register for free to continue reading
Registration is a free and easy way to support our truly independent journalism
By registering, you will also enjoy limited access to Premium articles, exclusive newsletters, commenting, and virtual events with our leading journalists
Already have an account? sign in
Register for free to continue reading
Registration is a free and easy way to support our truly independent journalism
By registering, you will also enjoy limited access to Premium articles, exclusive newsletters, commenting, and virtual events with our leading journalists
Already have an account? sign in
Join our new commenting forum
Join thought-provoking conversations, follow other Independent readers and see their replies