Edinburgh Fringe Festival 2019, review: Happy Hour, Coma, I'll Take You to Mrs Cole!, Bobby & Amy
Totalitarian rule, immersive terror and lightsabers factor into the latest shows at the Fringe
Holly Williams
Monday 12 August 2019 09:16 Comments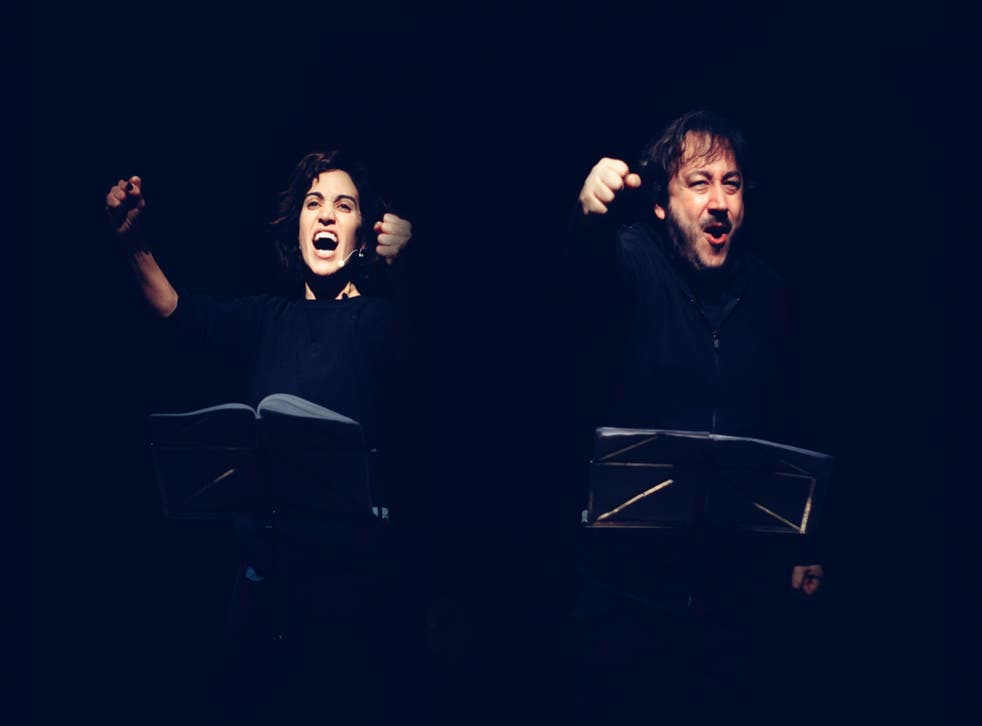 Happy Hour ★★★☆☆ / Coma ★★★☆☆ / I'll Take You to Mrs Cole! ★★☆☆☆ / Bobby & Amy ★★★☆☆
No theme today – some shows just don't clump together nicely. They are their own thing. And one play at the Fringe that is resolutely its own thing is Happy Hour.
Cristian Ceresoli wrote La Merda, a scorching monologue performance by Italian actress Silvia Gallerano, which catapulted them from the Fringe to international fame. They've reunited for Happy Hour, joined by Stefano Cenci. Dressed in vests and pants, the two actors play small children; over a bare, squared stage, they bicker and snigger and jump about, talk about ballet and football practice. And about their dad's new – or used? – car. Then how they suddenly move to a fancy new – or used? – apartment. From where they see soldiers rounding up and taking away old (used?) people.
With a stealthy pace, Ceresoli uses his cartoonish characters to reveal a dystopian, totalitarian state, where all that that is valued is external appearance. Smiling, fashionable, chic, sexy. A perfect-bodied populace.
40 of the greatest plays ever written

Show all 40
I daresay drawing such a strong line between fascism and fashion may land harder in Italy, but it delivers a gut-punch here too. Ceresoli's world is chillingly evoked, and carefully revealed through a seemingly chaotic child's-view perspective that keeps you striving to work out what exactly is going on. Gallerano and Cenci give exaggerated performances: there's a larger-than-life, clownish quality. One particularly violent outburst didn't feel dramatically earned, but mostly this is muscular writing wrapped in a disarming playfulness.
If it is chills you're after, do try Coma. The latest immersive experience by Darkfield, who made Séance and Flight, this new show is again set in a dark shipping container and uses binaural headsets.
Small groups of participants enter the container, lie down in tightly packed bunks, and are invited to take a pill. The lights go out, and it's dark – the sort of total darkness where you start to question the dimensions of the space you're in, or where your body ends. Especially when the surround sound tells you people are walking past you, speaking into your ear, making coffee that you can smell. Counting you down into a deep coma, where they can do anything to you without you being able to move…
If you've never experienced one of Darkfield's shows, absolutely go: it is technically astonishing, completely uncanny, and deeply unnerving. You start to question your own senses. You may start to feel a rising panic. It's not for faint-hearted.
But, as with Séance, I also found the experience fairly dissatisfying. It doesn't use its incredible power to build to anything, to tell a story or make a point; just as you think Coma is going somewhere, it finishes. You wake up, and it was all as insubstantial as a dream.
It's day-dreaming that gets out of hand in I'll Take You to Mrs Cole! – a co-production between Complicite and Polka, a children's theatre company. Catherine Alexander adapts the illustrated kids' book of the same name by Nigel Gray and Michael Foreman – but expands the material in ways that don't really pay off.
The book was first published in 1985, and the show is set in Coventry around that era: a time of race riots and Margaret Thatcher stealing milk, we're told – but also, a time of ska. The set is a two-tone black-and white dream, and the show is enlivened with the loping rhythms and dance moves of rocksteady, ska and dub. Unfortunately, the songs themselves often feel clunky – badly scanned, badly sung. The idea of Complicite tackling the rise of ska in racially divided communities in Coventry during an economic downturn is tempting, but really isn't what this show is. Instead, simplified social commentary – which I suspect still goes over young heads – is tacked on to a much simpler narrative about a lonely kid.
When Ashley is naughty, her hardworking but exasperated mum (who came from Barbados as part of the Windrush generation) threatens she'll be sent to the neighbour, Mrs Cole, who develops in Ashley's mind into a child-eating monster. But with an imagination that just can't be contained, Ashley keeps making a mess, turning the kitchen into the Star Wars galaxy or Sherwood Forest. These flights of fancy should be magic – and there are cute moments when, for instance, a hoover arm becomes a lightsaber – but the transitions don't really feel bold or clear enough, and the Eighties world that's evoked feels more likely to connect with parents than their children.
Also taking us back in time is Bobby & Amy, a charming two-hander about a couple of teenagers living in a rural Cotswolds community during the foot and mouth crisis of 2001. Slightly oddly, Emily Jenkins's play is glutted with nostalgic signifiers that seem to point more to the mid-Nineties: Tamagotchis and Pogs, Bacardi Breezers and Opal Fruits.
Will Howard and Kimberley Jarvis are touching as two bullied misfits, whose delicate friendship finds a deeper purpose when their rural community founders in the aftermath of the outbreak. But they also play every other character, switching roles constantly with great agility. Jenkins directs too, and you can feel her sure hand in shaping it. As stagecraft goes, two people telling a story is about as simple as you can get – yet to pull it off with this many characters, and to make it so emotionally rich, is anything but straightforward.
I had a few minor quibbles with the fairly predictable plot, but Jenkins captures the polyphonic voices of a rural community well – not least the taciturn speech, and silences, of farmers whose lives have been devastated. Abusive or simply selfish parents are a little too bluntly written, but Jenkins's portrayal of Bobby, who appears to be neurodiverse, is handled with care.
There's a poetic brevity to her descriptions of place and action, also spoken by Howard and Jarvis: "Shop bell and tinsel. Ding dong. Rustle rustle." It's worth noting that it still feels pretty rare to such hear stories of rural life – and I deny anyone not to be moved by Jenkins's rousing final hymn to the power of community.
Register for free to continue reading
Registration is a free and easy way to support our truly independent journalism
By registering, you will also enjoy limited access to Premium articles, exclusive newsletters, commenting, and virtual events with our leading journalists
Already have an account? sign in
Join our new commenting forum
Join thought-provoking conversations, follow other Independent readers and see their replies