Edinburgh Fringe Festival 2019: Purposeless Movements review
Scotland's Birds of Paradise Theatre Company is breaking down boundaries in how work made for and featuring disabled people is presented
Dave Pollock
Thursday 22 August 2019 15:34 Comments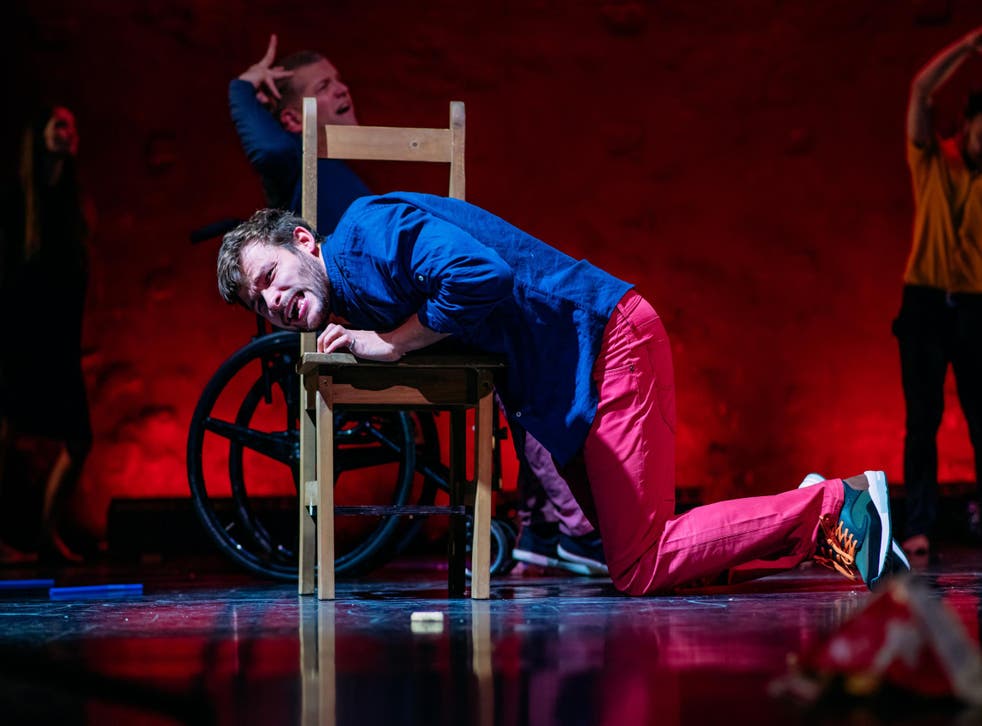 "We get paid to speak on stage," say each of the four men before us. "You've got to be having a laugh." As well as their maleness and their joint profession, it's their apparent cerebral palsy that links the quartet. Two use wheelchairs, all of their voices are difficult to make out to some degree – and yet they're here to present a show filled with physical movement and dance while telling their own stories. What follows is a warm and funny experience that achieves what all the best theatre does: open a window on other lives and experiences that the audience might never have considered.
Under the artistic directorship of Robert Softley Gale, Scotland's Birds of Paradise Theatre Company is breaking down boundaries in how work made for and featuring disabled people is presented: Gale (who also has CP) has cut away the sense that these subjects have to be treated with a heightened sense of solemnity, self-awareness and suffocating respect.
My Left/Right Foot, his musical comedy with the National Theatre of Scotland, was a big hit at last year's festival precisely for this approach. It neither treated disability as hallowed ground nor made a joke out of it. Instead, following an am-dram theatre company's attempts to stage a version of My Left Foot to hoover up diversity kudos, it simply brought disabled performers and audience members in on all of the jokes as equals.
40 of the greatest plays ever written

Show all 40
Purposeless Movements – a show that Gale, movement director Rachel Drazek and Birds of Paradise premiered in 2016, and which in many ways made his name in the field of disability arts – follows a similar style, but in a very different genre. Now upgraded to the prestigious heights of the Edinburgh International Festival, it continues to feel like a very intimate work, as the quartet (Colin, Laurence, Pete and Phillip) are honest in monologue and dialogue about their lives.
We hear of being fed by others; of being undermined in a professional sense by persistent stereotypes of you; of struggling to be understood, but also not understanding others with CP ("it's not like speaking French"). Pete, the man with the most pronounced symptoms and the most disrupted voice, also has the most profound things to say on matters of physical intimacy, both as a teenage boy and with his boyfriend of seven years as an adult. That last segment is delivered in an affecting sequence where he and two other performers roll on the floor.
That all four performers are male is key, because the piece breaks down what it calls the "facade of masculine strength" in sensitive detail. Throughout it all, BSL interpreter Amy Cheskin is a performer herself, floating in and out of dance moves with the quartet and performing lines to a ceiling-mounted camera (composer Scott Twynholm and musician Jill O'Sullivan are also onstage in less active roles).
In the final moments, when we learn the real truth of the opening line about all being actors, there's a certain pang of feeling cheated; until we realise that's how Gale must have felt when he saw his childhood hero Daniel Day-Lewis being interviewed for the first time, and discovered the sense of artifice at play in this supposedly pioneering work of disability arts. This funny and emotionally genuine show, however, is the real thing.
Purposeless Movements is on at the Studio, Edinburgh, until Saturday 24 August
Register for free to continue reading
Registration is a free and easy way to support our truly independent journalism
By registering, you will also enjoy limited access to Premium articles, exclusive newsletters, commenting, and virtual events with our leading journalists
Already have an account? sign in
Join our new commenting forum
Join thought-provoking conversations, follow other Independent readers and see their replies