Edinburgh Fringe Festival 2019: Traverse Theatre round-up
The opening weekend brought some thrills, if no out-and-out smash hit
Holly Williams
Monday 05 August 2019 20:43 Comments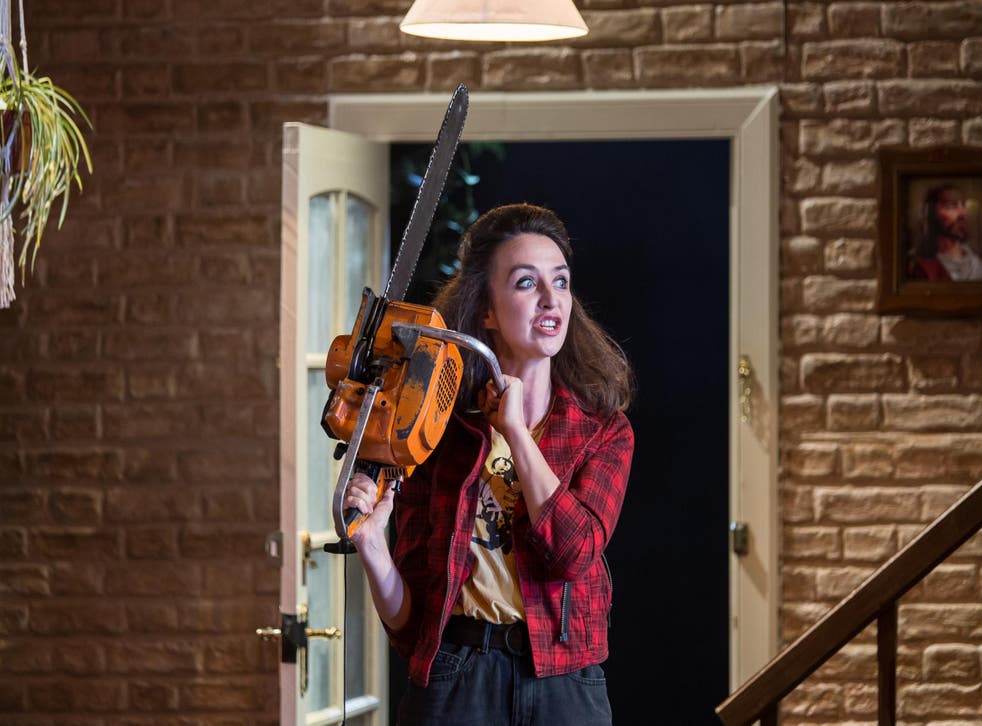 Rich Kids: A History of Shopping Malls in Tehran ★★★★☆ / Crocodile Fever ★★★★☆ / Enough ★★★☆☆
The Traverse's curated programme is always a cornerstone of the Edinburgh Fringe, although it doesn't always offer the most exciting work. But the opening weekend there brought some thrills, if no out-and-out smash hit.
Rich Kids: A History of Malls in Tehran contains a metaphor for its own structure: Javaad Alipoor and Kirsty Housley's play discusses how human history is buried in geological layers in the earth. Their show, although only an hour-long, is itself densely packed with layers of narrative and meaning, uncovered by Alipoor and fellow performer Peyvand Sadeghian.
On the surface, it tells the true story of Hossein Rabbani-Shirazi and Parivash Akbarzadeh – two rich kids of Tehran, the sort you've probably gawped at on Instagram. Their story starts with a car crash; the audience is instructed to follow an account on Instagram, to scroll back through their lives with the performers – itself a kind of digital dig, an addictive archaeological backward spin.
There's a discursive, essay-like structure to Rich Kids: Alipoor and Sadeghian look at everything from how the excesses of these young people bring shame on their revolutionary parents, to how Iranian oil-fuelled colonisation and global expansion by the west. And they also take the really, really long view – looking at the collapse of ancient civilizations, how long the stuff we consume today will last in the ground (a mobile phone: about five million years), and how completely mind-bending it is for us to consider time on such a scale.
40 of the greatest plays ever written

Show all 40
There's a dazzling amount going on – too much, arguably, although that in itself serves to re-enforce points about our present state of digital overload and conspicuous consumption. The problem is that the performers don't always feel completely in control of this: segments where Sadeghian broadcasts live Instagram stories create an intentionally chaotic chatter as everyone watches at slightly different times – but you also genuinely can't follow what she's saying. The wifi is dodgy, and too much time and energy feels expended on tech which ought to be serving the story, not obscuring it.
Crocodile Fever also throws a lot at its audience – and while for much of the show, Meghan Tyler's heightened, pitch-black comedy is impressively taut, its ending (which I won't spoil) feels like its runs away from her somewhat. Still, I loved its whip-crack script and the audaciousness of the frankly bananas finale.
We're in south Armagh in 1989. Alannah and Fianna are sisters, who haven't seen each other for 11 years; Fianna has been in prison, and then joined the IRA. Alannah is still in the family home, looking after their paralysed father. There's a shrine to their dead mother on the wall – a doll's house-pink wall, next to a doll's house-pink kitchen than Alannah cleans obsessively.
Fianna bursts back in through the window, and soon they're on the gin and the rum, wrestling with long-held resentments, guilt, and a shared desire to wreak bloody vengeance on their father, for crimes that will slowly be revealed. Fianna tells Alannah how the Asmat tribe kill and eat crocodiles that they believe to be the reincarnation of evil people – symbolic guidance for their revenge that will inflate itself monstrously in Tyler's vivid imagination.
Line-by-line her writing is wickedly funny, while its gleefully gruesome look at Troubles-era Ireland inevitably recalls Martin McDonagh. And it's motored by two great performances: Lucianne McEvoy is frantic and twitchy as the uptight, rigid Alannah, while Lisa Dwyer Hogg has a sweary swagger as the volatile Fianna. Snapping stuff.
Things at first appear to be much more under control in Stef Smith's Enough. Jane and Toni look at us with fixed faux smiles; they speak with a shiny smooth gloss. "I am safety." "I am sex." "I am here to serve." They are flight attendants, neat in blue suits. And they are old friends. Jane is wife and mother, and obsessed with doing up her house; Toni is single, yearning for a promotion – and for someone just to hold her. Her not-boyfriend ("just sex") is only interested in, well, just sex.
The cracks begin to show quickly, in their air hostess polish first of all: there's wry humour in how they break out from flight attendant-speak into swearing grumbles about crap hotel rooms, the need to get on the sauvignon blanc. But the cracks soon spread through everything – their sense of selves and their friendship, but also the natural world. The ground begins to shake. Something is breaking, splitting, cracking. Something is trying to push up and out.
Is all this real? Or just an extended metaphor, for the women's squashed down frustration and misery at their small, unfulfilled lives?
Smith's play has its own degree of polish, and there's a staccato poetry to the women's short, repetitive lines. Bryony Shanahan's production is atmospheric, but I wished that Smith had committed more fully to brooding strangeness of her text, which features striking images but rarely follows through. Louise Ludgate and Amanda Wright have a cool command of this often stylish, suggestive material, but it's not enough for Enough to really take flight.
Register for free to continue reading
Registration is a free and easy way to support our truly independent journalism
By registering, you will also enjoy limited access to Premium articles, exclusive newsletters, commenting, and virtual events with our leading journalists
Already have an account? sign in
Join our new commenting forum
Join thought-provoking conversations, follow other Independent readers and see their replies