Elegy, Donmar Warehouse, theatre review: 'Emotionally gruelling but richly rewarding'
Zoe Wanamaker stars in the superbly acted new play from Nick Payne directed by Josie Rourke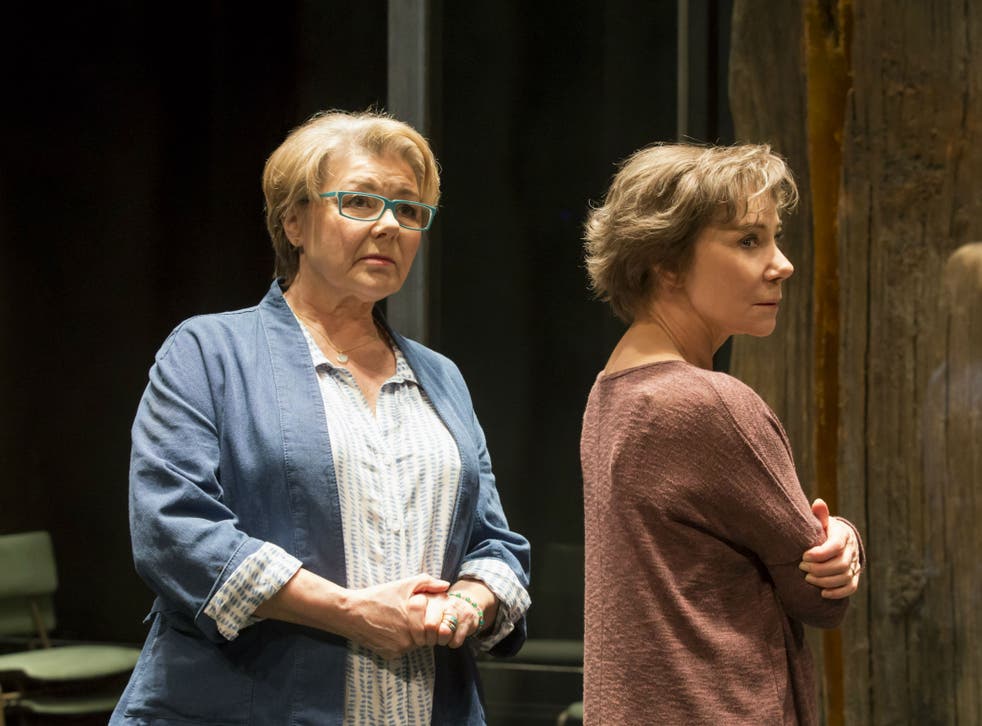 The complex connections between memory and personal identity that are cruelly exposed in cases of brain damage; the tensions between our intimate experience of self-hood and neuro-scientific explanations of it; the art of helping others to die well. These are the abiding themes of dramatist Nick Payne in works such as the award-winning Constellations and Incognito. He returns to them in Elegy, his brilliant, deeply distressing new piece premiered now in Josie Rourke's superlatively acted and immaculately well-judged production.
Zoe Wanamaker and Barbara Flynn play Carrie and Lorna, teachers who met and married in later life. When Lorna succumbs to a terrible degenerative disease that will strip her of her dignity before it kills her, the couple are offered a morally excruciating alternative. The play is set in the near future when scientists have gained the ability remove diseased parts of the brain and restore functionality with microchip implants. The only disadvantage is that Lorna will lose all memory of their years together...
Summarised like that, it sounds as if Payne has engineered the kind of graphic but over-neat ethical dilemma presented in philosophy text books. But the play, as we gradually come to realise, unspools backwards, pulling us into an ever messier and more agonising appreciation of the problem. The chronicle of a fate foretold, it begins with Lorna waiting to be discharged after the procedure, pettishly struggling to show warmth or even much curiosity towards this over-familiar stranger. Wanamaker superbly suggests the element of fear in the guardedness. If her memory were jogged, it would indicate the operation had not been a success; Flynn heartbreakingly shows you the dismay of a wife who has been through hell for a spouse who now talks unemotionally of divorce.
The play is taut three-hander, with Nina Sosanya playing the doctor who outlines the options, refusing the risk of offering personal opinions until she reveals the horror of the death suffered by her mother, who decided against the treatment. As we go back to Lorna's sometimes violent confusion and Carrie's devoted caring, the irony becomes clear that it was Lorna who objected most strongly to the neurological "solution", asking in what way it can be deemed progress to prolong a life, if it's not the only life you ever wanted to live?
The brutal unfairness of the eventual outcome hits home with redoubled force when the piece recapitulates the opening scene. As always with Payne, the structure feels musical – an impression amplified here with repeated extracts from the elegiac poetry of Douglas Dunn and Christopher Reid and by the pointed symbolism of the design. In a glass case, there's a dead, lightning-riven oak tree that's periodically engulfed by fog. Never resorting to sentimentality or melodrama, this is an emotionally gruelling but richly rewarding 75 minutes.
To June 18; 0844 871 7624
Register for free to continue reading
Registration is a free and easy way to support our truly independent journalism
By registering, you will also enjoy limited access to Premium articles, exclusive newsletters, commenting, and virtual events with our leading journalists
Already have an account? sign in
Register for free to continue reading
Registration is a free and easy way to support our truly independent journalism
By registering, you will also enjoy limited access to Premium articles, exclusive newsletters, commenting, and virtual events with our leading journalists
Already have an account? sign in
Join our new commenting forum
Join thought-provoking conversations, follow other Independent readers and see their replies