Evening at the Talk House, Dorfman, NT, theatre review: Wallace Shawn is lethal on stage
This is a disturbing, balefully hilarious new play
Paul Taylor
Wednesday 25 November 2015 15:48 Comments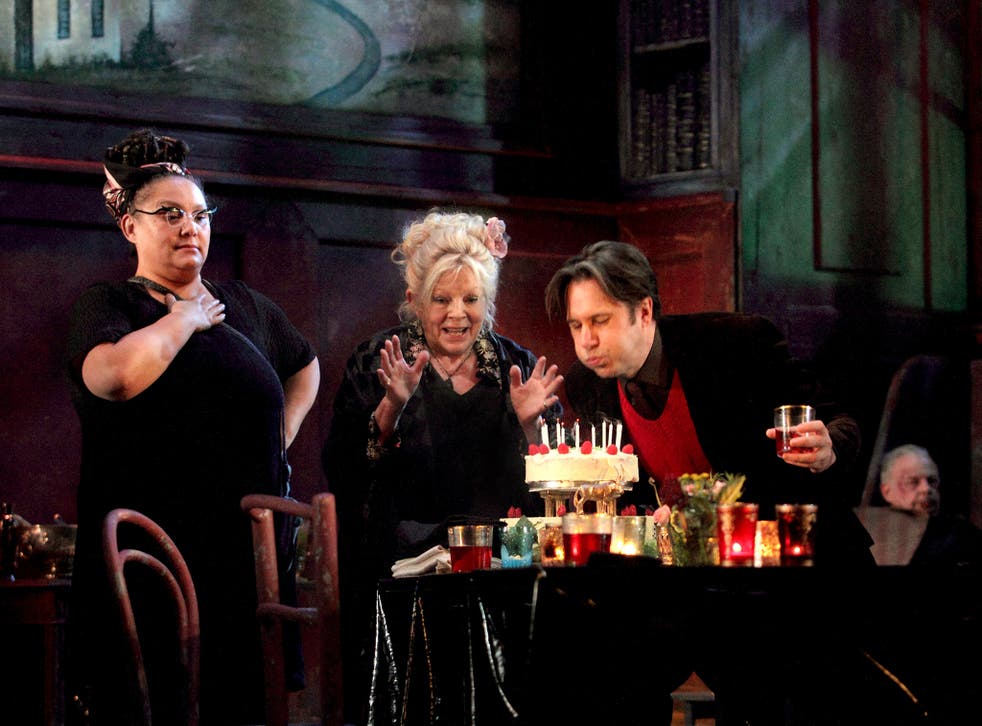 Imagine a parallel universe. Caryl Churchill is still an endlessly protean dramatist, radical in her reinventions of theatrical form and in her pronounced left-wing sympathies. But on this planet, Churchill also does voice-overs for Wallace and Gromit and turns in much-loved cameos in Richard Curtis movies. Her public persona is complicated by the fact that she has strong family connections with Karl Miller, the founding editor of the London Review of Books.
To contemplate this phantom is to get some measure of the wonderfully peculiar, pie-bald world of the American dramatist, Wallace Shawn. Cuddly on screen (as the teacher in Clueless say), he's lethal on stage as he dredges up for our inspection the least lovely heirlooms and presumptions that underwrite the US's stance towards its own poor and ill-represented and its idea of its role as an international peacekeeper.
There's an added bonus in this disturbing, balefully hilarious new play, that's premiered now at the NT in a production by Ian Rickson that has a terrific intuitive feel for its layered, shifting tone; there aren't many plays that have reminded me, at times, of both the arch spoofiness of "Acorn Antiques" and the savage indignation of Swift's "Modest Proposal" with its straight-faced suggestion that the destitute Irish might perk up their lot by selling their children as food to the affluent English.
Here the dramatist himself is on quietly excruciating and hysterical form as Dick, once the star of Carlos and Jenny, the nation's most beloved TV show, now a bloated, battered creature who insists, with sputtery unconvincing emphasis, that it was great fun getting his bruises. Dick is the kind of former friend most of us would cross continents to avoid and he has a genius for finding just the words that inspire fury and guilt in his interlocutors.
Here he happens to be taking necessary refuge at the eponymous Talk House, a wood-panelled club where before the current head of state discouraged theatre, used to be a famed watering hole for actors and creatives. Dick is characteristically tactless and when he realises that he's coincided with a tenth anniversary reunion of the personnel of play, Midnight in a Clearing that he failed to get a part in.
But awakening in an overheated room to find yourself with all the people you ever hated sounds, by the end, like a lenient deal. "Luvvie" self-indulgence acted with exquisite discipline, the evening is a diabolical festival of bad faith, as the chums chew the fat over a world where, we gradually realise, "targeting" (long-distant elimination foreigners who may be ill-disposed to the US only in their minds) is a game that practically every individual is up to. There's some delicious satiric overkill as it becomes evident the lives of these renegades from the theatre now literally depend on the length of the afterglow from their fickle TV fame. The play is a fable that outrageously but persuasively extrapolates.
Does the failure to indict Isis or to acknowledge that An Evening would be outright inconceivable in its culture invalidate Shawn's attack? Is Guantanamo now closed? Is Republican Presidential hopeful, Ben Carson, a beacon of knowledge and nuanced thought about the Islamic world?
Register for free to continue reading
Registration is a free and easy way to support our truly independent journalism
By registering, you will also enjoy limited access to Premium articles, exclusive newsletters, commenting, and virtual events with our leading journalists
Already have an account? sign in
Join our new commenting forum
Join thought-provoking conversations, follow other Independent readers and see their replies