Fantastic Mr Fox, Lyric, Hammersmith, London, review: Full of gusto and glee, and at times daft as a brush
The new production of 'Fantastic Mr Fox', about a clever fox who outwits three farmers, is the latest Roald Dahl story to be turned into a musical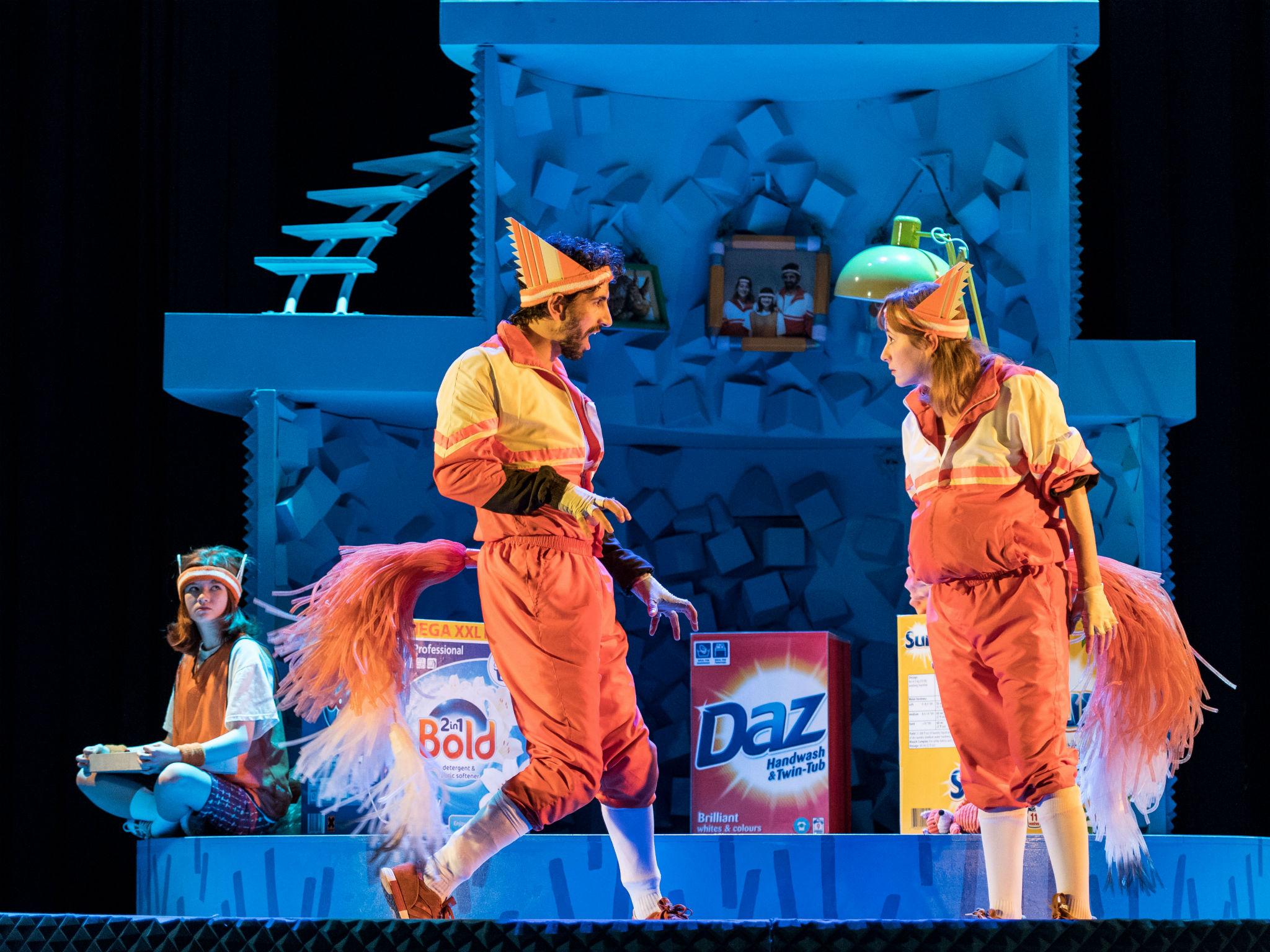 It's impressive how theatre makers refuse to be daunted by the success of cinematic renderings of Roald Dahl's stories. The creators of the stage versions of Matilda and Charlie and the Chocolate Factory weren't scared off by their big-screen predecessors – and the rest is box-office history. Nor has the beguiling distinctiveness of Wes Anderson's animated movie account of Fantastic Mr Fox discouraged Sam Holcroft (the adaptor and lyricist) and Arthur Darvill (the composer and, along with Al Muriel and Darren Clark, lyricist) from joining forces on this musical reworking of Dahl's famous tale about a clever fox who manages to outwit three greedy farmers.
Directed by Maria Aberg, the show began life last December in Southampton and this colourful co-production between the Nuffield Theatre and the Curve in Leicester is now having a London run, prior to an extensive national tour. And while you couldn't claim that it's in the same league as Matilda and Charlie, it's great fun – full of gusto and glee, not afraid of playing up to the author's penchant for the gruesome and at times (with no disrespect to the fox community) as daft as a brush.
It's an appealing comic touch that the quirky collection of animals all wear suitably adapted sports gear – from Sandy Foster's ditzy, excitable Rabbit who looks to be kitted out for a Jane Fonda aerobics class to the Fox family in their orange and white track suits. Indeed, Greg Barnett's energetic, full-of-himself Mr Fox might put you in mind of a show-off PE teacher or coach who is more interested in exhibiting his own prowess than in getting the team up to scratch. This mentality starts to unravel when one of the three repulsive farmers, Bean, Boggis and Bunce, manages to shoot off Mr Fox's tail and a series of botched feats thereafter demonstrate to our hero that it might not be just his balance that he's losing.
There are Ukip-like overtones to the ghastly Farmer Bean's rhetoric here – "Let's take our valley back!" – as he mounts his digger and the field creatures are forced to burrow even further underground. The twist is that they can't clinch their survival plan until Mr Fox gives up his individualist's credo and concedes that it's collective effort brings results and joy: "Every single creature has a purpose/No matter what your size/Or limitations of your eyes.... Anyone can be fantastic/When you've got fantastic friends". This philosophy is certainly hammered home but it never sounds pious or bland because Darvill's rock score has too jaunty a spirit and, by the end, the cast have made the creatures such a bunch of endearing eccentrics (it includes Gruffudd Glyn as a short-sighted, geology-mad Mole and Raphael Bushay as a lovely Badger) that the young audience are bound to feel a sense of warm solidarity with them.
Richard Atwill excels in his doubling of Bean, who becomes deranged in his isolated obsession, and a louche Rat, half-sozzled on cider in a string vest and grey dressing gown. He's the presiding presence in one of the farmers' well-stocked store houses and another repellent face of self-interested greed. One of the best sequences in the show is where this Rat tries to get Mr Fox tipsy (their outsize drinking straws become their music halls canes which they throw to one another) as he spouts his philosophy of me-first hedonism: "Is there anything worse than being told what to do/By somebody dumber and duller than you?". Of course, this apparent chumminess is coldly luring our hero into a trap. Good to report that the day is saved by the courage and ingenuity of the pregnant Mrs Fox (Lillie Flynn) causing a bit of a rethink in that marriage.
Tom Scutt's design – the burrow represented in a blue, tiered set that resembles a pile of hat boxes – won't please literal-minded adults but gives the show a real visual fizz. I won't tell you what happens with that line-up of close-harmony bluebirds at the start...
Join our commenting forum
Join thought-provoking conversations, follow other Independent readers and see their replies