Fatal Attraction, theatre review
Theatre Royal Haymarket: Equivocal stage drama is weirdly detached
Paul Taylor
Wednesday 26 March 2014 11:07 Comments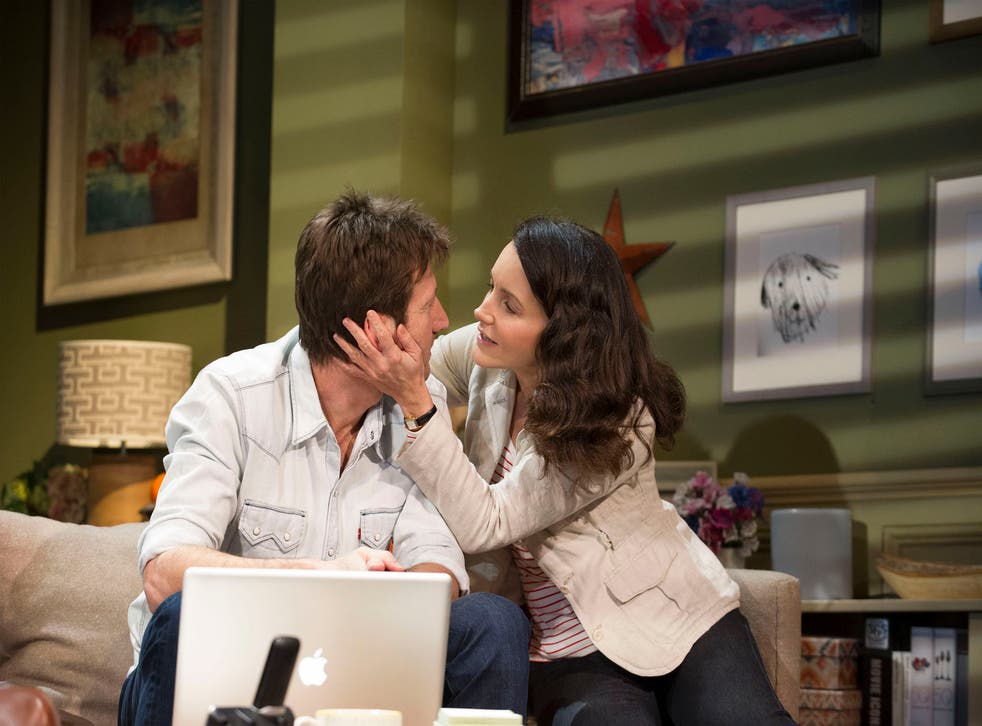 How do you make a movie audience root for a hero who cheats on his wife? That was the problem facing the makers of Fatal Attraction back in 1987. They solved it by turning the Glenn Close character into a bunny-boiling psycho from a horror film.
In a programme note, the author James Dearden admits that from draft to draft, the blame progressively shifted from Dan to Alex "the other woman" who won't accept that a one-night stand is the end of the matter and becomes his obsessive stalker.
After test screenings, he even reluctantly changed the ending to the notorious bathroom scene that exploits the nightmare idea that a villain is never really dead – until the betrayed wife gets to blow her definitively away.
Dearden wanted to restore the ambivalence of his original concept. Hence this play, directed by Trevor Nunn.
The trouble is that the movie, though meretricious, is horribly compelling whereas, despite the tense flashback-structure, this worthier, more equivocal stage drama left me feeling weirdly detached throughout.
With a glossy blue-neon design by Robert Jones, the proceedings have been updated to the present day, though too little is made of how advances in technology – email, texts, messaging – have widened a stalker's scope for inflicting torture.
There's an ideological shift, too. Mark Bazeley is a lean, handsome Dan, who here gives a running narrative commentary on his own fateful story, but the script and the actor's fine performance produce a reverse-effect to the one in movie.
As the corporate lawyer's desperation mounts and he pours out murderous fury to his drinking buddy, we get a heightened sense of his unpleasant chauvinist prejudices – his self-serving insensitivity about abortion, his belief that a one-night stand with an attractive woman is virtually the patriotic duty of any red-blooded heterosexual American male.
By the same token, the play wants us to feel conflicted about Alex. Is she a tragic figure as well as a borderline psychotic? So it scales up her identification with the dumped Madam Butterfly, whose aching music soars through the drama. And it tries to suggest that, if only Alex hadn't been driven mad by loneliness, she might have been a most delightful catch.
Sporting a sleek blonde mane rather Glenn Close's unnerving Medusa look, Natascha McElhone is obliged to oscillate between bouts of charming, humorous rationality; vindictive ruthlessness; and pathological need. Perhaps understandably, the resulting performance feels bitty and mechanical. There's not enough dread-inducing drive in this more politically correct version of Alex.
Kristin Davis is very convincing as Dan's smiley spouse, showing us the deep hurt of a woman with fertility problems at the news that her husband has impregnated a casual fling.
Spoiler alert: the ambiguous Butterfly gesture of the play's climax (given the full high-arty works here) rules out any return to happy families. You'll be wondering about the bunny. Well she's white and cute and elicits from the audience as big a gurgle of doting delight as Dame Angela Lansbury in Blithe Spirit.
To 21 June; 020 7930 8800
Register for free to continue reading
Registration is a free and easy way to support our truly independent journalism
By registering, you will also enjoy limited access to Premium articles, exclusive newsletters, commenting, and virtual events with our leading journalists
Already have an account? sign in
Join our new commenting forum
Join thought-provoking conversations, follow other Independent readers and see their replies