Fings Ain't Wot They Used T'Be, Theatre Royal, Stratford East - theatre review
Not a masterpiece but more than a Cockney knees-up
Paul Taylor
Wednesday 21 May 2014 16:03 Comments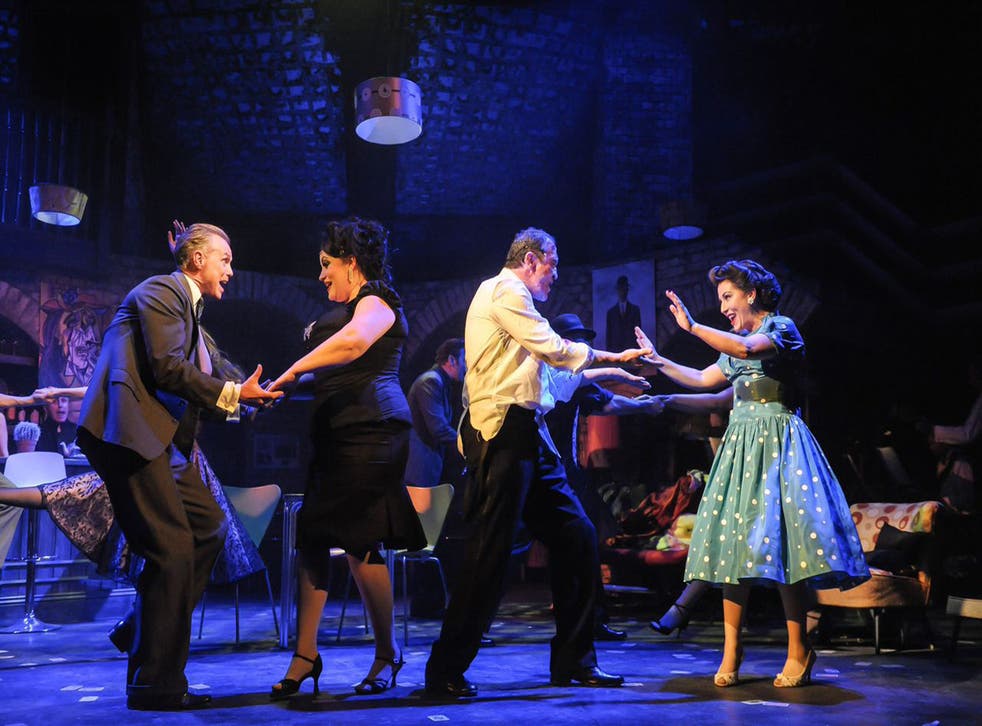 The Joan Littlewood centenary celebrations continue in style at her old stomping ground with Terry Johnson's witty and rollicking revival of Fings Ain't Wot They Used T'Be, the Theatre Workshop's 1959 success which transferred from Stratford East for a two-year run in the West End.
The legendary director had been sent the script of a straight play about life in the Soho underworld by ex-con Frank Norman. It was her idea to turn the material into a musical and to invite Lionel Bart (one year away from superstardom with Oliver!) to contribute the songs.
Littlewood described the resulting show as "like Guys and Dolls but with its flies undone" – an assessment that cannot be accused of false modesty, given the slightness of the plot and the fact that Bart's catchy score feels a couple of numbers short of the full deck. The current production attempts to remedy these problems with a script that has been drolly adapted by Elliot Davis and by the inclusion of songs from the Bart back catalogue such as the Cliff Richard hit "Living Doll".
To call the show a "period piece" pinpoints both its limitations and its strengths. It may be no ageless classic but it does capture with cartoon vividness a time of transition between Fifties austerity and intimations of the Swinging Sixties.
The proceedings unfold in a subterranean Soho dive which is the haunt of gamblers, pimps, spivs and prostitutes glad to take the weight off their feet between shifts. Fred, the guv'nor of this "manor" (a wonderfully dented-looking Mark Arden), is newly returned from a stint in the slammer and is dismayed by how much fings have changed ("There's Teds wiv drainpipe trousers/And poofs in coffee houses"). He needs to re-establish his authority now under threat from a rival gangster and from a bent copper. The latter (a nicely world-weary Gary Kemp) is keen on a career-change because he "can't remember what it was like to walk into a room without someone running out of it". Here that someone tends to be Christopher Ryan's hilarious Red Hot, a pint-sized crook with a speech impediment who may be a bungler at ordinary burglary but sure knows how to steal a scene.
There's music hall bounce, Gilbert and Sullivan patter and late Fifties pop in Bart's beguiling score and the additional numbers have been shoe-horned in with likeable cheek.
The Anthony Newley hit "(If I Say I Love You) Do You Mind?" becomes the insinuating song by which they teach newcomer Rosie (Sarah Middleton) the tricks of the game. You feel like cheering when this needy individual, who has been battered by one of the clients and outrageously proposed to by Stefan Booth's quiffed, callous ponce, decides to leave at the end, declaring that she's going to Stevenage: "I hear it's going to be lovely when it's finished".
There are outstanding performances from Jessie Wallace in vibrant voice as Fred's tough common-law wife who pines for respectability, and Suzie Chard who is both irresistibly funny and subtle as Betty, the hefty tart-with-a-heart.
The show is not a masterpiece but it's more than a Cockney knees-up.
To June 8: 020 8534 0310
Register for free to continue reading
Registration is a free and easy way to support our truly independent journalism
By registering, you will also enjoy limited access to Premium articles, exclusive newsletters, commenting, and virtual events with our leading journalists
Already have an account? sign in
Join our new commenting forum
Join thought-provoking conversations, follow other Independent readers and see their replies