First Night: Legally Blonde, Savoy Theatre, London
This blonde is definitely more fun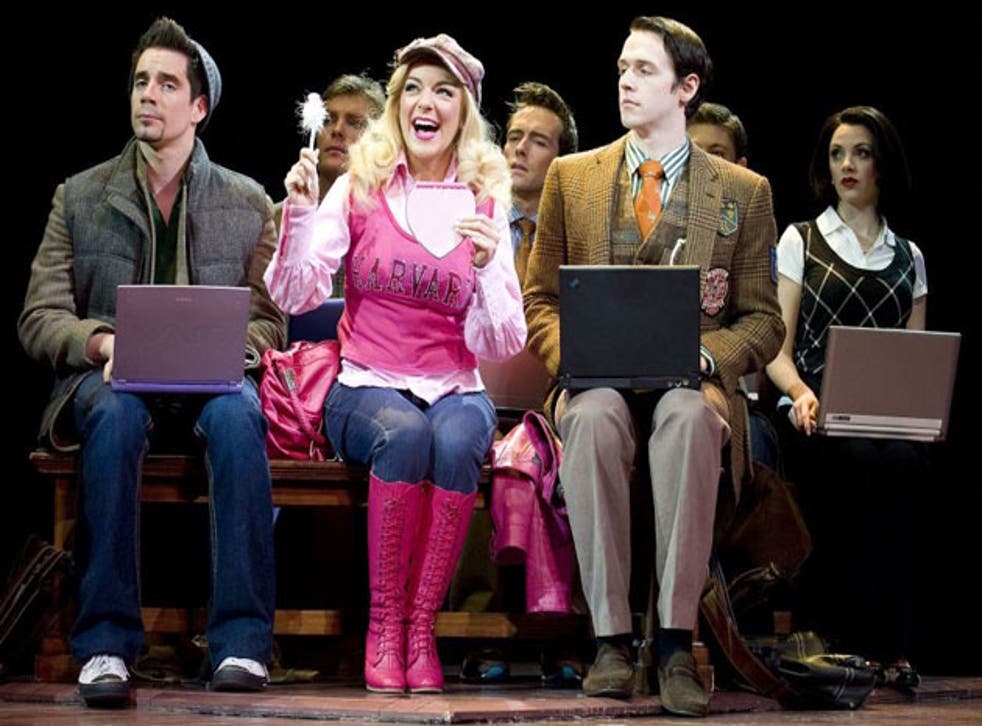 "What I'd give to be one of those dogs!" I remarked to the young woman sitting next to me at this wonderful new musical version of Legally Blonde. She looked a bit uncertain. "I mean, just imagine being able to run into the arms of..." and here I mentioned the names of Sheridan Smith and Jill Halfpenny who play, consummately and respectively, the chihuahua-toting Elle and her hairdresser friend Paulette who bakes birthday cakes for the British bulldog pet whose custody she has lost in an acrimonious marital split.
Sensing that I, too, was a fan – and, boy, was my neighbour a fan (she was booked to see the show three times in advance of the official reviews) – she let out a squeal of what I took to be approval. Her delight in the proceedings was infectious; it was a privilege to chat to her.
I had thought snootily that the stage show of Legally Blonde might put the "ugh" in "euuuugh!" But omigod was I like totally blown away. It may not be quite as good as Hairspray (it lacks that show's lovely, double-bluffing libertarian dimension), but it's ridiculously enjoyable from start to finish and camp peroxide-perfection in terms of its showbiz roots. Who cares if this piece – which is a huge improvement, technically and humanly, on the movie – was a comparative flop on Broadway? Since when has Broadway been an even semi-reliable arbiter of taste? The lyrics are unflaggingly funny in that fast take-it-or-leave manner that made the American tuner of The Full Monty such a pleasure. The score has, where appropriate, brassiness, bite, joie de vivre, sheer cheek, and even the odd strain of sadness. In its verve and variety, the choreography demonstrates far more snap than, well, Elle's handbag which is usually so full of chihuahua that the clasps are tragically redundant.
And with her brilliantly warm, winning, witty and all-round adorable performance as Elle, Sheridan Smith achieves stage stardom like some jaw-dropping hole-in-one in golf. I loved her as the young son's girlfriend in The Royle Family (she's better known for Gavin and Stacey) and I'm already queuing in my mind for the knock-out Miss Adelaide in Guys and Dolls that it is surely one day her destiny to perform. This girl can twirl on a dime and take you from elating silliness to genuine sadness in less time than it takes to say "Delta Nu". There were occasions, thanks to her openness and sincerity, that felt rather like suddenly tasting authentic nutrients during a bout of chewing bubblegum.

Elle is the heroine who proves not to be the airhead she is taken for when she goes to Harvard law school in romantic pursuit of the conceited shit who turns out to be her intellectual inferior. In the musical version, directed and choreographed here with huge flair by Jerry Mitchell, there is the sublime idea of sending her UCLA sorority cohorts with her to Harvard in the shape of a spectral Greek tragedy chorus. They burst in on the nonplussed Harvard selectors as the cheeriest of cheerleaders to Elle's superbly potty drum majorette who parades about in spangly, and of course, subtly pink regalia.

There aren't many Broadway shows with songs that make reference to the philosophy of Thomas Hobbes in intricately rhymed stanzas, particularly not when they also include vertical take-offs into daffy fantasy, such as happens when the hairdresser meets the second Irish hunk of her dreams (Chris Ellis-Stanton) and the whole show moves into an almost paranormal parody of Riverdance where the upper body appears to have been chloroformed so as to leave the limelight to the legs.

The dogs (there are four of each breed in rotation) are fabulous, too – I wonder if they have their own customised acting gurus or are simply falling back on sound Stanislavski training? Omigod I'm like so totally going again.
Join our new commenting forum
Join thought-provoking conversations, follow other Independent readers and see their replies