First Night: Never Forget, Savoy Thetare, London
A tribute band, a bad plot and a couple of songs. It's Fake That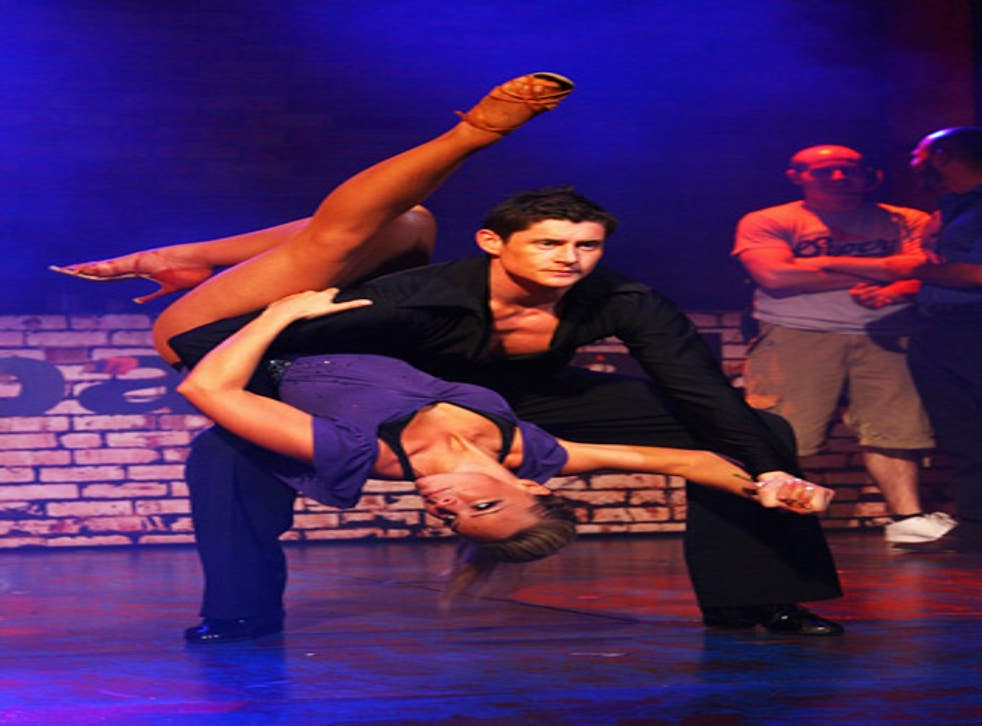 The audience at Never Forget is made up of women who, 12 years ago, sat in double-maths writing "Take That 4eva" in Tipp-Ex on their pencil cases. And now, here they are, in the Savoy, forming a sea of slightly bloated peroxide blondes, watching a man hop around a stage, pretending to be a man who is pretending to be Gary Barlow.
Rumour has it that the real Barlow was at first involved with the show, but dropped it when Take That reformed in 2006. He suddenly had better things to do. More fool him, then, because the show is good. It's fast-paced and lively, funny and easy on the eye, and the songs have been lovingly and faithfully adapted to the stage.
This is all despite the show recycling the same dunce plot you always get in stories about bands. Band forms. Label is interested – but only in lead singer. Band falls out. Band gets together just in time to win battle of the bands. The end.
In Never Forget, a Mancunian Take That tribute act is formed by down-on-his-luck Ash ("Gary"), who needs the £10,000 prize from the battle of the tribute bands competition to save his mum's pub. He recruits his best friend Jake ("Robbie Williams") and they are joined by disillusioned male stripper Dirty Harry ("Howard Donald"), weedy bank clerk Adrian ("Mark Owen") and, in a strange bit of casting, lisping-Spaniard wannabe Jose ("Jason Orange").
The boys playing the fake Take That are charming, with strong voices. They do well with a script that, although at times a bit clunky, at least has a decent sense of humour: "You're not even Blue," sneers the boys' shyster manager, Ron. "You're not even 911," referring to two, less successful, boy bands from the era before 911 took on darker connotations.
The staging and choreography are something to see, with more flesh on display than a butcher's window. Sinewy, bronzed girls in outfits so tiny you could swallow them whole fling themselves effortlessly through punishing routines.
The tunes could have done with better and higher billing, but "Babe" and "Relight My Fire" get an excellent showing. It pours with rain, on stage, during "Back For Good", which is an impressive spectacle so long as you're not at the front.
The title song, "Never Forget", is performed as the finale. In a nice touch, a children's choir files on stage to sing the opening lines: "We've come so far and we've reached so high/ And we've looked each day and night in the eye..."
Possibly because I myself was a Tipp-Ex-using 15-year-old in 1995, as TT-mania peaked with "Never Forget" topping the charts, I couldn't watch this rousing rendition without nostalgic tears welling up in my eyes. But, to be honest, they'd probably well up if I heard a drunk singing the old song in a pub loo.
Register for free to continue reading
Registration is a free and easy way to support our truly independent journalism
By registering, you will also enjoy limited access to Premium articles, exclusive newsletters, commenting, and virtual events with our leading journalists
Already have an account? sign in
Register for free to continue reading
Registration is a free and easy way to support our truly independent journalism
By registering, you will also enjoy limited access to Premium articles, exclusive newsletters, commenting, and virtual events with our leading journalists
Already have an account? sign in
Join our new commenting forum
Join thought-provoking conversations, follow other Independent readers and see their replies