First Night: Twelfth Night/Richard III, Apollo Theatre. London
Fry's reined-in Malvolio defers to the brilliant Rylance
Paul Taylor
Sunday 18 November 2012 22:00 Comments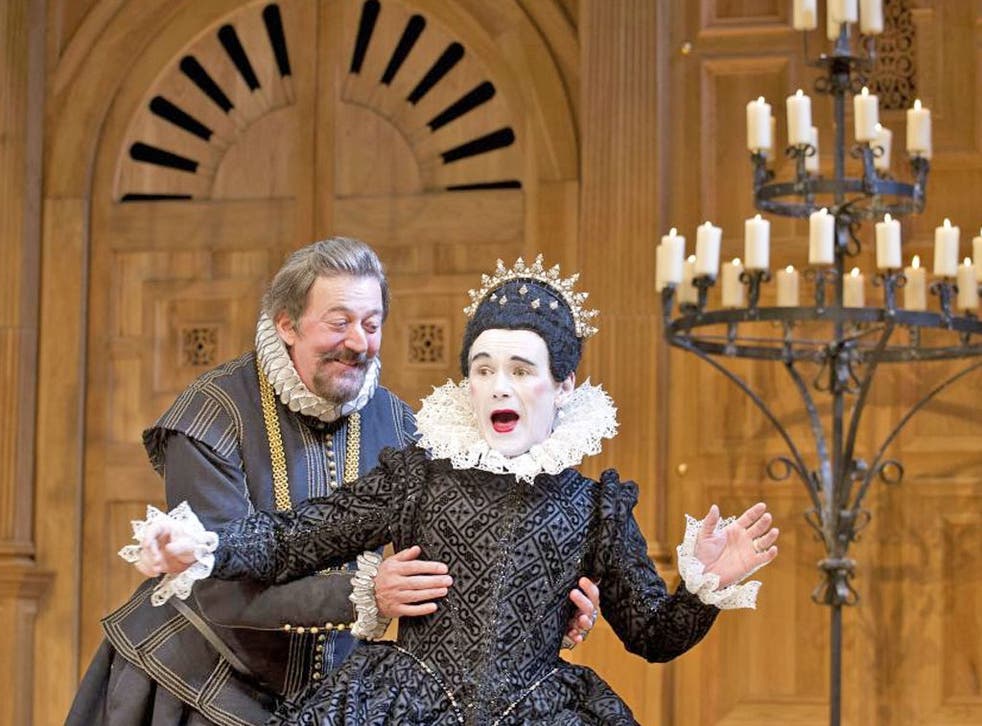 Mark Rylance and Stephen Fry stand at opposite ends of the acting spectrum. The former is a protean genius who can lose himself unrecognisably in his roles. The latter performs subtle clever variations on the Stephen Fry persona. So they make a piquant pairing – as the grieving Olivia and her jumped-up, killjoy steward Malvolio – in Tim Carroll's all-male, "original practices" production of Twelfth Night. In tandem with the same company's Richard III, it now achieves a gloriously successful transfer from Shakespeare's Globe to Shaftesbury Avenue.
Given that this is Fry's first stage appearance since his troubled exit from Cell Mates 17 years ago, it's hardly surprising that so much of the coverage has been focused on him – a disproportion that increased when it was decided that there would be no official reviewing of the production's short recent run at the Globe. The irony is that Fry's performance – intelligently pondered, generous to the other actors, and almost studiedly not a "star turn" by a celebrity guest artiste – is exactly the opposite in tendency. It restores balance to a play in which Malvolio's scenes can hog the limelight.
Fry's steward is a scholarly type with a mandarin accent and air of finger-wagging snootiness. Dreaming about becoming "Count Malvolio", he relays a gossipy titbit – "the Lady of Strachey married her yeoman of the guard" – with an erudite relish, as though he were holding forth on QI.
Rylance reprises his wondrously funny Olivia – white-faced, black-dressed, gliding round the stage as though on castors and tremulously failing to keep her awakened passion for Johnny Flynn's Cesario constrained under this almost Kabuki-like formality. The performance is a marvel of fluttery, brilliantly timed panic as his Olivia keeps struggling to reassert a show of demure composure after bouts of stammering disarray and slapstick consternation. Whether he's improvising ridiculous reasons to detain Cesario, or executing pottily perfect three-point turns in his voluminous gown, Rylance brings this woman's emergence from the stately safety of mourning to absurd and absurdly touching life.
The chameleon nature of the actor's genius is demonstrated by his equally mould-breaking portrayal of the title role in Carroll's Richard III, which is playing in rep with Twelfth Night. The performance has become deeper and more disturbing since it was first seen in the summer. Take the king's mountingly psychotic disconnection, and look at the chilling way Rylance starts to treat his Queen as a mere prop, using a finger to transfer her tears to his own unnervingly blank face.
The company too is superb in both plays, and it's remarkable how deftly a sense of the Globe's atmosphere has been conjured in an indoor proscenium arch theatre.
Register for free to continue reading
Registration is a free and easy way to support our truly independent journalism
By registering, you will also enjoy limited access to Premium articles, exclusive newsletters, commenting, and virtual events with our leading journalists
Already have an account? sign in
Join our new commenting forum
Join thought-provoking conversations, follow other Independent readers and see their replies