Flight Pattern, The Royal Ballet, Royal Opera House, London, review: It has immense scale and ambition
The Canadian choreographer Crystal Pite creates her first work for The Royal Ballet - the first woman to make a main stage work for the company in 18 years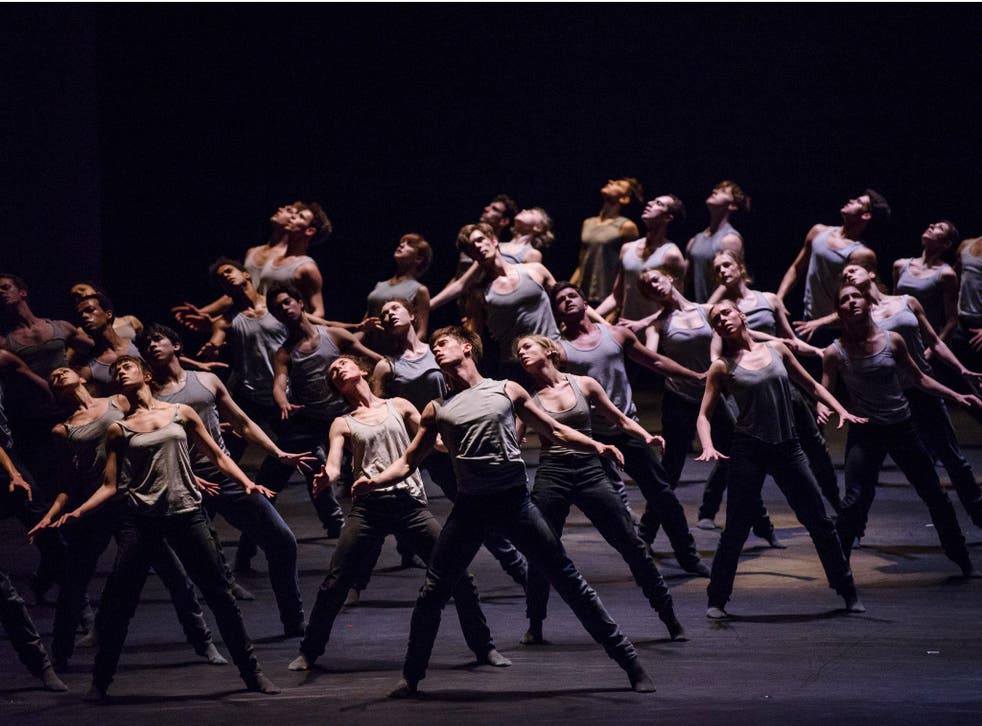 Flight Pattern, Crystal Pite's new work for the Royal Ballet, has immense scale and ambition. Pite evokes the refugee crisis in weighted steps, gathering a large cast into swirls of desolate movement. It's an imposing picture, but also a romanticised one, a disaster seen from the outside.
The Canadian Pite is a major choreographer, in demand around the world. A former member of William Forsythe's Ballet Frankfurt, her choreography moves between contemporary and neoclassical dance, with a sharp eye for distinctive, emotionally driven movement. She's also the first woman to make a main stage work for the Royal Ballet in 18 years.
Flight Pattern is a big work, a cast of 36 moving to Henryk Górecki's Symphony of Sorrowful Songs. Nancy Bryant dresses the dancers in drab grey coats over vests and trousers; the colours evoke monochrome images of the Second World War, as well as the present crisis.
​Pite creates monumental groupings, movement rippling through a crowd before turning back in on itself. The dancers rock in grief or break out into splintered, jagged solos. In one scene, they take off their coats, turning them into pillows as they huddle in Jay Gower Taylor's bleak set. Kristen McNally cradles her coat, as if it were a lost baby. Marcelino Sambé comforts her, before driving himself through a frantic lament.
Pite's skill and authority are remarkable, but her refugees are presented on a single tragic note. The massed groups don't have the scary force of her magnificent Polaris, or the glittering, self-destructive energy of Betroffenheit, Pite's exploration of addiction and grief. Perhaps because of the lyrical music, there's little sense of panic or rage, of the uglier emotions. When snow falls on the grieving cast, it's a strong but sanitised image.
Flight Pattern is performed with two recent ballets. In The Human Seasons, David Dawson sets 13 dancers leaping and spinning tirelessly, but allows them little sense of individuality. Women are repeatedly spun by men, not just through the air but face down on the floor, as if they were carpet sweepers. Sambé moves with wonderful bravura, while Claire Calvert manages to avoid being passive in a sequence where she's passed from hand to hand by seven partners.
Christopher Wheeldon's After the Rain does find room for dancers' personalities. Marianela Nuñez is tender in a duet with Thiago Soares, curling and unfolding to the melancholy in Arvo Pärt score.
Join our new commenting forum
Join thought-provoking conversations, follow other Independent readers and see their replies