Follies, National Theatre, London, review: It's jaw-droppingly great
Imelda Staunton is stunning in Dominic Cooke's revival of Stephen Sondheim's musical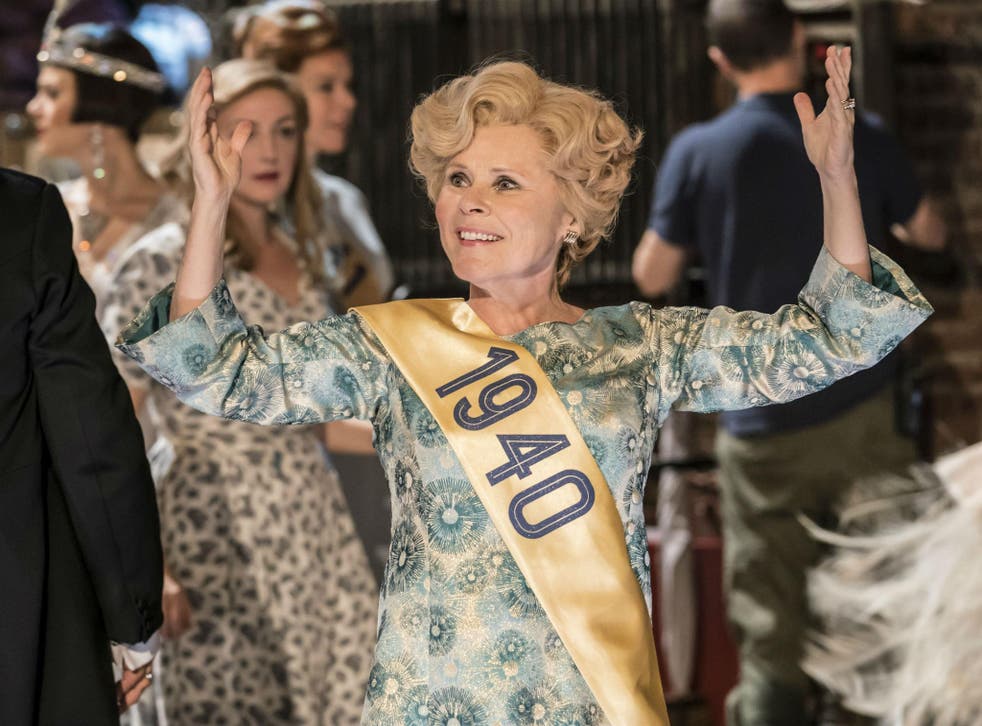 "Hats off, here they come, those beautiful girls", sings Roscoe at the start of Follies, "That's what you've been waiting for." He can say that again. We've been waiting 30 years for a new full London staging of Sondheim's 1971 masterpiece.
Follies is the show that launched some of the composer's biggest hits but its tricky semi-revue structure (it digs into a situation more than it drives forward a plot) and the daunting costs of mounting it mean that it tends to crop up only in concert performances. No wonder that the announcement of this National Theatre production created a climate of gibbering expectation. I'm thrilled to report that Dominic Cooke's version in the Olivier surpasses your wildest dreams for this show. It's jaw-droppingly great.
Time present and time past perform a painful, yearning pas de deux – and get up to some less decorous tricks, too – in Follies, which is piercingly acute about the regrets of middle age, tarnished dreams and the distortions of nostalgia. It's set on the stage of Broadway theatre in 1971 where, on the eve of its demolition, the old singers and dancers who comprised the Weismann follies (based on the real life Ziegfeld Follies) gather for one final party. As Weismann, inveterate impresario, puts it, this is an invitation "to glamorise the old days, stumble through a song or two, and lie about ourselves". Spookily crashing the occasion, and spectrally patrolling it, are apparitions of the women as they were in their sequined, ostrich-plumed youth.
The excellence of Cooke's staging is immediately apparent. In the number "Beautiful Girls", these now more matronly ladies process down a vertiginous fire escape rather than the ritzy staircase of yore and as each of them poses on the top landing, her younger counterpart climbs in over the mound of rubble (wrecked red plush seats etc) further back. Pang-inducing, spine-tingling and droll. In the symbolism of Vicki Mortimer's splendid design of two huge shattered brick walls that bisect the circular, revolving stage, the theatre's demolition is already well underway.
The piece follows two couples. Ben and Phyllis Stone are elite Manhattan: sleek, rich, childless, and unhappy. Buddy and Sally Plummer are also rich and unhappy, too, but have settled for a quiet life in Phoenix. Imelda Staunton is stunning as Sally, a woman who has never got over her youthful love for Ben. Pent-up with nervous, frumpy, anxious-to-please energy as the start she becomes disturbingly delusional about the chances of rekindling the union as the evening progresses and seems to have succumbed to clinical psychosis by the time she gives an unforgettably angry and desperate rendition of "Losing My Mind". She's wasted all those years on somebody who was never there.
Philip Quast, in matchlessly beautiful voice, brilliantly suggests a man struggling to put a smooth mask over the sense of his own emptiness. The 1987 version imposed a more upbeat ending on the material. Happily, this production reverts to the darkly discomfiting original. Ben's climactic crack-up as he attempts an insouciant top-hat-and-cane routine is brought to an unendurable pitch of nightmare. Only Phyllis has the resilience to keep a fairly level head. Janie Dee captures her caustic, wise-cracking bleakness perfectly – she paces the withering ferocity of "Could I Leave You?" with wonderful comic timing, escalating and unstoppable once she's got into her sarcastic stride. Peter Forbes brings just the right manic edge to humdrum adulterous Buddy – the character's deep unease about his two-timing exploding in in Forbes's beautifully judged performance of the berserk schizoid burlesque number "Buddy's Blues".
The quartet are stalked by their younger selves – admirably portrayed by Fred Haig, Zizi Strallen, Alex Young and Adam Rhys-Charles. Cooke handles the complications of dismay and shame that are brought out by this interplay of innocence and experience with delicacy and restraint. So that when there is a starkly pronounced gesture it tells all the more – as when Buddy roughly ousts Young Buddy from his theatre seat because he does not want him to carry on overhearing "The Right Girl".
It's a case here of knockout after knockout over an unbroken two and a quarters hours. The hairs on the back of my neck were begging for mercy for they got barely a moment's peace, what with the thrilling sound of the orchestra (under Nigel Lilley's fantastic musical direction) and the tightly drilled choreography of Bill Deamer. It's giddily pleasurable and moving when, in "Who's That Woman", the old girls and the spangly lissom originals appear in two tap-dancing line-ups that eventually link into one. Magical – as is Di Botcher's wickedly grinning innocence in "Broadway Baby" and the ecstatic operetta duet "One More Kiss" by the great classical soprano, Josephine Barstow, making her NT debut at 78, and the astonishing Alison Langer.
Some of Sondheim's brilliant pastiches of composers such as Berlin, Kern, Porter and Gershwin have become standards in their own right, complicating the show's take on nostalgia. The spirit of this production superbly integrates that lengthened hindsight into our experience of the show.
Cooke, who was for several years a great head of the Royal Court, has never directed a musical before. Nothing like breaking your duck with a stunner. His production will be broadcast like to cinemas on 16 November. I think you should go.
Register for free to continue reading
Registration is a free and easy way to support our truly independent journalism
By registering, you will also enjoy limited access to Premium articles, exclusive newsletters, commenting, and virtual events with our leading journalists
Already have an account? sign in
Register for free to continue reading
Registration is a free and easy way to support our truly independent journalism
By registering, you will also enjoy limited access to Premium articles, exclusive newsletters, commenting, and virtual events with our leading journalists
Already have an account? sign in
Join our new commenting forum
Join thought-provoking conversations, follow other Independent readers and see their replies