Forests, Old Rep, Birmingham Branches: The Nature of Crisis, Wepre Park, Connah's Quay Morning, Lyric Hammersmith, London
If you go down to the woods this week make sure you pick the right show. A Shakespearean tree mash-up gets itself in a tangle, but a Welsh wander inspired by Saturday drunks is a tonic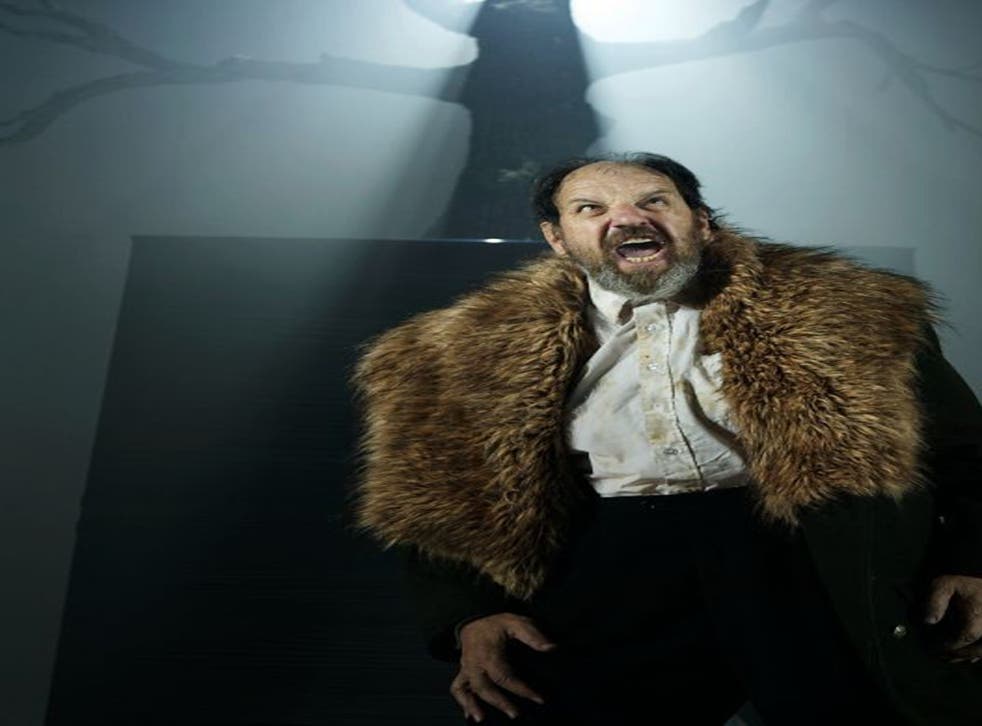 Why not run completely wild? It was into the woods three times last week. Commissioned to round off the World Shakespeare Festival, Forests is a devised piece rustled up by director Calixto Bieito.
Foraging speeches from Shakespeare's sylvan scenes should provide rich pickings. Many characters in the plays find (or lose) themselves in dreamlike, liberating groves and thickets, where old identities are sloughed off and secret desires pursued. But "wood" also means "insane" in Elizabethan English, and going arboreal can be a journey into savage terrain.
What do we get? Well, the stage looks like an art installation. In a white box set, a leafless tree stands on a cube swathed in black polythene. The cast (bilingual British and Catalan) gaze at the tree while a folk-rock chanteuse (Roser Cami) sings of life being freer in Arden. Pint-sized Hayley Carmichael discards her cosmopolitan coat to reveal a gingham frock, while lithe Christopher Simpson slips out of his suit and into a mini-dress and gold stilettos.
A lot of giggly girlish scampering ensues, verging on the tiresome, with foam balls and chocolates lobbed into the audience. A sudden seduction, from a prowling start at ankle level, is more engaging, but after that Bieito lapses into sadomasochistic clichés. In dominatrix mode, Katy Stephens leaves another actress pinioned to a wall with her pants pulled down, while Cami is dragged around like a corpse, after having her head bound in clingfilm.
The cast rend the polythene and claw out sooty soil: a grim vision. However, the script is a shambles, with lines lifted from here, there and everywhere, as if Bieto and his dramaturg Marc Rosich can't tell the wood from – let's see –Shakespeare's heath, his battlefields, the meadows in Sonnet 33. Sound bites are slung together. The actors emote, but with little in which to root that truly.
Thankfully, Branches: The Nature of Crisis – also part of the Cultural Olympiad – is considerably better. Directed by the Argentine-born choreographer Constanza Macras for National Theatre Wales, this promenade piece of dance-theatre leads you though a beautiful, actual wood in Flintshire. Macras is strikingly in tune with the spirit of A Midsummer Night's Dream, though her inspiration was the party animals who stagger around Cardiff on Saturday nights.
Following a winding trail through the trees, as darkness falls, you glimpse comical and disturbing urban/elfin figures swaying on rocky outcrops above you or lurking in dappled shadows by the river. Hen-night drunks, in lurid boas and leopard prints, squabble and stagger off on their own, sliding into embraces with tree roots. Dancing on the edge of steep drops and stone bridges, they also grapple and spin with dazed boy-clubbers in fur hats – the slippage between smooching and violence suggestively compacting whole relationships. Multi-tasking, Macras's ensemble (of local performers and members of her Berlin troupe DorkyPark) also morph into rock musicians and storytellers. That said, Branches loses its way narratively, trying to interweave the medieval Welsh legends of the Mabinogion and the 1720 French banking crisis.
In Morning – a dark new drama by Simon Stephens, performed by members of the Lyric (Hammersmith) Young Company – two horrendously callous teenage girls lure a boy into the woods for sex and carnage.
I found the central murder scene particularly disturbing as it plays a dangerous game with cruel laughter and potential titillation. This, though, is a ferociously gripping play by an outstanding writer. Developed from discussions with young people, it steers a fine line between the nightmarish and the everyday. Sean Holmes's staging is electrifyingly strange, scattered with fridges, building-site lights and haunting songs. Furthermore, he draws riveting performances from everyone, especially Joana Nastari as the spoilt, predatory Cat, and Scarlet Billham as the ever-smiling Stephanie, slightly stiff-limbed like a porcelain doll.
'Forests': (0121-236 4455) to 15 Sep, then Barbican, London (0845 120 7511) 6 to 10 November. 'Branches': (ntw22.eventbrite.co.uk) to 15 Sep. 'Morning': (020-8741 6851) to 22 Sep
Critic's Choice
The New Diorama Theatre is reviving its Off-West End production of Schiller's history play, Mary Stuart, which was a sell-out earlier this year (to 22 Sep). Director Nicholas Hytner shifts Shakespeare's riches-to-rags saga Timon of Athens to our era of fat-cat bankers. Simon Russell Beale (above) shines in the title role at the NT Olivier, London (to 31 Oct).
Register for free to continue reading
Registration is a free and easy way to support our truly independent journalism
By registering, you will also enjoy limited access to Premium articles, exclusive newsletters, commenting, and virtual events with our leading journalists
Already have an account? sign in
Register for free to continue reading
Registration is a free and easy way to support our truly independent journalism
By registering, you will also enjoy limited access to Premium articles, exclusive newsletters, commenting, and virtual events with our leading journalists
Already have an account? sign in
Join our new commenting forum
Join thought-provoking conversations, follow other Independent readers and see their replies