Frozen, Theatre Royal Haymarket, London, review: Suranne Jones wrenches the heart in central performance
The 'Doctor Foster' actress stars in Jonathan Munby's revival of Bryony Lavery's play about child abduction and murder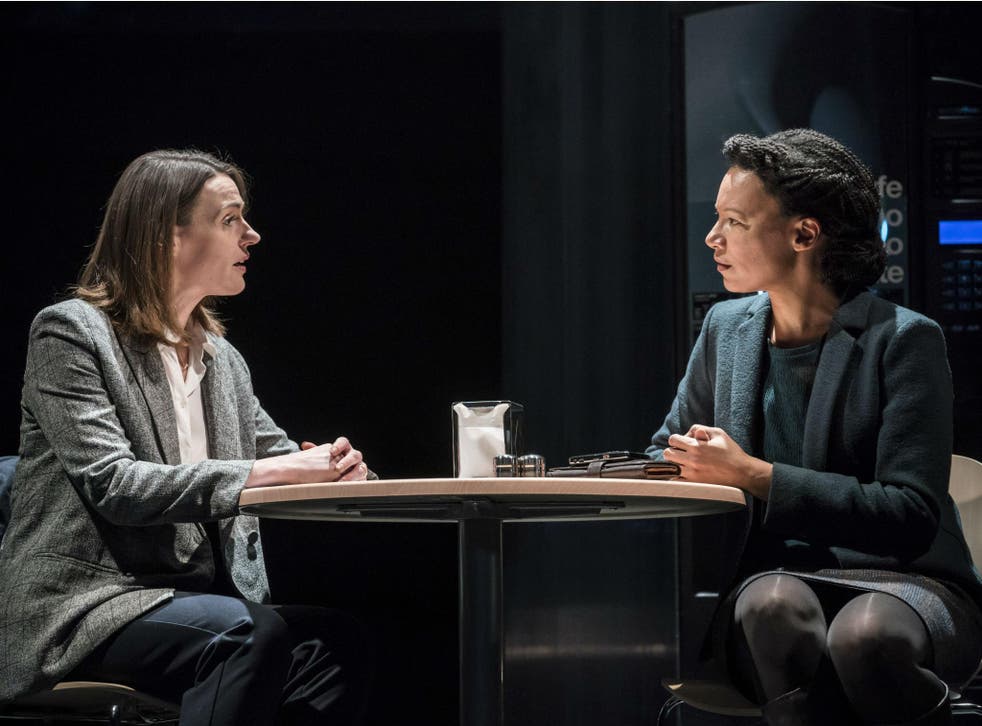 Bryony Lavery's award-winning 1998 play takes a close, insightful look at the moral and emotional consequences of one horrific case of child abduction and murder.
It's in effect a three-hander, concentrating on the mother, the paedophile serial killer and a criminal psychologist, and the chamber dimensions of piece, which gave it such focus and intensity in the original sparely staged production, get swamped in Jonathan Munby's mainstage revival. It is powerfully acted but surrounds the performers with unnecessarily attention-seeking scenic devices (the set is by Paul Wills, the video design by Luke Halls) like the multiplicity of translucent screens that move around and flicker with images of cracking ice, brain scans, coiling ropes of chemicals that freeze and resemble briars, and the faces of lost children.
Nancy's 10-year-old daughter, Rhona, went missing in 1980 on the way to her grandma's. Suranne Jones wrenches the heart as a mother who lives in hope for years, drawing strength from her unflagging work for Flame, a parent's support group, and who hardens into hatred when the terrible truth comes to light.
The performance is unflinchingly truthful and spontaneous. We hear Nancy, after a visit to the chapel of rest, speak with choked wonder about the beauty of Rhona's skull which she has been allowed to cradle, and then seconds later tear a savage strip off her other neglected daughter, Ingrid for having the temerity to suggest that she must let go of her anger if she is to move on.
Jason Watkins, as the unrepentant Brummie killer, is transfixingly creepy: he seems genuinely to believe that we'll be impressed that he's stickler for orderliness, running his sordid life like a fanatical military campaign from his "centre of operations" and tenderly cataloguing his beloved collection of child porn videos -- which he twice reminds us cost him £3,000.
Nina Sosanya works wonders with the almost impossible role of the Icelandic-American criminal psychologist who travels to Britain to interview Ralph in the hope of further substantiating her thesis that many serial killers have suffered such abuse in childhood that it has rewired their brains, leaving emotions such as "remorse" incomprehensible to them. Evil, or illness: sin or symptom? "I guess it is in my Icelandic genes," she tells us from the lectern where she is delivering as academic lecture "to want to take myself and you ... to the Arctic frozen sea that is the criminal mind."
Like the Icelandic background, the character's rather flimsily constructed reason to be wrestling with her own inner demons (having slept with her best friend's husband two days before he was killed in an accident) feels forced to suit the central metaphor of emotions that need to thaw out. But Sosanya's extremely skilful performance makes it all seem convincing and natural.
These cut-off people speak of their lives in monologues to start with. The ambiguities of the scene where Nancy finally meets Ralph are superbly caught by Jones and Watkins in the paced-to-perfection account of it here. Nancy forgives him but knows, deep down, that this is meaningless unless she can break through his delusion that he never really hurt or scared his little victim. The supreme irony is that in achieving this (by showing him her family snaps and in fishing about his own childhood), she opens his heart to a remorse that makes life too agonising for him to bear.
In acknowledging that forgiveness can be flecked with revenge, the show avoids the least wisp of phoney uplift. Their encounter is rightly messy and embarrassing. A pity, I thought, that Ralph is pursued by a spectral Rhona for the rest of his life. As with design, it is arguable that the play and performances are too fine to need such Gothic additions.
Until 5 May (trh.co.uk)
Register for free to continue reading
Registration is a free and easy way to support our truly independent journalism
By registering, you will also enjoy limited access to Premium articles, exclusive newsletters, commenting, and virtual events with our leading journalists
Already have an account? sign in
Register for free to continue reading
Registration is a free and easy way to support our truly independent journalism
By registering, you will also enjoy limited access to Premium articles, exclusive newsletters, commenting, and virtual events with our leading journalists
Already have an account? sign in
Join our new commenting forum
Join thought-provoking conversations, follow other Independent readers and see their replies