Girl from the North Country, Old Vic, London, review: The idea is inspired and the treatment piercingly beautiful
Conor McPherson was approached by Bob Dylan's team to concoct a project round the songbook - the resulting play set in Depression-era Minnesota, conjures up the world from which Dylan's art arose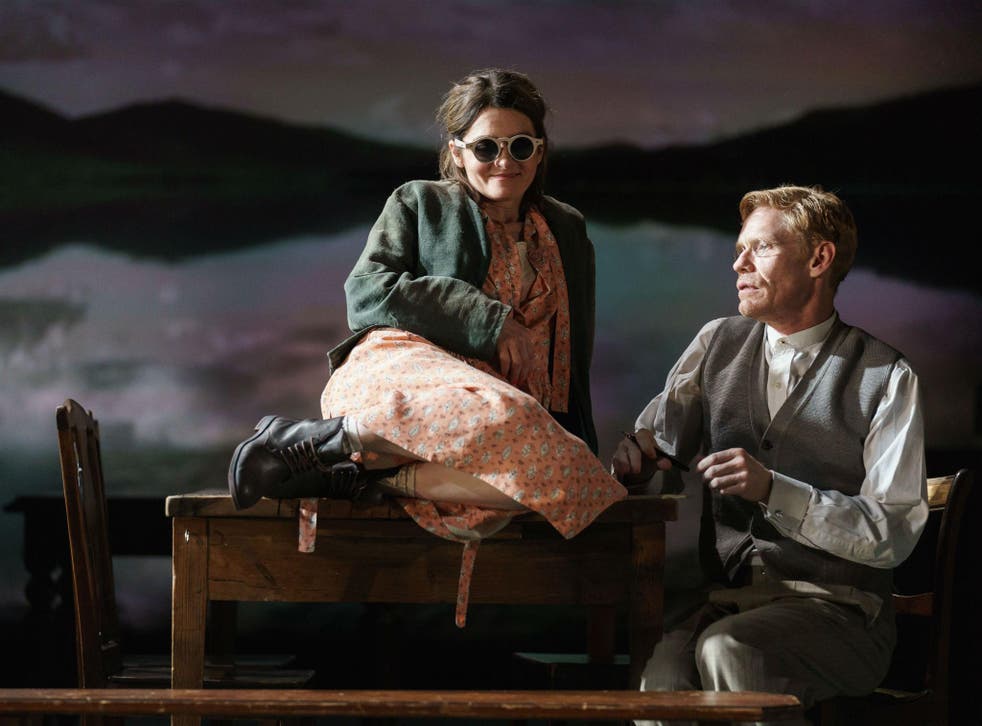 Bob Dylan rarely allows his music to be used in theatrical productions. The last occasion was The Times They Are A-Changin', a show conceived by choreographer Twyla Tharp that folded on Broadway after three weeks in 2006. But it was Dylan's team that approached Conor McPherson to see if he would be interested in basing a project round the songbook.
Their instinct was sound. The Irish playwright has never written a musical but, from The Weir onwards, he's shown himself to be a master of the haunting story and a laureate of lost, yearning souls. He was hardly likely to want to mount a jukebox greatest-hits compilation, but it's to Dylan's credit that he not only gave his blessing to the concept that the playwright hatched but allowed him complete creative control over how he developed it.
The idea is inspired and the treatment piercingly beautiful. McPherson has written and directed a play set in Dylan's home town of Duluth, Minnesota, during the winter of 1934, seven years before the composer was born. He's incorporated 20 numbers from all phases of Dylan's prodigious career (the earliest is 1963 title track, the latest is "Duquesne Whistle" from the 2012 album Tempest).
Rather than move the show forward (the usual desideratum), the songs open it up, entering into a conversation with the drama and amplifying the mood of Depression-era despair and hope or providing the lift to transcendence. The dislocation to the 1930s and Simon Hale's ravishing arrangements liberate the songs from their niches in the discography and embellish our sense of the world from which Dylan's art arose.
The run-down guesthouse setting brings a wide cross-section of society together. It's owned (on a mortgage) by Nick Laine (excellent Ciaran Hinds) who has to cope with overwhelming debt, a wife with dementia, a song who's a drunken would-be writer and an adopted black daughter who is pregnant but without a partner. His spouse Elizabeth is stunningly played by Shirley Henderson as if she were a teenage sprite who has lost all her inhibitions with male visitors. Nick loves her but he is also having a liaison with a widow upstairs who is sweating on a legacy. Elizabeth had told him that she didn't love him shortly before she succumbed to the dementia that has wiped this declaration from her mind.
Henderson's rendition of "Like a Rolling Stone" is laceratingly lovely, performed with mighty vocal and moral heft, as though song has allowed Elizabeth to cut her though her confusion to some ringing insight into the transients who are their clientele. These include a boxer looking for a comeback after a period of unjust imprisonment who turns up in the dead of night with a bible salesman.
There are conscious echoes of Eugene O'Neill and Thornton Wilder Our Town in the affable old doctor (Ron Cook) who is our cosmic narrator, but McPherson's play does not feel ersatz or dwarfed by the superlative songs as the characters trudge through their low-hope lives.
Rae Smith's design sets the proceeding in a low-lit wide-open space which the superb company of actors and musicians bring to heartfelt life as if this were partly a concert. They sing into stand-mikes rather than each other; or join together in line-dancing, as when they gather for a pre-Thanksgiving rendition of "You Ain't Goin' Nowhere" – "Whoee! Ride me high/Tomorrow's the day/My bride's gonna come" – which is elating and wistful here, the encapsulation of hope perpetually postponed.
Apart from the performers already mentioned, I particularly enjoyed Sheila Atim as the daughter and Arinze Kene as the boxer. Two formidable artists have shown respect for the integrity of each other's work here and the result is magnificent.
Register for free to continue reading
Registration is a free and easy way to support our truly independent journalism
By registering, you will also enjoy limited access to Premium articles, exclusive newsletters, commenting, and virtual events with our leading journalists
Already have an account? sign in
Register for free to continue reading
Registration is a free and easy way to support our truly independent journalism
By registering, you will also enjoy limited access to Premium articles, exclusive newsletters, commenting, and virtual events with our leading journalists
Already have an account? sign in
Join our new commenting forum
Join thought-provoking conversations, follow other Independent readers and see their replies