Goodnight Mister Tom, Duke of York's Theatre, London, review: A family show with real emotional depth
The production is full of delightful humour and heart-warming touches
Paul Taylor
Thursday 24 December 2015 00:09 Comments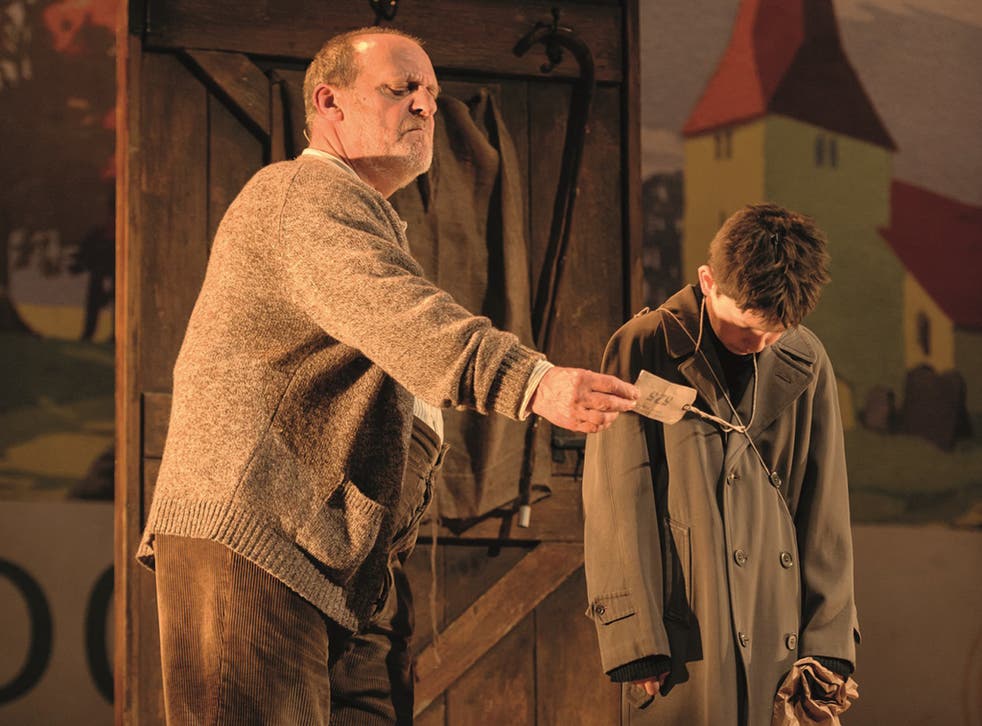 If you are looking for a family show with real emotional depth and staying power this winter, David Wood's remarkably appealing stage adaptation of the 1981 children's classic by Michelle Magorian is just the ticket. In this revival of Angus Jackson's award-winning production (which began life almost 6 years ago at Chichester), "Mister Tom" Oakley is now played by the splendid, ever-reliable David Troughton. The character is a widower in a Dorset village who has developed a reputation as an irritable curmudgeon since his beloved amateur-artist wife died 40 years earlier. But then at the start of the Second World War, he is jolted out of his settled, reclusive ways when William Beech, a young evacuee from London, who proves to be worryingly cowed and covered in bruises, is billeted upon him.
Troughton beautifully shows how Mister Tom's faculties for protective affection – creaky and stiff through long years of dormancy – are reawakened by the initially waifish and abashed Will, played very affectingly by Freddy Hawkins on the night I saw the show. Taken aback to find that his mother has packed not only a Bible for Will but a large belt for chastising the boy, Troughton shakes with angry revulsion as he grips the offending object. He's a man who has shut himself off from love after losing his young wife and in championing Will, the performance touchingly suggests, he is conquering a wariness about committing himself a second time with all the attendant risks of being hurt afresh.
The production is full of delightful humour and heart-warming touches, with Tom's old sheepdog (expertly manipulated on sticks by puppeteer Elisa de Grey) an endearing presence throughout in his extraordinarily life-like canine concern and slightly dippy dogginess. At the performance I attended, Harrison Noble also shone as Will's best new chum and polar opposite, Zach, a precocious Jewish evacuee who is preposterously yet loveably stage-struck (his parents are actors) and can't be restrained from treating the rural community to tap routines and tags from the Bard.
From nostalgic charm (rationing posters urging the public to "Eat Less Bread" and the London Underground aesthetic of the time), Robert Innes Hopkins' excellent design is pulled up like a drawbridge to disclose the alarming poverty and neglect of the London flat of Will's mother. Her violent, hell-fire Christianity has evidently been inflicted on the boy because of the kind of paranoid terror and mistrust of other people that comes from rock-bottom self-worth. Melle Stewart indelibly captures the hectoring, brutal helplessness of the woman. When Will is summoned back here, you feel the same awful pang as when Oliver is kidnapped from security and hauled back to Fagin's den.
The story has to go through a painful obstacle course involving a baby's death and the misguided psychiatric notions of the period about how best to help traumatised children before it reaches a happy haven. But by that stage, with Tom taking matters into his own wise hands and defying authority, the tear-jerking glow of the conclusion feels, in this production, fully earned.
To Feb 20; 0844 871 7623
Register for free to continue reading
Registration is a free and easy way to support our truly independent journalism
By registering, you will also enjoy limited access to Premium articles, exclusive newsletters, commenting, and virtual events with our leading journalists
Already have an account? sign in
Join our new commenting forum
Join thought-provoking conversations, follow other Independent readers and see their replies