The Grinning Man, Trafalgar Studios, London, theatre review: 'Recommended'
The pared-back adaptation of Victor Hugo's 1869 novel L'Homme Qui Rit ("The Man Who Laughs") was created by War Horse director Tom Morris at the Bristol Old Vic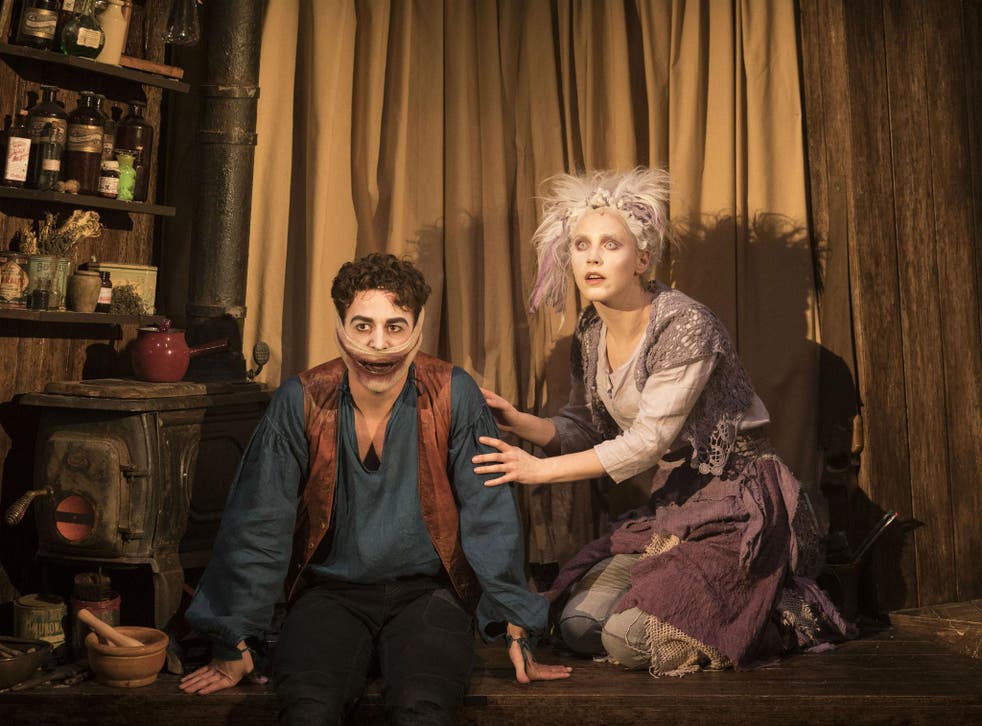 Les Mis established that Victor Hugo wrote the kind of high-powered, theatrical novels that beg to be the basis for blockbuster musicals. Joey and War Horse confirmed the allure of puppets as heart-wringers in stage shows. Now these two strains have been brought together in a new musical that, despite its illustrious antecedents, is wholly its macabre, distinctive self. The Grinning Man is a pared-back adaptation of Hugo's 1869 novel L'Homme Qui Rit ("The Man Who Laughs"), devised at the Bristol Old Vic by Tom Morris, who directed War Horse before he became artistic director at Bristol, and his creative team – music by Tim Philips and Mark Teitler, book by Carl Grose, lyrics by all four of them. It's now casting its strange spell in London at the Trafalgar Studios.
The show tells the story of Grinpayne who had his face sadistically slashed from ear to ear when he was a small boy. Wiping the smile off your face is usually the stock-in-trade of villains. It's the fate of this victim to have had a grotesque smile permanently plastered over his. Employed as a fairground freak, he hides the terrible rictus behind a bloodied bandage, is adored by Dea (Sanne den Besten), a blind girl who's unfazed by his looks, and pines to know how he came about his disfigurement. The play is set in a mythical late 17th century England (the capital is at Catford) and we surmise that Grinpayne's predicament may be linked to an earlier attempt to unseat the corrupt royal family who operate on the greedy assumption that "to him that hath, much more shall be given".
In Morris's production, it all unfolds like a fevered, slightly bonkers but luridly compelling fairy story. John Bausor's design frames the action in a huge gaping mouth of bared teeth. The travelling wagon opens up as a stage-within-a-stage. The score has an organ-grinding, carnival quality. Excellent Louis Maskell (singing through a mask) has to hoist himself up to some lonely melodic heights as the mutilated man flays himself and bares his soul to us ("Take a knife to your heart/ Find the place where your agonies start"). Occasionally, I found the music a bit bludgeoning but it has variety of texture. Princess Josiana (Amanda Wilkin) deviates into a devout born-again blues when she explains the effect on her ("Brand New World of Feeling") of seeing Grinpayne's mouth. For that's the irony that glints through the piece. A torment to him, the protagonist's unmasked wounds have a quasi-Christ-like effect of spiritual uplift on others.
The two and a half hour piece loses momentum as its tries to tie too many loose ends together in the second half. The dysfunctional royal family – flinty new queen and her indulgent and incestuous siblings – aren't nearly as interesting or amusing as the creators seem to think. The intricacies of plot need to be pruned. Channelling his inner Vincent Price, Julian Bleach (of Shockheaded Peter fame) is gloriously Gothic as the court's evil jester, Barkilphedro, "Laughter is the best medicine," he sings and he elongates the hacking vibrato on the word "best" as though he is trying to saw his way down to Australia. "Puppetry's not as easy as it looks," he snaps. In the expert hands of Gyre and Gimble puppeteers, Finn Caldwell and Toby Olie, it certainly looks beautiful – whether in the achingly expressive marionette version of Grinpayne as a child or in the wonderfully moving Mojo, a skeletal grey wolf who saves the day at one point by crashing through a stained glass window in order to derail some ill-advised nuptials. Recommended.
The Grinning Man, Trafalgar Studios, London, to 17 February. 0844 8717632
Join our new commenting forum
Join thought-provoking conversations, follow other Independent readers and see their replies