Guys and Dolls, Savoy Theatre, London, review: Joyous revival is perfect antidote to the January blues
It has taken over a year for this exhilarating theatre production to come to London, but it is a welcome addition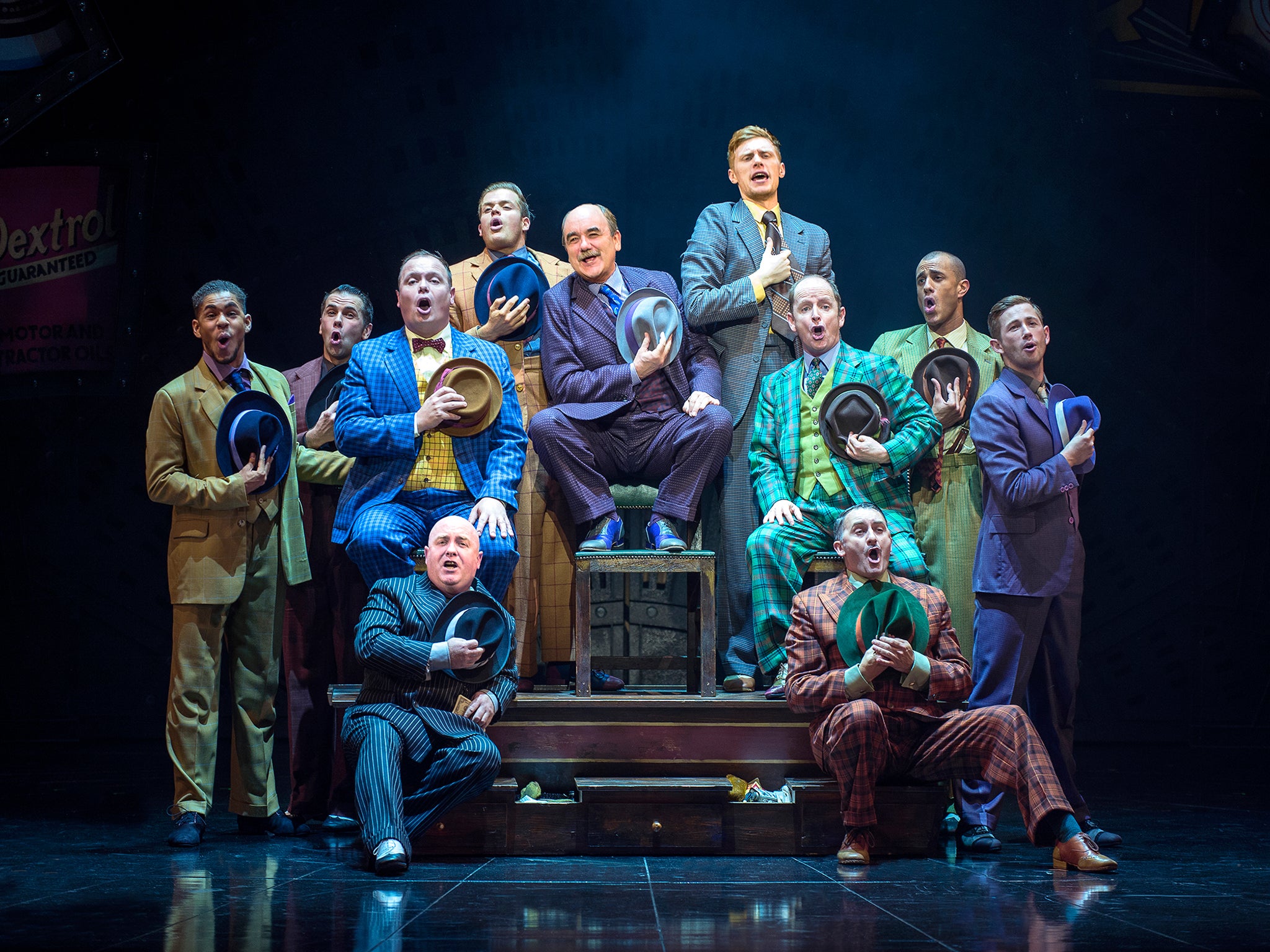 January is the cruellest month – its iron post-Yule grey far from mitigated by the spirit-shrivelling prospect of yet again filling out that self-assessment tax return. So though it may have taken a year and a quarter for this exhilarating Chichester Festival Theatre production of Guys and Dolls to make its way to the West End, its arrival now comes as the perfect antidote to those Last Noel withdrawal symptoms and back-to-work blues.
Nogoodniks (in the shape of hardened New York gamblers) are brought into irresistibly comic collision with what you might call the dogoodniks (in the shape of the Salvation Army and their Save A Soul mission) in this "musical fable of Broadway". The book, by Jo Swerling and Abe Burrows, has to be the wittiest in the Broadway canon and it integrates seamlessly – in its hilariously formal Runyon-speak – with the brilliant, one-damn-classic-after-another score and lyrics by Frank Loesser ("Take back your mink/To from whence it came," sings Miss Adelaide, with typically stilted syntax, in one of her Hot Box routines).
The dodgy dice-rollers in Gordon Greenberg's snappy, fast-paced production are a constant source of delight as they they convey this comic incongruity. Packing out the mission not from piety but because they have been won in a bet, this bunch of gambling scapegraces take the roof off as Gavin Spokes's adorable Nicely-Nicely conducts them through reprise after show-stopping reprise of "Sit Down, You're Rocking The Boat".
But here it's the comic coexistence of the incorrigible reality (Nic Greenshields, barely shorter than the Empire State Building as the thuggish Big Jule, testifies proudly to "33 arrests and no convictions") and the ecstatic cod-revivalism of the song that epitomises the lovely mood of the show. Without ever lapsing into sentimentality, Guys and Dolls manages to be knowing and yet wholly and fundamentally, uncynical. It's a sort of urban pastoral.
Of the central quartet, Jamie Parker seems to me to give the best and most complete performance. He portrays Sky Masterson, the doyen of gamblers, with a sly smile of amused of self-mockery at his own sexual charisma. After he's fallen in love with Sarah, he delivers a beautifully fervent and faintly incrudulous version of "My Time of Day" in which he lowers his guard and admits that she's only doll with whom he's ever wanted to share this special "couple of deals before dawn"- New York experience. Siubahn Harrison acts well but hasn't the voice to do full justice to post-awakening numbers such as "If I Were A Bell" while the flamboyant choreography (credited to Carlos Acosta and Andrew Wright) overdoes the erotic feuding of the Havana sequence and turns Sarah too much into a figure of sexual slapstick.
You could argue that David Haig is unduly avuncular as Nathan Detroit, who runs "the oldest established, permanent floating crap game in New York" and that Sophie Thompson relies too much on her trick of swooping from high-pitched squawking to embattled contralto as Miss Adelaide, his fiancee of fourteen years. But no one could deny the sense of heart and hinterland they bring to the characters comic desperation nor the warmth they impart to this joyous revival.
To March 12; 0844 871 7687; then touring
Join our commenting forum
Join thought-provoking conversations, follow other Independent readers and see their replies