Hair, The Vaults, London, review: A full-throttle production
The Vaults is turned into an immersive Sixties venue for this big-hearted production of 'Hair The Musical' which is celebrating its 50th anniversary 
Holly Williams
Tuesday 17 October 2017 12:10 Comments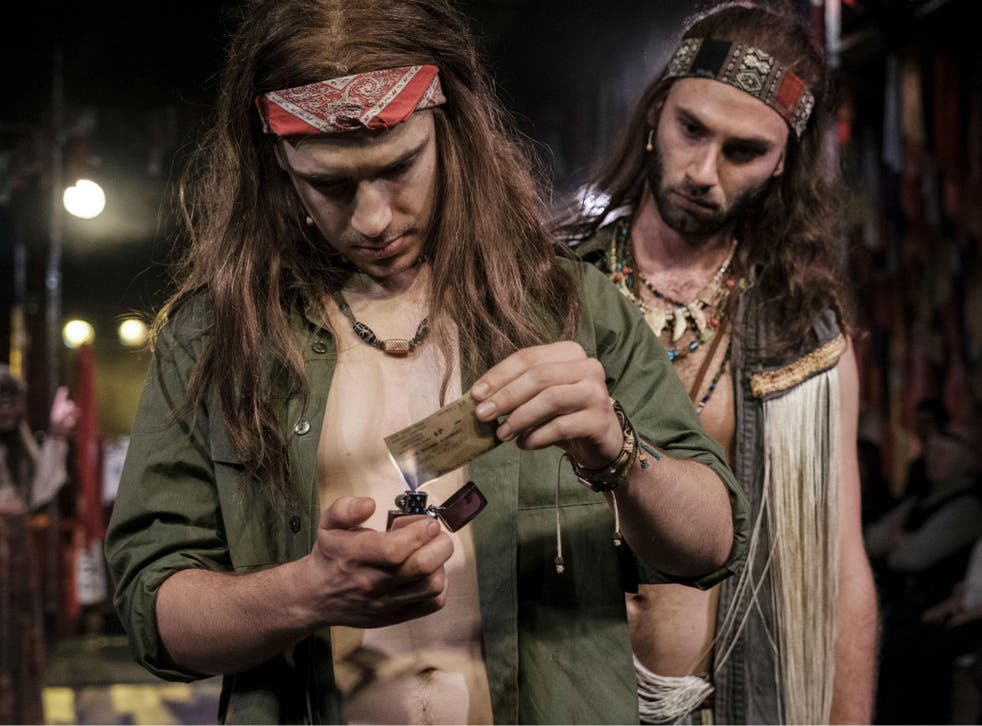 This spirited 50th-anniversary production of the original rock musical is a small-scale production that punches well above its weight. But does it capture the spirit of the Sixties? I'm not so sure.
The Vaults is turned into an immersive space – and while the campaign starts here to stop calling something "immersive" when you actually mean "themed bar", it's done well: a groovy tie-dye hangout with teepees and toadstools. Even better is the performance space under an arch, entirely covered with rainbow streamers: a kaleidoscopic reinvention of a dank fringe venue.
The cast of 14 feels masses bigger, and they're top quality – both the singing and dancing, under Jonathan O'Boyle's assured, ballsy direction, are spot on. There's a slickness that's maintained despite the totally frenetic pace: Hair bombards you with sex, drugs, and rock and roll – as well as, courtesy of a tight band, psych rock, funk, soul, rhythm and blues… even country, gospel and Fifties-style crooners get effectively pastiched in Galt MacDermot's leapfrogging but enjoyably bouncy score.
If it can be a bit much, that's more the fault of Gerome Ragni and James Rado's musical than this full-throttle production. Most songs only seem to last about a minute, then whoosh, you're on to the next. Although we're whirlingly introduced to the "tribe", only two characters – Berger and Claude – are really delineated; the show particularly shows its age in relegating most of the female characters' songs to being about digging certain dudes.
The plot, such as it is, is that a bunch of hippie dropouts in New York are getting high and protesting against the Vietnam War, when one of their number – Claude – gets the draft. Will he go? Around him swirls a maelstrom of couplings and arguments and hallucinations, songs protesting against war and segregation, and hymning freedom and free love. There's a lot of exaggerated smoking of joints, writhing around on the floor, and a bit of nudity.
But it feels like doing Hair in 2017 presents a conundrum this production hasn't entirely solved. You sort of have to go big – and this certainly is. Fast, loud, brash, the cast get in the audience's face but pull it off with real aplomb and abandon. Performances are huge, and pretty camp; it's a bright rainbow version of the Sixties.
Yet it's also a cartoon rainbow. You never believe any of them are real people, never believe that anyone quite lived like this. This is always likely to be a problem given the cultural signifiers of the era are now so set, so recognisable, so mocked. Can you groove onstage with long hair, flares and beads, and be read as "real"? Or will you always appear to be a cliché?
Still, it feels like O'Boyle could counter this, trying to find a little tenderness or genuine human connection, whereas instead the show embraces psychedelic mania. Admittedly, Ragni and Rado don't really do subtlety, and there isn't much characterisation to work with. But it's as if the underwriting is offset with over-performing; even Andy Coxon and Robert Metson, fun as they are as the leads, never really settle into Berger and Claude respectively.
So, this Hair may fail to find much truth in all the pot smoke and flower power. But it is also a burstingly big-hearted production, and still proves quite a trip.
'Hair' is at The Vaults until 13 January
Register for free to continue reading
Registration is a free and easy way to support our truly independent journalism
By registering, you will also enjoy limited access to Premium articles, exclusive newsletters, commenting, and virtual events with our leading journalists
Already have an account? sign in
Join our new commenting forum
Join thought-provoking conversations, follow other Independent readers and see their replies