As You Like It / Hamlet, Shakespeare's Globe, London, review: There's a lot of imaginative freedom to Michelle Terry's double-bill
'As You Like It' is gloriously oddball, but 'Hamlet' falls a bit flat by comparison
Paul Taylor Comments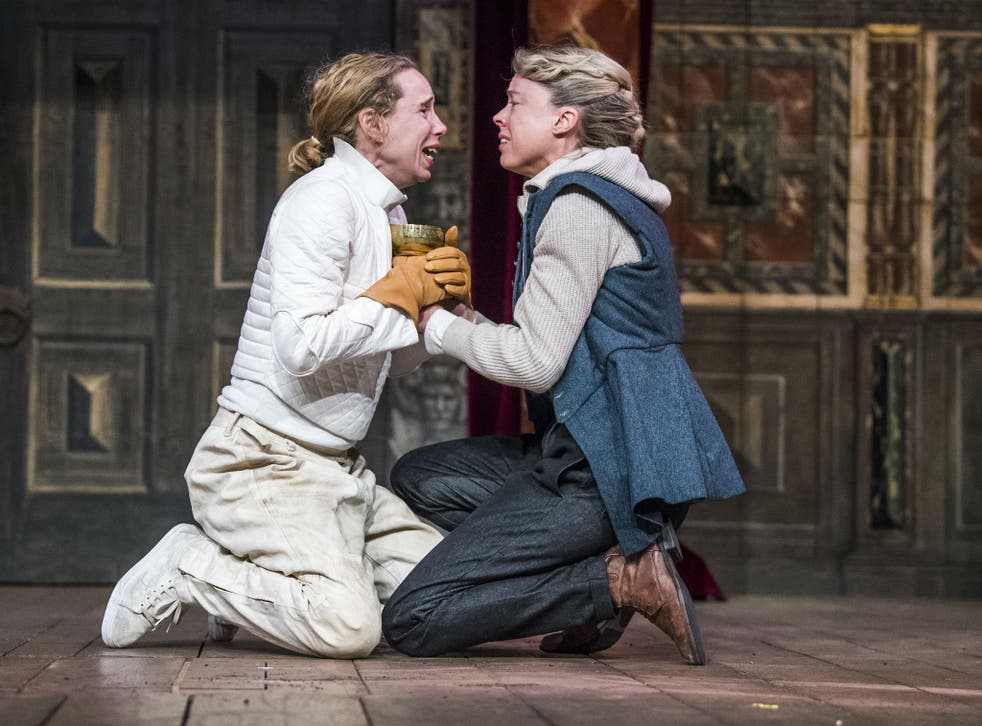 Here is what Michelle Terry has been up to this week. At a marathon press day, she kicked off her debut season at the Globe where she has taken over as artistic director following the controversial departure of Emma Rice. She unveiled to the critics her new gender-blind ensemble of 12 actors who are presenting the first two plays in rep. She rounded things off by performing the role of Hamlet.
So no pressure then.
Terry is fiercely intelligent and wonderfully funny and has a great wealth of experience at playing Shakespeare – at the Globe and elsewhere (she portrayed Henry V in Regent's Park). She intuitively understands how to release the stellar power of the language. Mark Rylance, the first and last actor to hold the reins at this venue, advised her to "lead from the front". This she has done (and in one of the Rylance's signature roles, too.)
But you have this set alongside Terry's keen democratic instincts and her aversion to hierarchy. The actors were brought in as collaborators from the outset, before the roles had even been assigned. Though Federay Holmes and Elle While are credited with the direction, there has clearly been a lot of imaginative freedom.
The result is an As You Like It that is both gloriously oddball and wonderfully on the play's wavelength. And a Hamlet that is a bit flat, by comparison, and lacking in a cohesive vision – despite Terry's compelling performance as a cut-to-the-quick Clown Prince and the cross-cast Shubham Saraf's portrayal of Ophelia which is truly haunting in its pained dignity.
The production of As You Like It spreads the kind of joy that only the Globe, with its matchless sense of inclusiveness, can generate. Pearce Quigley's doleful, Northern, very amusing Jaques is asked by one of the other characters for the meaning of word "ducdame" that he's just used in one of his songs. "'Tis a Greek invocation, to call fools into a circle," he sniffs. The character means to make a rather uppity private joke against the cluster of men on stage. But then Quigley suddenly notices the ring of faces around him in the theatre and lets out a panic-stricken "Aaaaargh". A warmly bonding moment.
This show is full of lovely things. Jack Laskey plays Rosalind – an already gender-bending role – with a thrilling emotional spontaneity, both freed and tormented by her 'Ganymede' persona and clearly going out of her mind with love for Bettrys Jones's cross-cast Orlando. Deaf actor Nadia Nadarajah plays Rosalind's cousin Celia with great spirit and dash. The closeness of the relationship between these two characters, who have been brought up together since childhood, is beautifully conveyed through sign language.
I may have grown a bit misty-eyed when the pair of them steal out shyly from under Hymen's voluminous, flower-studded bridal train in the magically-staged multiple wedding ceremony in the fifth act. It's so attuned to the play's emotional geometry.
Mixing period and modern, Ellan Parry's costumes are a continual delight. Seeming to wear his gut on the outside, Colin Hurley's terrific Touchstone looks like a nest of draught excluders or the paunch as its own Pompidou Centre.
Musically, James Maloney serves both productions well. I loved the blowsy blare of trombones as Hamlet makes his way to his mother's bedroom. There are one or two pulse-quickening sequences in this staging (the thumping build-up of The Mousetrap, for one). Hamlet starts to feign his antic disposition by donning full clown makeup and a cream coat and tie – Crazy Gang-meets-Victoria Wood.
And then he is pushed over the edge. There's formidable wit and pain in Terry's delivery of the soliloquies but while you sense that she is pulling you deep into her confidence, you never quite feel soul-to-soul with this Hamlet as you do in the greatest portrayals
The licence granted by the clown's costume could be mined more for its subversive possibilities. You aren't unnerved enough by the fact that this Prince becomes a real danger to himself and others. The other characterisations – apart from Saraf's Ophelia – come across as traditional and under-explored. James Garnon's Claudius is a nice enough bloke who just happened to make one big mistake.
By contrast, Quigley and Nadarajah make a very piquant double-act as Rosencrantz and Guildenstern, as it once again introduces BSL signing. This method of communication is referenced movingly in the life-goes-on dance at the end which proves to be one of the production's highlights.
The double bill may be lopsided but the situation at Terry's Globe yammers with possibilities.
Until 26 August (shakespearesglobe.com)
Register for free to continue reading
Registration is a free and easy way to support our truly independent journalism
By registering, you will also enjoy limited access to Premium articles, exclusive newsletters, commenting, and virtual events with our leading journalists
Already have an account? sign in
Join our new commenting forum
Join thought-provoking conversations, follow other Independent readers and see their replies