Alan Cumming Sings Sappy Songs, The Hub, Edinburgh: Hankies at the ready for a torrent of squelchy, soggy songs
It's his autobiographical and shamelessly showbiz anecdotes in-between numbers which really delight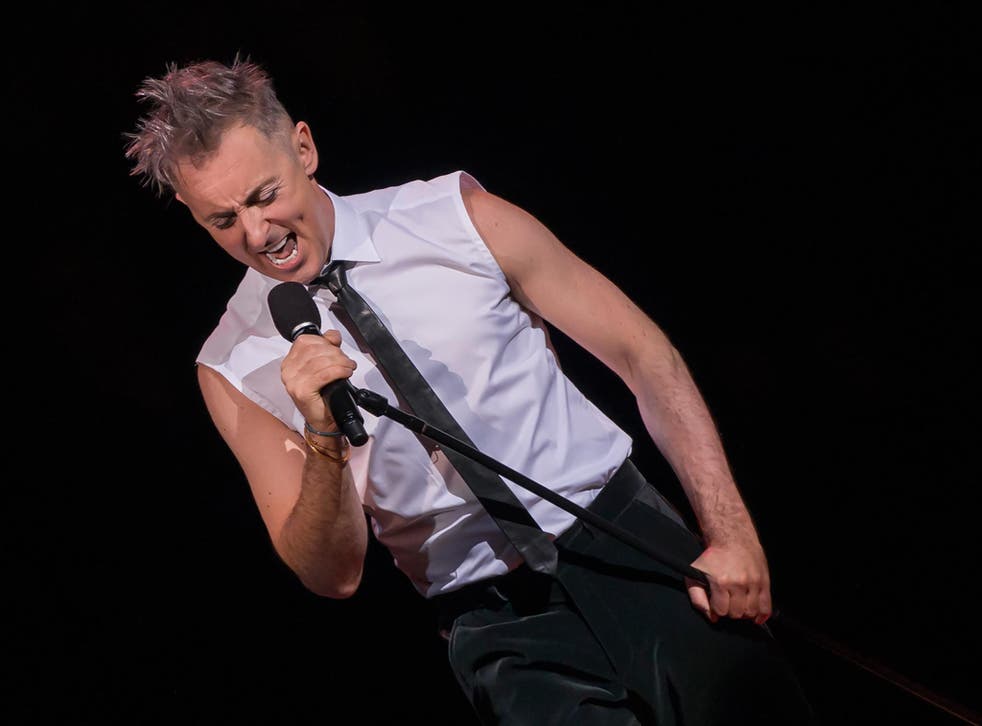 Welcome to Club Cumming. When the Scottish actor was performing in Cabaret on Broadway, he turned his dressing room into an after-party destination replete with, we're told, a neon sign, sponsored booze and a wealth of emotion-sodden songs – because nothing pleases a Scot like being both drunk and sentimental. It's a vibe he recreates for the Edinburgh International Festival, and Cumming, resplendent in leather trousers and sleeveless shirt, certainly proves a most charming host.
There's the twinkling eyes, the cheeky grin, the Scottish accent that comes as a surprise to visiting American fans of The Good Wife… the show's as much about his winning between-song chat as the big numbers themselves – although Cumming really goes for them, fist-clenching, hair-grabbing, crotch-twitching and all. He's ably supported by a tight, swinging band of grand piano, cello and drums.
The songs really are sappy – in fact, they're beyond even sappy, into big and squelchy and soggy. We're told to have hankies at the ready. And they're all well set-up with a back story, whether that's dedicating 'Goodnight Saigon' to his grandfather – who, Cumming has discovered, was a PTSD-suffering war vet who later died in Malaysia playing Russian Roulette – or to his abusive father, who gets a blast of Rufus Wainwright's 'Dinner at Eight'. The song 'Mother Glasgow' is first comically translated, then played as a straight tribute to the city, which re-embraced the song in the face of a tragic lorry accident in the city centre in 2014.
Things aren't always quite so serious – Miley Cyrus, Avril Lavigne and Adele all get the Cumming treatment, their cheesy pop stylings turned into gut-busting ballads. "Take off your judgey hat," we're told early on, and you'll "hear them in a different way."
He's right – although the schmaltz can be too thick to get past. Cumming may well up enough to imperil his "guyliner", but most eyes remain dry, I'd wager. It's his autobiographical and shamelessly showbiz anecdotes in-between numbers which really delight, however, lightly walking the tightrope between sharp-eyed and slushy. Whether it's acidly recounting reviews that favourably reported on his penis size or taking tips on how to be a cabaret diva from Liza Minelli, Sappy Songs proves a camply tasty treat - and a club that's well worth the membership.
Register for free to continue reading
Registration is a free and easy way to support our truly independent journalism
By registering, you will also enjoy limited access to Premium articles, exclusive newsletters, commenting, and virtual events with our leading journalists
Already have an account? sign in
Register for free to continue reading
Registration is a free and easy way to support our truly independent journalism
By registering, you will also enjoy limited access to Premium articles, exclusive newsletters, commenting, and virtual events with our leading journalists
Already have an account? sign in
Join our new commenting forum
Join thought-provoking conversations, follow other Independent readers and see their replies