Heisenberg: The Uncertainty Principle, Wyndham's Theatre, London, review: The two actors have superb chemistry
Anne-Marie Duff and Kenneth Cranham star in this two-hander by Simon Stephens in the first production of director Marianne Elliott's new theatre company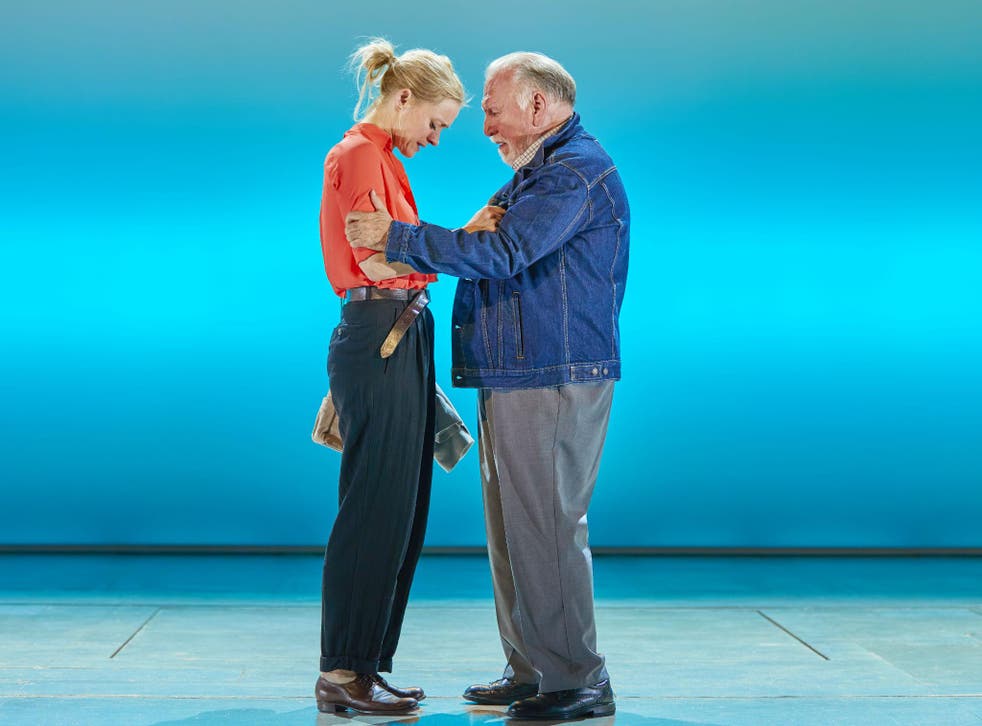 To launch her new company, Elliott & Harper Productions, director Marianne Elliott has elected to reassemble the team that mounted the all-conquering Curious Incident of the Dog in the Night-Time. But this two-hander by Simon Stephens, first staged in New York in 2015 and now receiving its UK premiere, is altogether more intimate in scale. Don't be daunted – or over-excited – by the title. The German physicist is invoked only once by name and Stephens applies the famous Uncertainty Principle – the idea that the more precisely you measure the position of a subatomic particle, the less precisely you can measure its momentum – to human relationships. Quantum physics here becomes a metaphor for the fundamental unpredictability in the nature of existence, but never too assertively.
It begins with an impulsive kiss on St Pancras Station. Georgie, an American woman in her early forties who works as a receptionist in a London school, surprises Alex, a butcher in his mid-seventies, with this peck on the nape of the neck, claiming that she has mistaken him for her late husband. This turns out not to be correct and it would be fair to say that Georgie starts off with an improvisatory relationship to the truth and the single-mindedness of a kook in a screwball comedy, making play for the buttoned-up male lead, as she tracks the butcher down to his shop. What is she up to?
The two actors have superb chemistry. After a life of stoic disappointment in love and orderly uneventfulness, Kenneth Cranham's Alex is as measured in movement and precise of utterance as Anne-Marie Duff's Georgie is an over-sharing gabbler who delivers a running commentary on her weirdness. Cranham brings a beautiful dignity to Alex's baffled suspicion, benign caution and dawning delight at Georgie's strenuous attentions. It never for a second feels seedy. Duff brilliantly suggests the deep hinterland of hurt behind the woman's volatility – the fiercely dogmatic and desperate way she offers divergent responses to key questions, such as those about impurity of motive. She has the gift of quivering between the translucent and bone-weary opacity,
In Bunny Christie's splendid, psychologically expressive design, the walls distend or close in on the pair, swaying giddily after they first make love, while Paule Constable's lovely lighting saturates the surround with a Rothko-like intensity of colour. "People worry far too much about what they are, you know. They should be thinking about what they do" declares Alex as the couple, who have decamped to New Jersey in quest of Georgie's estranged son, embrace unpredictability by offering each other step-by-step practical love instead of making lofty, long-term commitments. "It's terribly brief, life," says the 75 year old. "It seems a little unfair. I can't help feeling that I'm only just getting the hang of the bugger".
Join our new commenting forum
Join thought-provoking conversations, follow other Independent readers and see their replies