Henry IV, Donmar Warehouse, review: Phyllida Lloyd's persuasive all-female cast will bamboozle the sceptics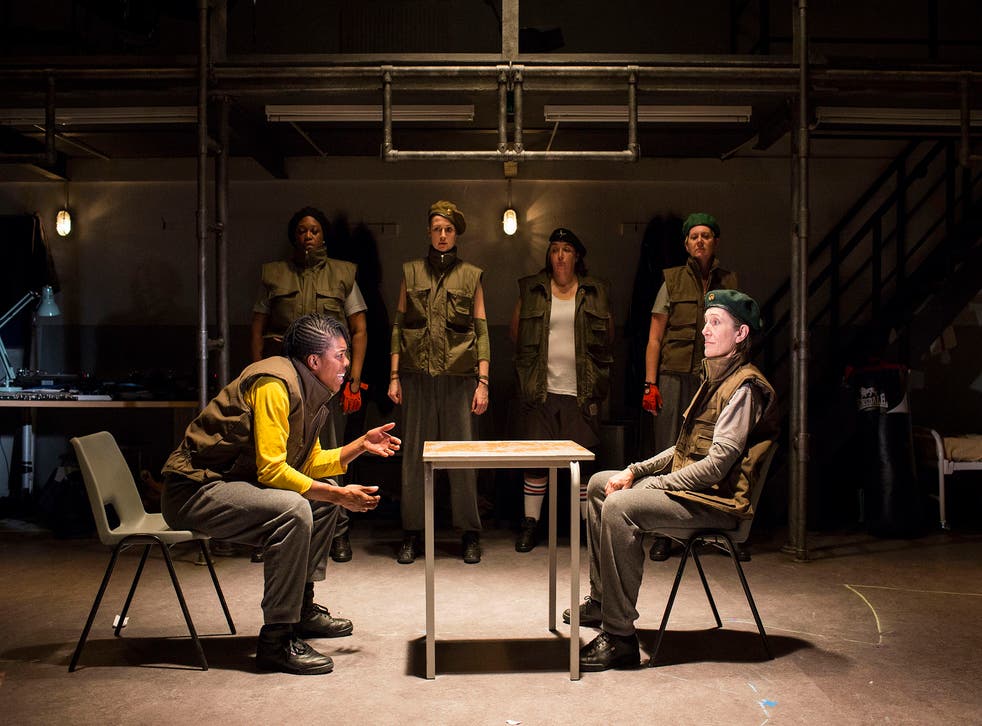 Opponents of all-female casts or doubters who feel that the great classical male roles should kept immune from women will have their work cut out maintaining such a position of entrenched scepticism after this fresh, bracingly persuasive staging of an abridged Henry IV (albeit weighted overwhelmingly to Part One).
Played straight through in two hours, it's the second in a projected trilogy of collaborations between director Phyllida Lloyd and Harriet Walter, an actress who would have been one of our great Hamlets, had the culture been open to this liberating non-literalism when she was younger.
The verse here is delivered with a kind of rinsed, ringing conviction and in accents far removed from RP or prunes-and-prism actors'-posh. Moreover, to hear this cast negotiate the densely-flavoured, sublimely idiomatic rhythms of the language of the great lowlife Eastcheap's scenes; or the Gadshill gulling of Ashley McGuire's hilariously blokey vest-and-flat-cap Falstaff, is to feel the force of Christopher Ricks's contention that Shakespeare is not only the greatest poet in the English language, he's the greatest writer of prose, too.
The set-up is similar is to that of the Lloyd/Walter all-female Julius Caesar a couple of years ago. The women are imagined to have fallen foul of the criminal justice system and to be putting on this play in prison, though I could seriously have done without the bogus-seeming attempt this time to beef up the idea that it's all a big security risk, letting in the public. The audience is held in a bar down the road; stentorian orders are barked at us; we are led led by fierce uniformed folk across the street and up a white lined staircase. Except that one isn't even frisked, let alone strip-searched before entering the simulated harshly strip-lit prison gym where the players, in their grey track suits, are assembled.
Do the actresses need the justification of this framework? No but there is definite charge given to the proceedings by placing it in this context. Clare Dunne plays a woman who hears right at the start that she is to be released in 3 weeks. This gives her abrasively sardonic Ulster-accented Hal, the scape-grace heir to the throne, a booster-jab of dubious energy. Like the character, she knows that she's, in a sense, now pretending to be one of "lads", biding her time as much as doing time. The rejection of Falstaff is thus likely to release terrible passions in both the inner and outer plays.
Lloyd had conjured up witty, tragicomic prison equivalents to the Shakespearean environment. Here Falstaff (superb McGuire – it's as if Bottom is making a fantastic fist of the part) nosedives into a pile of cocaine, which, rather than sack, is the stimulant of choice. Hal's climactic duel with the hotheaded Hotspur (an electric Jade Anouka, wonderfully supported by Sharoon Rooney as his sorely tried wife) is an unholy brawl replete with bites.
Harriet Walter is all hollowed-out fastidious distaste and agony and utterly. One longs to know what crime has put her character inside. Roll on the third instalment.
To 29 Nov; 0844 871 7624
Join our new commenting forum
Join thought-provoking conversations, follow other Independent readers and see their replies