Show, Hofesh Shechter Company, Lyric Hammersmith, London, review: Murderous clowns and insistent beats
Eight dancers move in unison before killing each other in stylised gesture, carried along by Hofesh Shechter's driving score 
Zo Anderson
Wednesday 09 May 2018 11:20 Comments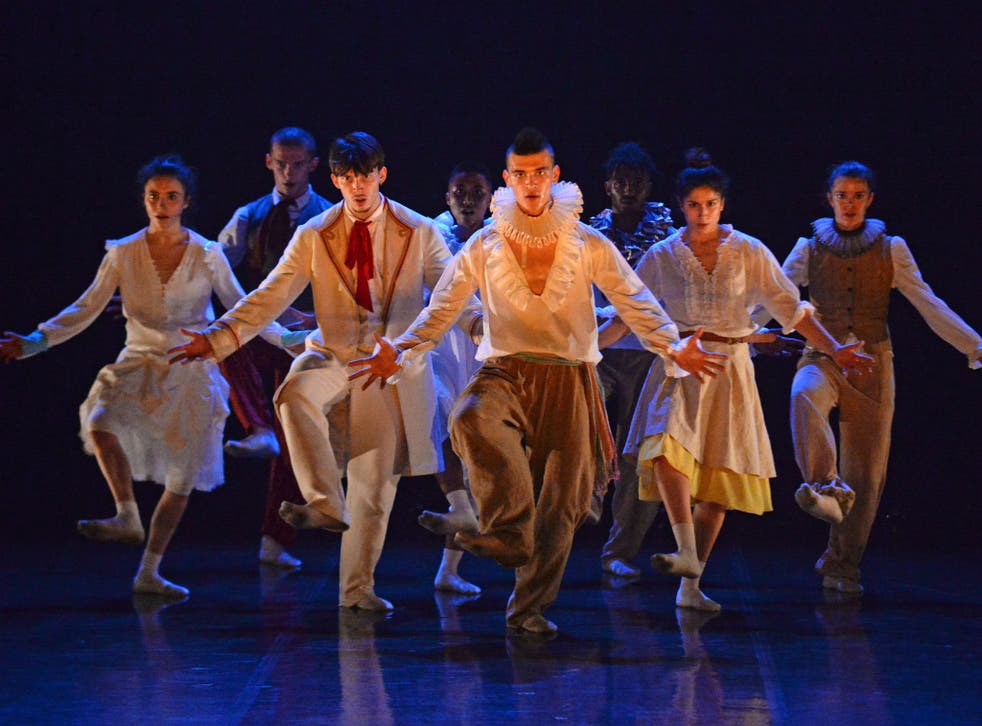 Murder, showbiz and folk dance: Hofesh Shechter Company's Show is built from loving repetition of these elements. For an hour, eight clowns dance in unison to Shechter's insistent beat, and kill each other in stylised gesture. Each time, the victims get up again, ready for the next wave of dance and homicide.
Based in the UK, Shechter brings together contemporary dance with a rock gig atmosphere, usually composing his own driving scores. There's often a collective abandon to his dances, both in the unison, folk-influenced lines and the flailing, muscular solos.
Show has these qualities, but it's lighter, even frillier. It an expansion of Clowns, a work Shechter made for Nederlands Dans Theater in 2016. Framed by new material, it's performed on this international tour by Shechter II, the company's apprentice branch of dancers aged 18 to 25.
It starts with light and haze, so thick that the footlights cast dramatic shadows on thin air. A line of dancers emerge, silhouettes in the golden gloom, arms raised as if for a traditional dance. As the haze clears, they go from courtly recognition of the audience to obsessive, shuffling dance. Just as there are are snatches of baroque music woven through Shechter's score, the dancers have moments of self-awareness even as they're lost in the rhythm.
The designs suggest a dainty circus of very well-dressed clowns. There's a red curtain, and delicate loops of lightbulbs. The costumes are part-Pierrot, part Merchant-Ivory Edwardian, all soft linen, frilled blouses and gilded ruffs. Even the murders are elegant: rocking to the beat, one dancer will come behind another for a shooting or throat-cutting gesture, still dancing as the bodies fall in tidy lines.
Though the eight dancers show strong personalities, they're not individualised as characters. These murders have no personal motive. In works such as Political Mother, Shechter dug into ideas of authoritarianism and obedience, but the clowns of Show aren't inspired by dictators or struggling with fear. They're simply performing a pattern of refined violence.
Though Show doesn't have the visceral quality of Shechter's fiercest work, it does have his pulsing sense of momentum. Like the main company, his younger dancers look unstoppable, carried along by the rhythm. The new finale is danced to a song by South Korean rock star Shin Joong Hyun. The performers dance and sing through their curtain calls, bowing and acknowledging the applause, before turning to murder each other again.
Until 12 May, then touring (hofesh.co.uk)
Register for free to continue reading
Registration is a free and easy way to support our truly independent journalism
By registering, you will also enjoy limited access to Premium articles, exclusive newsletters, commenting, and virtual events with our leading journalists
Already have an account? sign in
Join our new commenting forum
Join thought-provoking conversations, follow other Independent readers and see their replies