Imperium, Swan Theatre, Stratford-upon-Avon, review: Richard McCabe gives a superb central performance
Mike Poulton, who adapted Hilary Mantel's Thomas Cromwell novels, 'Wolf Hall' and 'Bring Up The Bodies', has turned Robert Harris' trilogy of novels about Cicero into epic theatre, with a running time of around seven hours 
Paul Taylor
Monday 11 December 2017 18:18 Comments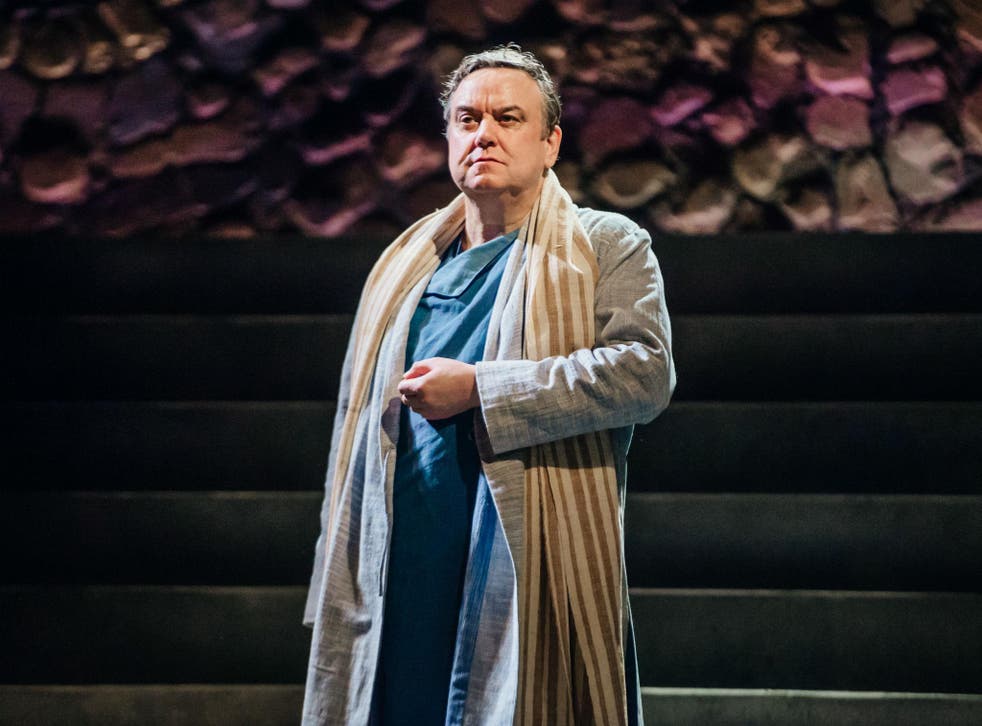 Robert Harris has described his trilogy of novels about Cicero as being "like The West Wing in togas" – a compelling account of the power games of Ancient Rome, starring the greatest orator, lawyer and statesman of the age. Master-adapter, Mike Poulton, who gave us superb theatrical compressions of Hilary Mantel's Thomas Cromwell novels, Wolf Hall and Bring Up The Bodies, excels again with the dense, intricate material here. He's turned the books into dynamic epic theatre – six plays performed as a pair of trilogies with a running time of around seven hours. This is a saga of furious rivalries and devious factionalism, presented with terrific energy and clarity by Gregory Doran's production on a spare, imposing design by Anthony Ward, that combines a set of Senate steps, an overhanging, turbulently spinning globe and a pair of watchful eyes that peer out from the mosaic that covers the back wall.
Poulton's aim is not to offer an exhaustive account of the books. The adaptation jettisons most of the first novel, which deals with Cicero's rise, confining itself to one flashback that shows the protagonist sharpening his rhetorical skills as a lawyer in his famous exposure of a corrupt provincial governor, Verres. For our purposes, the story begins with Cicero's accession as Consul, the highest elected political office in the Republic. The eve of the inauguration coincides with the discovery of what looks to be a terrible human sacrifice. The focus throughout is on the preservation of Rome's integrity. Cicero is championed for having channelled his energies into defending the rule of law and republican values from the attacks of malcontent aristocrats and would-be military dictators.
So the show is essentially a diptych. In the first arc, Conspirator, we see Cicero succeed in the thwarting a conspiracy led by Catiline, an aristocratic thug, furious to have been beaten for the consulship and hell-bent on restoring his family's status among Rome's elite. Our hero is not quite so adept at neutralising the cagey power behind Catiline, the ambitious general, Julius Caesar. In the second sequence, Dictator, Cicero is back from exile in time to witness the Ides of March and he sides with the assassins but is not equal to the implacable autocratic drive of Antony and of Caesar's young heir Octavian, later the emperor Augustus.
Richard McCabe gives a superb central performance that, while embodying Cicero's first-rate qualities, signals his flaws so that he comes across as a fully-rounded hero. All rumpled decency and agility of mind, he's an inveterate gossip, likes the sound of his own voice, and is unable to stop boasting that he rose from relatively humble origins, especially after he's awarded the title "Father of the Nation" for routing Catiline. Subject to moments of vanity and failure of nerve, he's capable of bad human oversights – taking for granted, say, the patrician wife (nicely testy Siobhan Redmond) whose personal fortune has financed his political career. He ages before our eyes with great subtlety.
Cicero is part of running double-act with his slave and amanuensis Tiro, who wrote a lost biography of his master and is the first-person narrator of Harris's novels. Joseph Kloska breaks the fourth wall with great charm, a slightly aghast awareness of the dangers he's being put through and a reflexive comic sense that he's in what could be a cumbersome story-telling role, "This is getting very expositional," chips in Cicero, after a lengthy informative start to one scene. In my view, the weakest aspect of the adaptation are jokes such as that, or the heavy handed way that contemporary parallels are underlined – Pompey sporting an improbable, orange, Mar-a-Lago coiffure when he marches back to Rome on a boost of auto-bombast – or Tiro's quips about Caesar's latest conquest: "a poky little hole nobody's ever heard of called Britain. I believe it's just beyond Europe."
Nudging the audience in the ribs comes to seem a bit schoolboy, a slightly irritating and distracting tic. Not so much providing new insights into our own age as diminishing the events in Rome. And not needed given the wide-ranging applicability suggested by the magnificent performances of the principals. Joe Dixon is disturbingly enraged as Catiline and then magnetically wild and dangerous as Antony. Oliver Johnstone is unnervingly contained and watchful as Octavian, completely convinced of his own own deity. Tiro evokes Julius Caesar thus; "An athlete's muscles under the loose-belted tunic of a scented dandy." That's what comes across in Peter de Jersey's extraordinary portrayal – an alpha male, finely arrayed, who sees no valid political aim but self-glory and keeps a knife for readiness under his toga.
Imperium overlaps with events in Julius Caesar and Antony and Cleopatra and begins its life in Stratford just as this year's RSC season of Roman Plays is transferring to London. You get some bracingly fresh perspectives on some familiar material. The sheer mess and panic caused by the fact that the Caesar's assassins do not have a plan for beyond the killing and that there is strong support for their execution are brought home with raw, startling immediacy here as Cicero struggles to come to terms with the assassination and with why he was not included in the conspiracy. Apart from a few lines in Caesar, Shakespeare ignores this great statesmen almost completely. Putting him centre-stage for fascinating epic, the Royal Shakespeare Company is handsomely redressing the balance.
Until 10 February (rsc.org.uk)
Register for free to continue reading
Registration is a free and easy way to support our truly independent journalism
By registering, you will also enjoy limited access to Premium articles, exclusive newsletters, commenting, and virtual events with our leading journalists
Already have an account? sign in
Join our new commenting forum
Join thought-provoking conversations, follow other Independent readers and see their replies