IoS theatre review: Julius Caesar, Donmar Warehouse, London; The Bodyguard, Adelphi, London; Old Money, Hampstead Theatre, London
Violent, all-female staging puts the Bard in clink, while a Hollywood hit turns into a schlock horror
Kate Bassett
Sunday 09 December 2012 01:00 Comments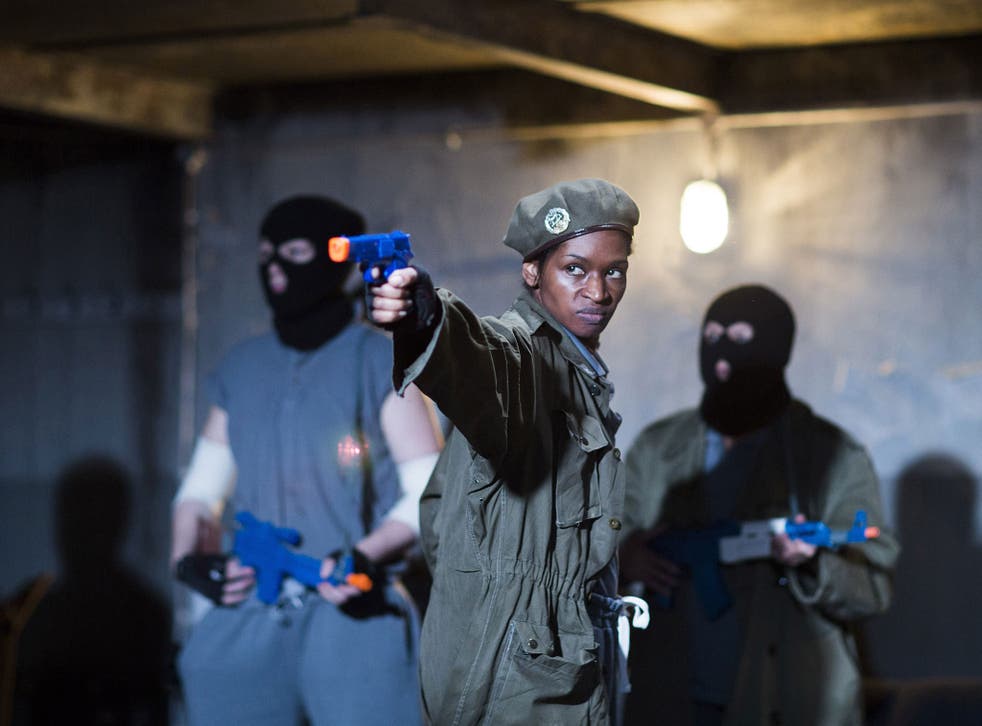 Our fathers' minds are dead, and we are governed with our mothers' spirits. So Cassius whispers, scornfully, in Shakespeare's Roman drama Julius Caesar. Damning such "womanish" cowardice, he incites his fellow senators to regain their liberty through insurrection – by killing Caesar.
But, hold on, Cassius is a woman in director Phyllida Lloyd's bold new take on the play. Indeed, this is an all-female production set in a single-sex prison, the entire auditorium made to resemble a modern-day slammer (design by Bunny Christie) with steel-plated doors, the audience on plastic chairs, and wardens patrolling overhead on metal walkways.
Jenny Jules, Harriet Walter, Frances Barber and a dozen other actresses are the jailbirds, in grey sweatpants, filing in to present their drama-workshop production of the Bard (edited down and punctuated by bursts of punky electric guitar). Costumes and props are makeshift: a few trench coats, toy rifles, a canteen trolley for a triumphal chariot. Crucially, the Ancient World's power struggles are paralleled by the inmates' own gang rivalries.
Taking the title role and displaying sado-megalomanic tendencies, Barber is the criminal bully who has gained the upper hand, ruling the prison wing with an iron fist. In butch-dyke mode, she snogs Cush Jumbo, her pretty minion cast as Mark Antony. When challenged, Barber yells psychotically and spits like a cobra. Delivering Caesar's line "Let me have men about me that are fat" with a sneer, she pins Jules in a headlock and force-feeds her doughnuts.
Lloyd's approach is, perhaps, profoundly radical in that it's hard to know if the women prisoners are supposed to be playing blokes or if you're watching Julia Caesar. There is no deepening of voices as Barber and co indulge in their merciless violence, and Walter's craggy Brutus is an unsettlingly androgynous depressive (looking oddly like Ian McKellen). One implication is that a gynocracy is no hedge against violence, and no egalitarian Utopia.
Jules is particularly riveting at first, earwigging Brutus and badmouthing Caesar with fiery sarcasm, a refreshing change from portrayals of Cassius as coldly calculating. Meanwhile, Jumbo's Antony is a revenging lover, crying over Barber's corpse before hardening in the war zone, shooting hooded captives.
In truth, though, for all the media excitement that Lloyd's concept has sparked, her production isn't nearly as brilliant as Gregory Doran's recent RSC Julius Caesar, which translated the action to post-colonial Africa with an all-black cast.
Sometimes the complexity of how far Shakespeare's characters and the inmates' relationships overlap becomes distracting. Although Walter and Clare Dunne (who doubles as a feisty Portia and Octavius Caesar) are fine actors, the ensemble is uneven in calibre and Barber crassly hammy. Some of Lloyd's props, not least flashlights and gore-red rubber gloves, have a whiff of 1980s student drama about them. Moreover, it becomes increasingly apparent that generalised washes of emotion – bellowing anger, pumped-up grandstanding – have gained ascendancy, rather than really sharp line-readings.
The second half, on the battlefield, is rushed and peculiarly unengaging. So instead of being moved by the poignancy of Brutus and Cassius dying on their own swords, by the end I didn't give a fig.
In the West End's schlocky, musical rejig of The Bodyguard, based on the Whitney Houston-Kevin Costner movie, and staged by Thea Sharrock, Heather Headley's Rachel is a stinking rich pop star dogged by a risibly melodramatic stalker. A knight in armour is, meanwhile, lurching to her rescue in the form of Frank from security: Lloyd Owen giving us another of his strong, silent, stiff-as-board stereotypes. Headley does storming renditions of Houston's greatest hits in spangly outfits and a blaze of spinning lights. There's strong support, too, from Debbie Kurup as Rachel's undervalued sister, but the plot is ludicrous and the dialogue the boiled-down gloop from Hollywood's knacker's yard of cliché.
In Old Money, by fledgling dramatist Sarah Wooley, Maureen Lipman's Joyce is a teenage rebel trapped in the body of a sexagenarian. Dressed in black after her husband's funeral, she looks to be a prim, repressed introvert, perched at her Home Counties dining table, glazed and mute as she waits for her relatives to stop jabbering and head home.
Next thing you know, she's shocking them all by slipping off to the Big Smoke, being chatted up, boozing and befriending a young stripper (excellent, droll Nadia Clifford). With apparently no compunction, Joyce then coldshoulders her demanding, bankrupt daughter (Tracy-Ann Oberman) and her aged mother (Helen Ryan) who needs care after a stroke. The latter, we glean, forced Joyce to relinquish the true love of her life decades back, because he was married.
Lipman's depiction of blossoming late-life courage, combined with quiet callousness, is intriguing, and Terry Johnson's chamber production copes with Wooley's multiple locations using a scattering of chairs and slide projections. Yet this is an oddly bitty journey-play, veering between the banal and the sinister, somewhat unsteadily.
'Julius Caesar' (0844 871 7624) to 9 Feb; 'The Bodyguard' (0844 579 0094) to 27 Apr; 'Old Money' (020-7722 9301) to 12 Jan
Critic's Choice
At London's Young Vic, Going Dark is an immersive, fascinating and heartbreaking weave of luminous lectures on the universe and the tragedy of an astrophysicist who's going blind (to 22 Dec). At the NT Lyttelton, The Animals and Children Took to the Streets is a darkly comic dystopian nightmare blending physical theatre, Berlin cabaret and stylish animated cartoons (to 10 Jan).
Register for free to continue reading
Registration is a free and easy way to support our truly independent journalism
By registering, you will also enjoy limited access to Premium articles, exclusive newsletters, commenting, and virtual events with our leading journalists
Already have an account? sign in
Join our new commenting forum
Join thought-provoking conversations, follow other Independent readers and see their replies