Jack and the Beanstalk, Theatre Royal, Stratford East, London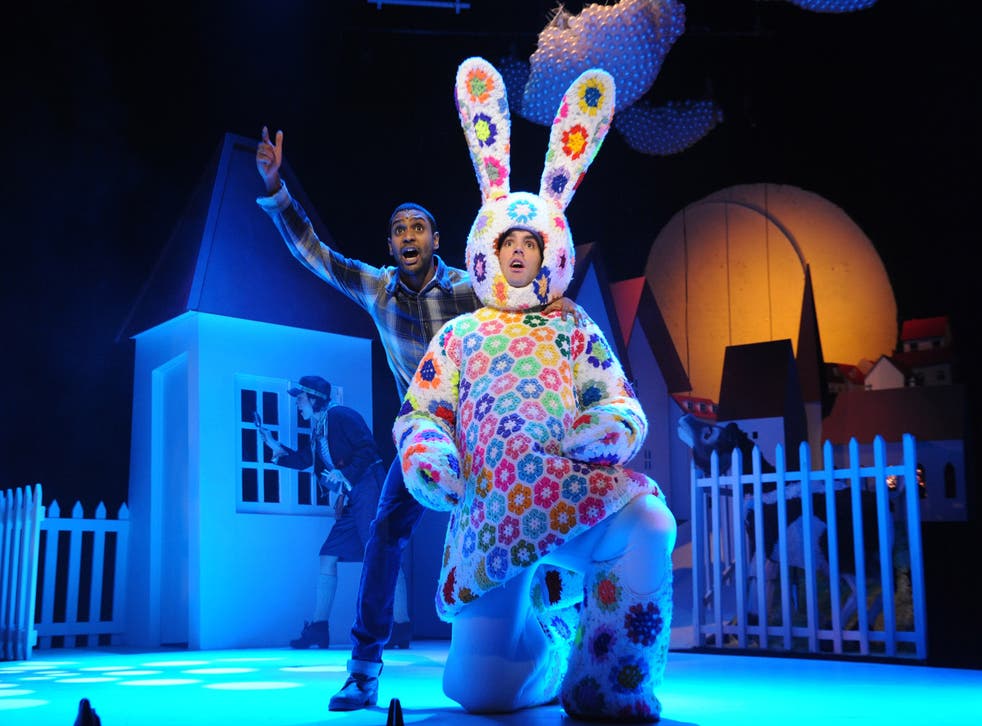 Paul Sirret has a long creative association with the Theatre Royal Stratford East where his works include the Olivier-nominated Ska musical The Big Life. This, though, is his first ever pantomime, a tricky mixed form that can defeat even the most seasoned scribe, and he rises to the challenge with a show that's a lovely, warm and very funny blend of traditional elements and quirky original twists.
The most eye-catching addition to the customary characters is a 7ft psychedelic rabbit called Dizzy (Vlach Ashton). With shades of the James Stewart movie, Harvey, this creature is the imaginary friend of Jorell "M.J." Coiffic-Kamall's likeable, body-popping Jack. "Only me and really, really special people can see Dizzy," declares our hero in a rites-of-passage story that will eventually feature a consensual parting-of-the-ways between Jack and his chum but not before plenty of "Oh no he isn't!/Oh yes he is!" disputes about Dizzy between the punters and the impatiently disbelieving cast.
Jack Shalloo and Oliver Taheri are deliciously amusing as Boz and Biz, a couple of dread-locked baddies who are burgling Jack's village (on behalf of the giant) in the guise of policemen. You can guess from their constant, idiotic need to reassure themselves that they are ever-so-wicked ("Time for a spot of gratuitous evil") that they are probably softies at heart and indeed they nurse a secret, appropriately alliterative dream of running a little b&b in Hastings.
Dawn Reid's production begins on a decibel-high with a competitive audience sing-off conducted by Gemma Salter's wonderfully engaging Lucy, a schoolgirl amateur sleuth. Her rational scepticism about magic takes a bit of a knock as the proceedings shift from an olde-world toy town to the scary lair of the ogre, presented here as a gigantic puppet head framed by tumbling strands of white hair like some antediluvian hippy. Amongst his weird entourage, Shelley Williams is a particular delight in the role Henrietta, a tap-dancing, haplessly failed-aviator of a hen.
The music of Wayne Nunes and Perry Melius is a bit too blandly generic to be catchy but all the numbers advance the plot – even the song-sheet one which is a lullaby calculated to send the ogre to sleep. And Michael Bertenshaw's excellent Mrs Trott is in the finest tradition of bawdy-bloke-in-a-bonnet dames. "David Beckham, eat your heart out" he declares, while cradling two large golden eggs at crotch level. Recommended.
To Jan 19; 020 8534 0310
Register for free to continue reading
Registration is a free and easy way to support our truly independent journalism
By registering, you will also enjoy limited access to Premium articles, exclusive newsletters, commenting, and virtual events with our leading journalists
Already have an account? sign in
Register for free to continue reading
Registration is a free and easy way to support our truly independent journalism
By registering, you will also enjoy limited access to Premium articles, exclusive newsletters, commenting, and virtual events with our leading journalists
Already have an account? sign in
Join our new commenting forum
Join thought-provoking conversations, follow other Independent readers and see their replies