Jane Eyre, Sadler's Wells, London, review: Catches the fierceness of one of literature's angriest heroines
Nevermind Rochester and romance: Northern Ballet's staging sees Jane step into the spotlight as her own woman
Zo Anderson
Wednesday 16 May 2018 12:14 Comments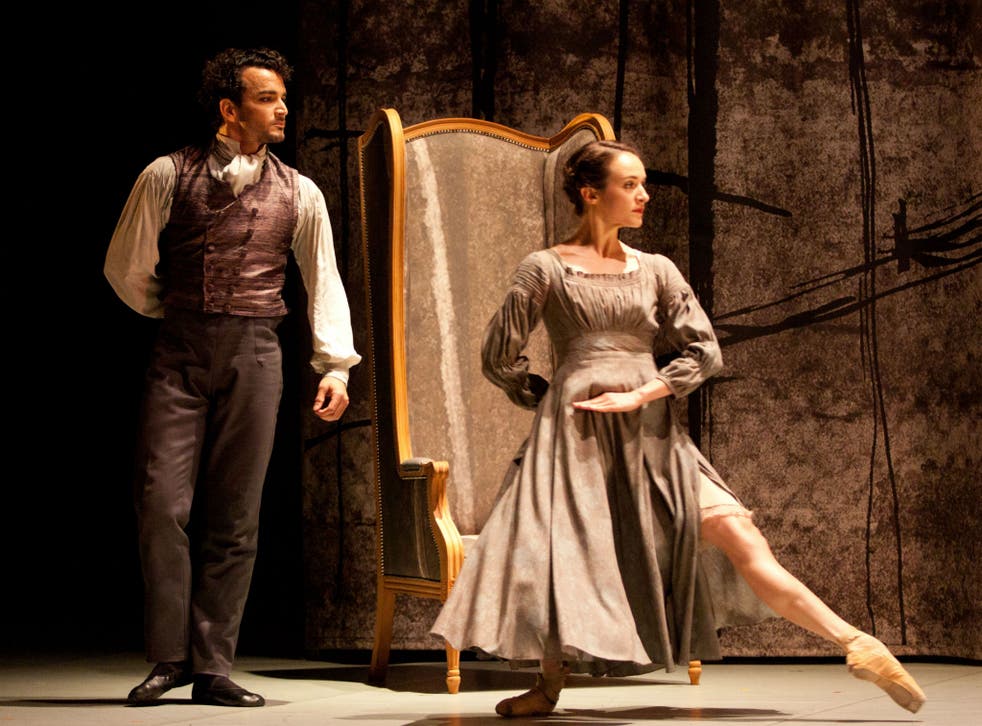 Jane Eyre is one of literature's angriest heroines, passionately defending her own sense of self. Cathy Marston's staging for Northern Ballet catches that fierceness in deft, character-driven storytelling.
Northern Ballet, which has always focused on narrative works, has recently taken a bolder and more varied approach to the stories it tells. Marston's Jane Eyre moves seamlessly from naturalistic gesture into dance and back again. Like its heroine, it has a stubborn sense of identity.
Screen adaptations of Charlotte Brontë's novel usually focus on the heroine's romance with Rochester, just as ballet storytelling tends to head straight for the passionate pas de deux. Marston delivers an intense central relationship, but grounds it in the rest of Jane's story. Characteristically, the final duet ends with Jane stepping forward into the spotlight, her own woman.
Created in 2016, this production opens with Jane fleeing from Rochester, collapsing on the moor. It frames Jane's childhood as a flashback, smoothing the transition between Antoinette Brooks-Daw's rebellious child Jane and Dreda Blow's driven adult heroine.
As the orphaned Jane, Brooks-Daw lies stiff on the ground, feet flexed and fists clenched, imagining but also rejecting death. She braces herself against the taunts of her cousins, before being swept off to Lowood School by Mlindi Kulashe's charismatic but oppressive headmaster. As the other pupils sit hunched on their stools, writing in regimented unison, Jane and her friend Helen Burns stand precariously on theirs, both exposed and defiant.
Patrick Kinmouth's stylised setting frames the action in bleak moorland colours, while a corps of men both change the scenery and surround Jane, a tide she keeps having to fight against. Philip Feeney's score incorporates music by Fanny and Felix Mendelssohn, alongside Schubert, with darker modern music sweeping over the 19th century melodies at moments of crisis.
Blow's Jane feels an immediate but conflicted connection with Javier Torres' charismatic Rochester. Slouched in his armchair, he stretches out a foot to bar her way, imperious but interested. Their duets are full of reversals, a complex power dynamic. One fluid move sees Jane swung up around his shoulders, but ends with Rochester stretched over her thighs.
Even at their cuddliest, in the duet that leads up to the wedding, they're combative as well as besotted, while Victoria Sibson's threatening Bertha Mason sidles ever closer.
It's a vivid performance from the whole company, from the impassioned Blow and Torres to a sharp gallery of supporting roles.
Until 19 May, then at The Lowry, Salford, 6-9 June (northernballet.com)
Register for free to continue reading
Registration is a free and easy way to support our truly independent journalism
By registering, you will also enjoy limited access to Premium articles, exclusive newsletters, commenting, and virtual events with our leading journalists
Already have an account? sign in
Join our new commenting forum
Join thought-provoking conversations, follow other Independent readers and see their replies