JB Shorts, 53two, Manchester, review: A smorgasbord of fantasy, farce, satire and sheer silliness
This twice yearly festival of 15 minute plays includes comedian Justin Moorhouse's 'A Grande Malaise and a Small Cappuccino', which turns 'I, Daniel Blake' on its head 
Paul Vallely
Thursday 10 November 2016 13:58 Comments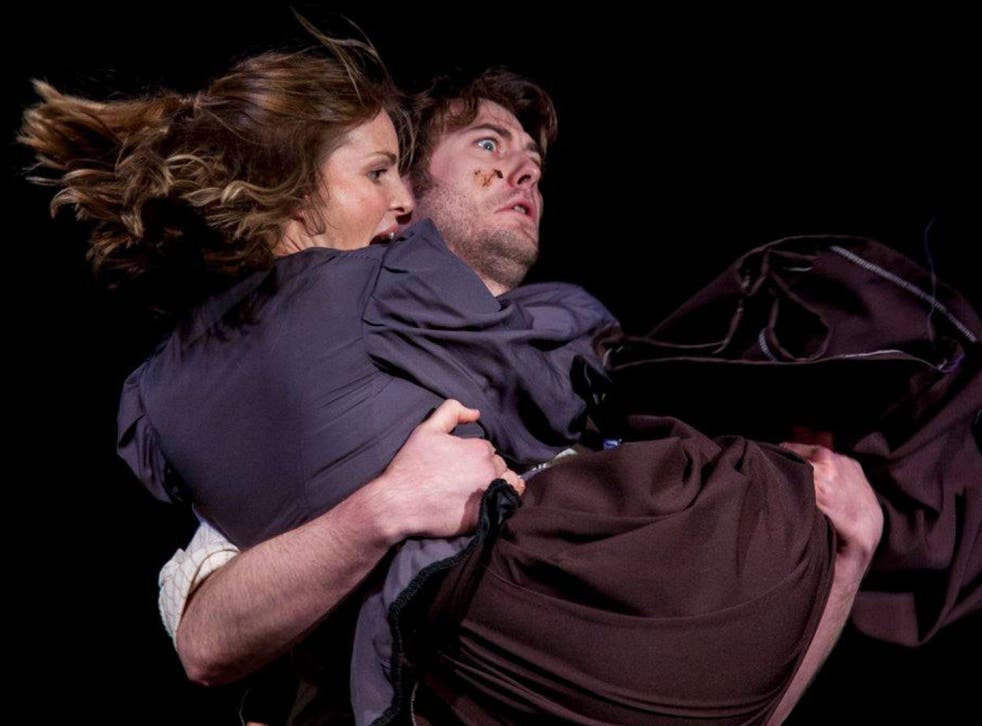 JB Shorts – a twice-yearly festival of 15 minute plays – has become such a fixture in the theatrical landscape that it has outgrown the Joshua Brooks pub where it began. Its latest offering, JB Shorts 16, shows why it has been forced to move to bigger premises in the Manchester's new city centre 53two arts centre in a former luxury car-showroom. It's a cracker of a evening.
JB Shorts began as an outlet for TV script writers fed up of the naturalistic constraints of working on shows like Holby City, Eastenders and Emmerdale. Getting back to the stage allows them to exercise a far wider range of dramatic muscles. The formula – six 15 minute plays in one evening – is unchanged but the stream of liberated invention continues.
Within the ambit of just 90 minutes, JB Shorts 16 presents a smorgasbord of fantasy, farce, satire and sheer silliness. In Magaluf, two 16-year-old girls are off the leash on their first unaccompanied holiday. It's warm and funny portrait but the girls' bounciness and charm slowly reveal the downside of teenage hedonism. Hollie-Jay Bowes, as the unthinkingly promiscuous Sinead, and Amy Lythgoe as her ingénue friend, caught in the teenage no-mans-land between child and adult, delicately blend street-smarts and vulnerability.
Toil and Trouble transplants Macbeth into the world of Shameless. Three vividly grotesque modern witches, forced to get their potion ingredients from the exotic food section of Waitrose, meet drug-dealer MacMeth (played by Peter Ash in frenetic and rasping MacManc.) It's a high-flown exercise in theatrical silliness for its own splendid sake. A flight of impossible fancy lies at the heart of In My Shoes in which the veteran scriptwriter Dave Simpson makes literal, with a magical body swap, what would happen if a divorcing couple could see the world through each other's eyes.
The comedian Justin Moorhouse turns I, Daniel Blake on its head in A Grand Malaise and a Small Cappuccino which sets free the inner thoughts of a benefits worker confronted with a suspect claimant. Rosina Carbone, as the government functionary, moves dexterously from the straitjacket of the rule book to disclosing her own inner turmoil.
In Rebrand James and Aileen Quinn accelerate further through the comic gears. A W1A-style advertising brainstorm team is tasked with creating a new image not just for the British armed forces but for war itself. It has some droll barbed absurdities.
Finally comes a breakneck romp through Wuthering Heights – a feast of high farce, quick changes and glorious overacting. It's a riotous end to an evening whose enormous stylistic range showcases what theatre can do.
Register for free to continue reading
Registration is a free and easy way to support our truly independent journalism
By registering, you will also enjoy limited access to Premium articles, exclusive newsletters, commenting, and virtual events with our leading journalists
Already have an account? sign in
Register for free to continue reading
Registration is a free and easy way to support our truly independent journalism
By registering, you will also enjoy limited access to Premium articles, exclusive newsletters, commenting, and virtual events with our leading journalists
Already have an account? sign in
Join our new commenting forum
Join thought-provoking conversations, follow other Independent readers and see their replies