Julius Caesar, Royal Shakespeare Theatre, Stratford-Upon-Avon The Bacchae, Printing Press Rooms, Northampton The Physicists, Donmar, London
Shakespeare's 'Julius Caesar', moved 2,000 years forward and halfway round the world, ends up more thrilling and apposite than ever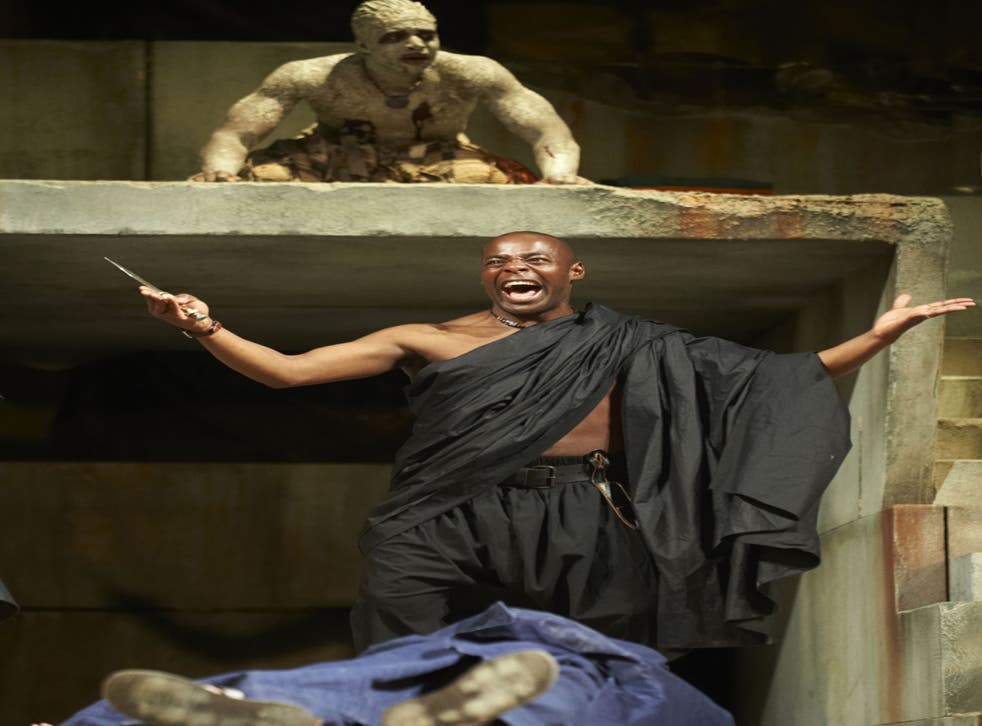 Feel the heat. The RSC has just set Julius Caesar thrillingly ablaze. Shakespeare's Roman play is often, wrongly, considered cold and colourless. Now, though, this political drama is scorchingly reinvigorated in Gregory Doran's staging which – with a superb ensemble of black British actors – translates Ancient Rome to modern-day Africa. It's a startlingly close fit.
The air pulses with festive drumming as the populace parties under a baking sun, celebrating Caesar's latest victory alongside a traditional shaman, who'll soon double as the herald of doom.
In a safari suit with dyed hair and a gold watch, Jeffery Kissoon's Caesar is a post-colonial general stiffening into an aged dictator with a paranoid streak. The African setting endows the opposition with an immediately comprehensible fervour too when Paterson Joseph's Brutus – sweat-beaded and impassioned – addresses the masses after the autocrat's assassination, crying, "Had you rather Caesar were living, and die all slaves, than that Caesar were dead, to live all free men?"
Doran picks up on tiny textual details and plumbs their significance. Here a fleeting reference to shared schooldays feeds into Brutus's confederacy with Cyril Nri's Cassius. You can still see the little boys in these men too, which becomes heartbreaking. Nri's insecure Cassius panics, letting Brutus precipitately assume leadership of the revolutionary gang. Then catapulted into a ruinous war, their tragicomic squabbling – over financial corruption – is almost tearfully hysterical. When they call each other "brother" for the last time, on the battlefield, the term suggests not just macho comradeship but tenderness too.
The verse-speaking is vibrant, the characters complex. Adjoa Andoh is sultry and feisty as Brutus's wife, not merely virtuous. Ray Fearon plays Mark Antony, Caesar's golden boy, as a handsome football star entering the political arena, a party animal cannier than Brutus supposes. Running into the blood-soaked murder scene, he is palpably frightened but also diplomatically slippery, suppressing his outrage at first, then breathing fire in his rabble-rousing funeral oration.
Only the production's ghostly apparitions are disappointing. Overall, though, a resounding triumph for the RSC's artistic director-designate and an outstanding contribution to the World Shakespeare Festival 2012. Julius Caesar transfers to the West End of London in August and then tours the UK, so track it down.
You might, however, want to steer clear of The Bacchae, a feeble start to the supposedly Dionysian Festival of Chaos in Northampton. Laurie Sansom (artistic director of the town's Theatre Royal) leads his audience off the beaten track for this site-specific production. An industrial warehouse becomes the setting for Euripides' darkly twisted tragedy, where the seductive god of wine and madness, Dionysus, ensnares then destroys King Pentheus, who has tried to repress his wild cult.
Granted, the climax is shocking as Kathryn Pogson's Agave – in a crazed ecstasy – munches on her son's brains. There's an intense, barbed moment earlier too, when Ery Nzaramba's Dionysus strips Liam Bergin's Pentheus of his city suit. However, Sansom's concepts are scrambled and his pop-goth, chorusing Bacchantes are naff. That's not to mention the lift musak, piped in by way of a prologue and epilogue.
Lastly, artistic director Josie Rourke's first season at the Donmar has become daringly varied. Now comes a rare revival of Friedrich Dürrenmatt's The Physicists, a satire-going-on-ethical debate about scientific progress and moral responsibility. Yet despite scintillating performances, there's something sterile about this darkening comedy. A trio of mad (or maybe pretend-mad) scientists are holed up in a sanatorium, dressed as Einstein, Newton and Möbius. On top of these delusions, they keep murdering their nurses, whom they claim to love. Dr Von Zahnd (Sophie Thompson in near panto mode) is the hunched spinster who runs this madhouse, assuring an irked detective (John Ramm) that she knows who's dangerous and who's not.
The play would surely have felt more urgent in 1961, when nuclear arms were proliferating. But now Dürrenmatt's scenario seems a puzzling allegory, like a theorem in cryptic algebra. The central performances go some way to make up for this, Justin Salinger's Newton sneaking around in a camp periwig, and John Heffernan making the conscience-racked Möbius – slipping between madness and clear-eyed despair – nearly as fascinating as Hamlet. Roll on his Prince of Denmark.
'Julius Caesar': (0844 800 1110) Stratford to 7 Jul; touring to 27 Oct. 'The Bacchae': (01604-624811) to 30 Jun. 'The Physicists': (0844 871 7624) to 21 Jul.
Critic's Choice
The Rest is Silence is dreamthinkspeak's radical take on Hamlet, performed in a perspex cube at London's Riverside Studios (12-23 Jun). Meanwhile, Detroit is a contemporary American drama about backyard neighbours, with menace in the air. Directed by Steppenwolf's Austin Pendleton at the NT Cottesloe (to 14 Jul).
Join our new commenting forum
Join thought-provoking conversations, follow other Independent readers and see their replies